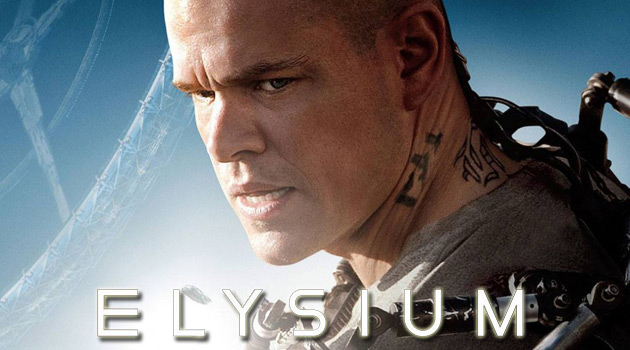 My friends and I went to the movies last night, hoping to watch the best science fiction movie of the summer. Elysium seemed to be one of the intriguing films to hit theaters recently, and with director Neill Blomkamp (District 9) behind the lens, we were sure we were in for some good fun.
Unfortunately, Elysium fell flat.
Now this film has received mixed to positive reviews from most critics, but let me share some insight about the film before you go spend an arm and a leg to see it. Matt Damon stars in this sci-fi epic, and he plays the same likable Damon that we've come to know and love. Jodie Foster plays one of the big baddies in the movie, and she definitely feels out of place during the entire film. Sharlto Copley, who starred in District 9, is exceptional as a ruthless mercenary gunning for Damon. Copley should definitely be in more pictures.
When you have an exceptional cast like this, I feel like the film should be great based on that. Unfortunately, what Blomkamp can't figure out is the writing. Though likable, the characters are dull and aren't given much of a back story, making it hard to truly root for them. The characters feel forced, and some feel out of place completely. What made District 9 so good was that it balanced both intense action sequences throughout with excellent writing that made us engage in the film. I felt like I just sat through Elysium. I didn't love it nor hate it, it was just there.
What did impress me about Elysium was that it was shot beautifully. Visually, Blomkamp once again dazzles, and if you enjoy soaking in all of this beauty, then you might actually enjoy this film. My feelings on Elysium can be best summed up by the people behind me at the theater. When the movie ended, they were extremely disappointed. They cited that Elysium was too much like District 9, yet it lacked heart.
I totally agree with them. If you really enjoyed District 9, then you're most likely going to dislike Elysium, because it's a sloppy version of the same movie. Think of it as Alien fans who were let down by the prequel Prometheus. However, my friends who haven't seen District 9 were happy with what they received. The action is there, the violence is entertaining, but the writing falls flat.
I would give Elysium a 5/10, simply because it's beautiful.
What did you think of Elysium? How would you compare it to District 9?