Movie Review: Fast & Furious 6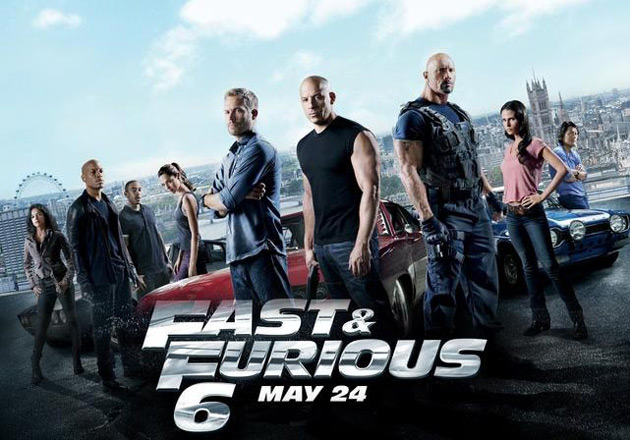 Last night, I attended an advanced screening of Fast & Furious 6, and overall I was really impressed with it. Coming into the movie, I was concerned that it would follow the mindless action of Fast 5 and ignore the car-centric roots that started this franchise.
But those concerns were put to rest almost immediately, as the movie opens with Paul Walker and Vin Diesel racing through some twisties, Walker driving a GT-R and Diesel driving a new Challenger. Some things never change. A nice nod to their automotive past.
Speaking of the past, the opening credits include a montage of the past films to get the audience caught up on everything, and it's really something else. Seeing how young Paul Walker looks in the original F&F movie reminds you that it's been 12 years since the original movie!
Here's a brief synopsis of Fast & Furious 6:
After the events of Fast Five, professional criminal Dominic Toretto and his crew of international thieves and drivers are wealthy, but their criminal records prevent them from returning to their home countries. Following his attempts to apprehend them, Diplomatic Security Service (DSS) agent Luke Hobbs is forced to offer the crew a deal; he will give them all full pardons for their crimes if they will help him take down a lethally skilled mercenary organization led by a former British special forces officer turned criminal mastermind Owen Shaw and his ruthless second-in-command, Dominic's thought-dead lover, Letty Ortiz.
Fast & Furious 6 delivered on all counts, giving die-hard franchise fans the car content that was missing from Fast Five, while infusing more action and firepower to appeal to a larger crowd. And while I wasn't really sold on their choice of cars for this movie, there were some noteworthy cars to keep an eye out for.
My personal favorites? The 1970 Plymouth 'Cuda and BenSopra Nissan GT-R (both shown briefly at the end of the movie), Ludacris' Ferrari FXX, and of course the Batman-esque Flip Car. The car that made me cringe the most? The STI riding on two wheels. WTF were they thinking?!
While there were some ridiculous parts towards the end of the movie (one in particular that had the whole theater yelling "C'mon now!"), overall I thought the movie really hit the mark. It should be interesting to see how the movie does going up against The Hangover 3 next weekend.
Stay through the credits and you'll see a teaser for Fast & Furious 7, which looks pretty awesome!