Nissan Adds 'Easy-Fill Tire Alert' To All New Models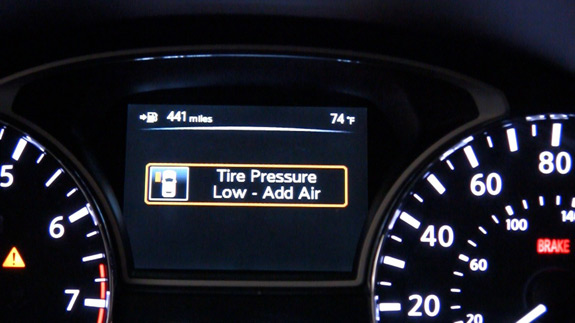 Nissan's Easy-Fill Tire Alert system will be available on all future models it brings to market beginning in 2013. This safety feature is one of the automaker's latest innovations, and it makes you wonder why nobody thought of this before! It currently comes standard on all 2013 Nissan Altima, 2012 Nissan LEAF and 2012 Nissan Quest models, with availability on more products to follow later this year as the automaker continues it launch of five all-new models in the next 15 months.
The "Easy-Fill Tire Alert" system is an all-new control module currently being introduced into vehicle redesigns like the all-new 2013 Nissan Altima. The vehicle's tire-pressure warning system will alert a driver if it detects low tire pressure (with some models displaying the current pressure and tire(s) that require attention on the dashboard display). When alerted, drivers should stop at the nearest gas station to fill the tire with an available air hose.
Once air begins flowing into the tire, the vehicle's four-way flashers come on to confirm the process has started. When the tire hits the appropriate pressure level, the horn then chirps to let drivers know the tire has been properly inflated. If the driver continues to fill the tire with air, the horn honks more aggressively to indicate over inflation. Once air is let out of the tire, the horn chirps once to indicate the correct pressure has been reached.
The following video shows you exactly how it works:
Pretty neat, right?