Nissan and Gibson Build Mobile Guitar Restoration Workshop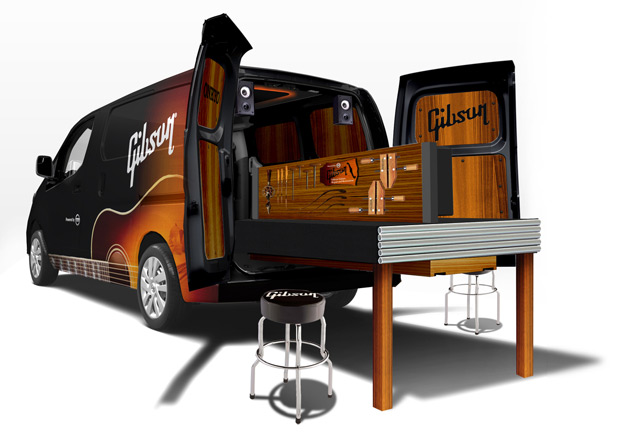 Not everyone is Eric Clapton or Angus Young, able to just call on any tuner or restoration expert at a whim. At least, we weren't until now. Gibson Guitars and Nissan, both based in Tennessee, have come together to create a Mobile Guitar Workshop from Nissan's NV200 commercial van. The collaboration will showcase at the 2013 New York International Auto Show.
The van is a mobile guitar repair and restoration shop to service the needs of music markets or locales where guitar players congregate, like music festivals, concerts, or as a mobile on-call service. The van will be an extension of the infamous Repair and Restoration Shop that Gibson runs as part of Gibson Pro Audio in Nashville. The Shop is famed as an attraction for the best guitar builders in the business, who go there to ply their craft of luthiery and learn the specifics of Gibson builds.
The van, called the Gibson NV200 Mobile Repair & Restoration Van, was built by Nissan using its NV200 Compact Cargo van as its base. The NV200 Compact Cargo achieves 24MPG on the highway and is powered by a 2.0-liter inline 4-cylinder engine coupled to an Xtronic CVT (continuously variable transmission).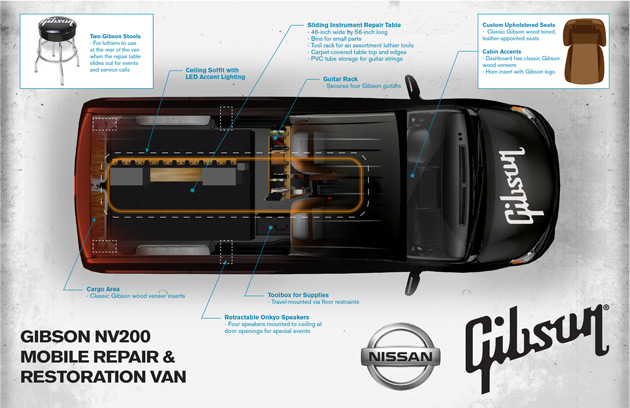 Customization of the van didn't stop at the exterior wrap in Gibson black and flaming maple, but extends inside to include interior wood-like finish paint, Gibson logos, and a full repair shop. A pull-out bench features luthier's tools such as calipers, scale rulers, fret files and pullers, sandpaper, glues, tuning forks, a radius planer, and cabinet drawers and custom-designed containers for parts, screws, tools, and more. The bench can be extended out of the van to be used from the rear doors or removed completely to move to a specific location such as backstage.
Directly behind the front seat of the van is a custom rack designed to securely hold up to four guitars in various states of repair. To top it all off, the driver and repair experts can listen to the van's custom-installed Onkyo Gibson Pro Audio sound system.
"Gibson and Nissan are both Tennessee-based companies that build products worthy of consumer passion yet suitable for everyday use," said Joe Castelli, VP Commercial Vehicles and Fleet at Nissan North America. "We've sought a way to combine forces for many years now, and the introduction of the 2013 NV200 Compact Cargo van gives us the perfect opportunity to do so. Working with Gibson has been a dream come true for many of us here at Nissan, and we look forward to the next steps collaborating with them."
The van debuts on March 27th at the 2013 NYIAS.