Review: 2013 Mazda2 Touring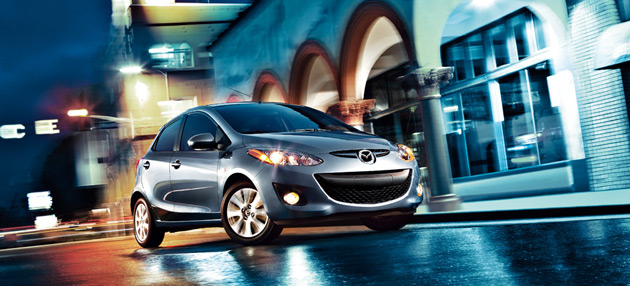 The 2013 Mazda2 is a neat little car, and our week with it was definitely memorable. At first, I was ready to dismiss the Mazda2 as another boring subcompact that eschews fun in the name of fuel economy. But the folks at Mazda have infused the Mazda2 with some of their patented Zoom-Zoom magic, and the result is quite impressive!
The old saying "It's more fun driving a slow car fast than driving a fast car slow" fits the Mazda2 to a T. You'd think that having 100HP and 98lb-ft of torque would make for a dull ride, but we had a blast rowing through the gears in our 5-speed manual, wringing out every last ounce of power from this little car as we zipped around town.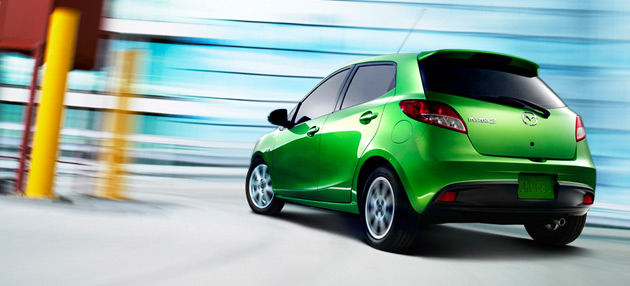 The secret to the Mazda2's success is it's razor-sharp handling (somewhat dulled by our car's Blizzaks, but still noticable) and rocking power-to-weight ratio. If you're someone who likes performance-oriented compacts like the Mini Cooper S and Fiat Abarth but are looking to save $5-10K, the Mazda2 might just be what you're looking for. Seriously.
This fun does come at a price, namely the car's fuel consumption. The car is rated at 29/35, and we averaged 30MPG in a mixture of city and highway driving. Those are respectable numbers, but not exactly what you'd expect from such a small car.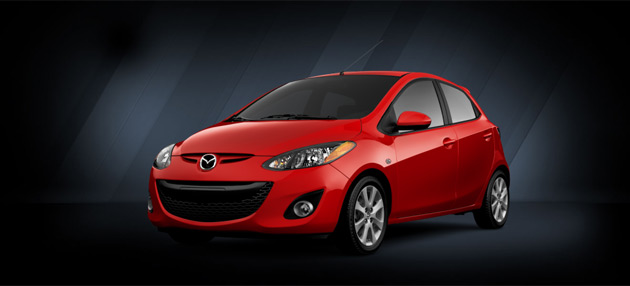 The Mazda2 may be subcompact on the outside, but it has room to live large on the inside. I'm 6'2″, and I had no problems getting comfortable in the car. The car claims to seat five adults, though if you're a tall driver like me, your rear passengers might not be too happy.
The versatile 60/40 split fold-down rear seatback gives you ample cargo room, without the need for multiple trips. It's actually pretty surprising how much cargo space is available – 27.8 cubic feet to be exact.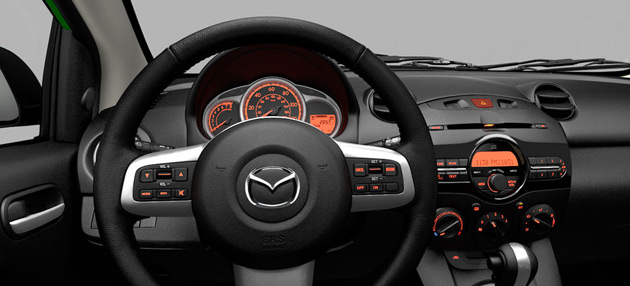 The Mazda2 might be small, but it's got no shortage of features.. Our Touring model came equipped with 15″ alloy wheels, power mirrors, power windows, power door locks, cloth-trimmed seats with red piping, cruise control, trip computer, leather-wrapped steering wheel, and an AM/FM/CD audio system with auxillary input jack and 6 speakers.
It doesn't have satellite radio, a navigation system, or a sunroof. But those were the only options we missed, other than that the car comes pretty well equipped. The same can't be said for other subcompacts in this segment, which often are stripped of many creature comforts in an attempt to keep costs low.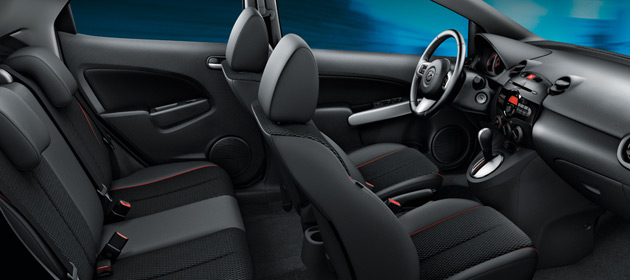 While I realize that this car isn't for everyone, city dwellers will certainly appreciate the Mazda2's compact size, as it makes parking an absolute breeze!
At the end of the day, Mazda has put out a neat little car that's fun to drive, good on gas, and more practical than you'd expect. And best of all, the Touring model has a starting price of just $16,210.
Visit www.mazdausa.com to learn more about the Mazda2.