Octane Academy – Tanner Foust's Stunt Driving Challenge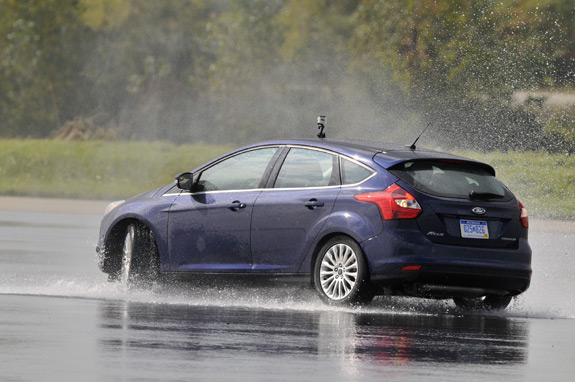 Our last session of the day was the Stunt Driving Challenge. I'm a huge Top Gear fan, so I was pretty psyched about driving with Tanner Foust. In this session, Tanner taught us how to do a reverse 180 J turn, as well as a 360 spin.
To make this process a bit easier, we did it on a wet Jennite surface, which simulated icy road conditions. It's easy to spin the car, but keeping it under control is another story..
In the video below, you see Tanner show us a 360 spin. He maked it look so effortless, but it definitely took me more than a few tries before getting the hang of it.
His formula for doing a 360 is simple enough: Get up to speed, turn the wheel, pull the e-brake, then counter-steer, release the e-brake, and accelerate away. It's hard to fight your natural instincts though, and that's the real challenge here.
As a spectator, it was awesome watching the other journalists flub it – One even managed to take out all of the cones on the course! (I wish someone had captured that on video)
I pulled off the reverse 180 J turns without any problem.. And I did pretty good with the 360s as well. All in all, a pretty neat experience, and Tanner got through the day without barfing, so that was a bonus.. 🙂