Paul Jr. Designs Builds The World's Ugliest Camaro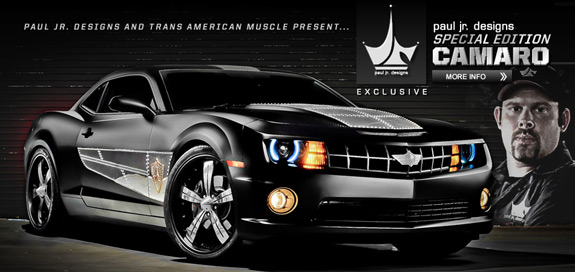 On Monday night's episode of American Choppers, Paul Jr. introduced the world to his latest "creation", a PJD-badged Camaro built in conjunction with Trans American Muscle called the PJD Valor.
So just what do you get for $83,000? A Camaro SS with the following mods:
Coil-over suspension
Custom shifter
Whipple Supercharger. 2.9l
SLP exhaust with x-pipe
Custom interior
SLP sub-frame connectors
Custom Forgiato 22" wheels
265/35 front tires 295/30 rear tires
Custom sheet metal paneling
Aircraft rivets
Copper emblems
Custom door sills
Custom hot rod black paint in matte finish
Production on these cars will be limited to 77 vehicles, though I think they'll be hard-pressed to find more than 10 suckers customers willing to pay such a premium for this car.
While the performance modifications made to the Camaro are well and good, the appearance is a different story entirely. Paul Jr. used the theme of his latest Build Off Bike for the Camaro, and the results are.. unique?
There's no question that the Build Off Bike was wildly creative! But the PJD Valor just wasn't working for me, the combination of flat-black paint with aluminum pieces just seemed wrong. If they had covered the entire car in aluminum, then we'd be talking!
At the end of the day, Paulie will be laughing all the way to the bank, as you know there are people out there with more money than brains who will want to get their hands on one.
Here are some more pictures of the car if you're interested:
What do you think?