Philips Wake-up Light Will Turn You Into A Morning Person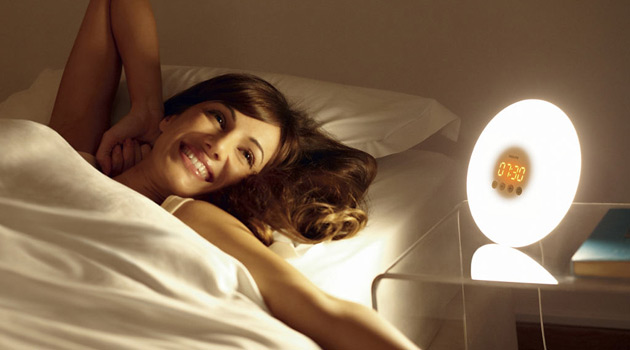 If you think that all alarm clocks are the same, think again! Philips has developed an innovative alarm clock that's inspired by nature's sunrise. The Philips Wake-up Light uses a unique combination of light and sound wakes you in a more natural way and feeling more refreshed, making it easier to get out of bed.
Inspired by the naturally brightening light of the sunrise, the Philips Wake-up Light gradually increases in brightness over a 30-minute period before your scheduled wakeup time, growing more intense until your room is filled with bright yellow light. This process of changing and increasing light stimulates your body to wake up naturally and comfortably. By the time light has filled the room, a gentle beep completes the wakeup experience, leaving you ready for the day ahead. Scientifically proven to be a more effective way of waking up, the Wake-up Light also leaves you more energized and in a better mood upon awakening.
At your set wakeup time, the Wake-up Light emits a gentle beep to complete the wakeup experience and ensure that you won't accidentally sleep through the light. The sound gradually increases in volume over the following 90 seconds. The Philips HF3500 Wake-up Light even features a classic snooze function: just tap the top of the light to stop the alarm, and after nine minutes, the sound will start playing again. The anti-slip rubber feet ensure that the Wake-up Light stays in place.
At first, I thought this was just some crazy gimmick, but after using it for a few weeks, I can attest to the fact that I've been waking up feeling more refreshed, and hitting the snooze button is a thing of the past!
If you have trouble getting up in the morning, especially in these winter months when it's still pitch black in the morning, you've got to try out the Philips Wake-up Light.
The Philips Wake-up Light retails for $69.99 and can be purchased from Amazon.com.