Review: 2012 Chevrolet Camaro SS Convertible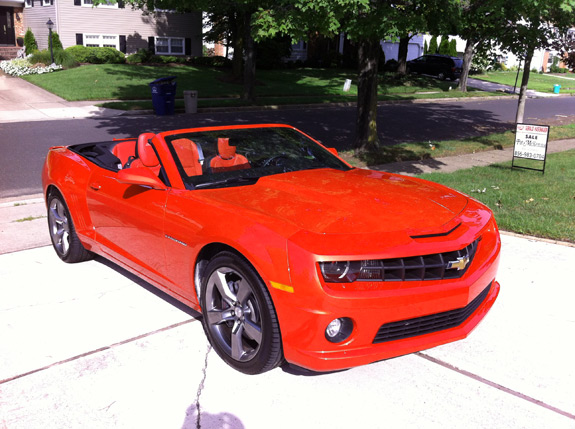 The fifth-generation Chevrolet Camaro has been on the market for a little over three years now, but based on the attention our 2012 Chevrolet Camaro SS Convertible received, you'd think it was a brand new car!
When it comes to looks, Chevy hit a home-run. It's retro-styling reminds you of a '68 Camaro, arguably one of the best-looking Camaros of all time. The car turned heads everywhere we went, with complete strangers coming up and complementing me on my "sweet ride".
Surely the Inferno Orange paint helped this Camaro stand out from the crowd, but I'm pretty sure nostalgia plays a big part as well. Our 2013 Ford Mustang GT loaner didn't get half the attention the Camaro did, and that's saying something..
Of course, the real question on everyone's mind is about the car's performance, and how it stacks up to the competition. Unfortunately, the 2012 Camaro SS Convertible's performance didn't meet my expectations.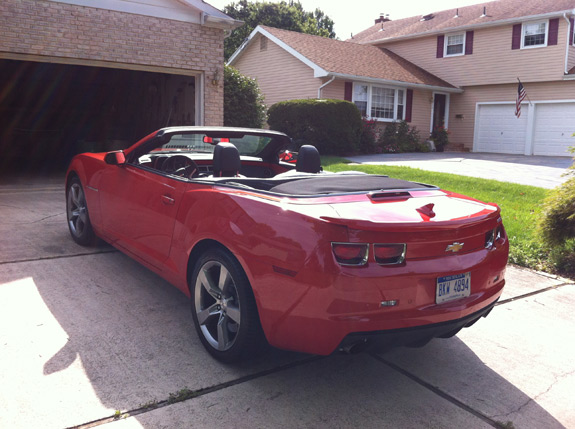 The automatic SS only puts out 400HP and 410lb-ft of torque (the manual SS puts out 426HP and 420lb-ft of torque), it has a lower axle ratio (3:27 vs 3:45), the transmission is sluggish, and the convertible top adds considerable weight to an already heavy car. Those 20″ rims probably aren't helping things either..
Needless to say, acceleration was a bit slower than expected. We didn't do any measured testing, but I suspect that car's 0-60 times are probably in the mid 5-second range, a good second off of the 6-speed coupe's times.
But that's not what this model was built for. The Camaro SS Convertible is meant for top-down cruising, with some extra power on reserve if you need it. And if you come in with that mindset, you'll be satisfied with the car.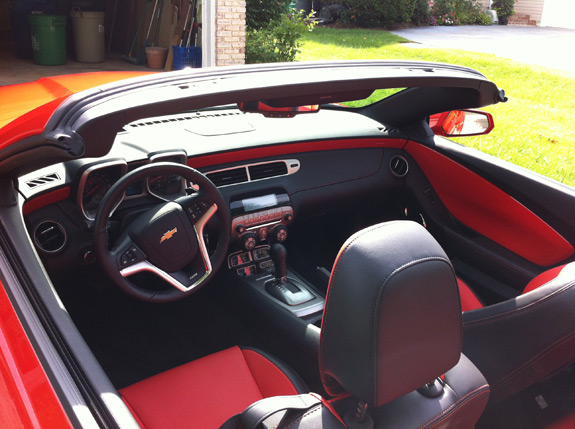 Moving inside, there were two features that really stood out for me:
The heads-up display (HUD), which has been offered in Corvettes for awhile now, is a great feature that more cars should offer.
The Camaro's rear-view backup camera displays what's behind you in the rear-view mirror, in beautiful high-resolution.
Likewise, there were a few things that bothered me:
When you lower the convertible top, all 4 windows automatically drop. But when you raise the top, the windows don't rise back up on their own.
With the top up, there are a TON of blind spots to deal with, so you have to be really careful when backing out of a crowded parking lot.
You can't really hear the exhaust note from inside the car, but it does sounds good from the outside.
The suspension is firm, making for a pretty rough ride.
At the end of the day, it really depends on what you're looking for. If you're looking for a fun top-down cruiser that's sure to attract some attention, there's nothing better than the Camaro SS Convertible. But if you plan on tracking your car, you're better off looking at a 6-speed Coupe or ZL1 instead.