Review: 2013 Ford Mustang GT Premium
While I had an absolute blast driving the 2013 BOSS 302 Mustang a few months back, I don't know if I'd want one for my daily driver. Maybe I'm just getting older, but I'm willing to trade off some handling and performance for a more comfortable suspension and "quieter" exhaust.
And that's where the 2013 Ford Mustang GT comes in. The Mustang GT delivers 9/10ths the performance of a BOSS in a package that's more comfortable for daily driving. At the heart of the beast is a 5.0L engine producing 420HP and 390lb-ft of torque.
The car's an absolute monster, and driving it is an exercise in restraint.. If you listen to the devil on your shoulder, you might just wind up in jail!
The 2013 Mustang GT represents the last update the current generation Mustangs will get until the highly anticipated all-new model drops in 2015, but that doesn't mean that the 2013 is out of date. It gets numerous updates, including HID headlights, a new front fascia and hood (with functional heat extractors), scalloped taillights, Track Apps, and an extra 8HP.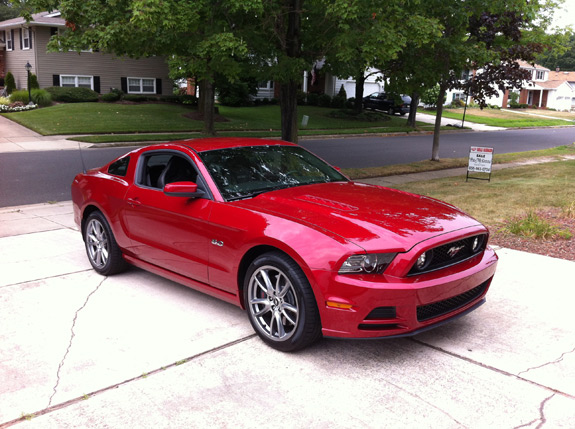 Our Red Candy Metallic GT tester was loaded with options, including the electronics package with NAV, 3.73 ratio limited-slip axle, Brembo brake package, and Recaro leather seats – In total, over $7000 worth of options that pushed the as-tested price up to $41,415.
Definitely get the Recaro seats if you plan on tracking the car – The only downside is that you lose the power seat adjustments.
The electronics package ($2340) is loaded with goodies. In addition to SYNC and Navigation, it includes a new 4.2-inch LCD productivity screen that lets you access information related to fuel economy and vehicle performance. The screen is navigated through a five-way control button located on the steering wheel and offers Track Apps, which delivers performance metrics for drivers right from the factory. The app measures g forces, shows acceleration times in quarter-mile and 0-60 increments, and displays braking times, complete with automatic and countdown starts!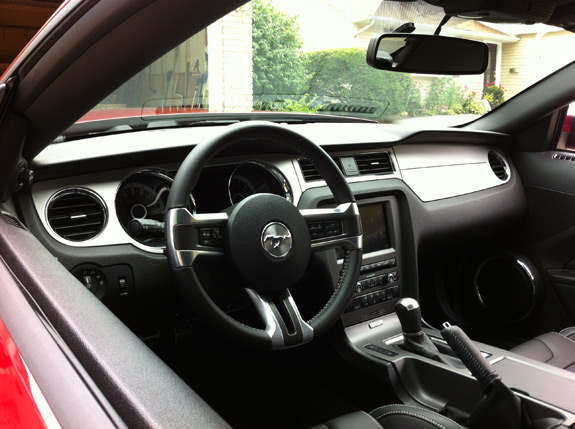 We've seen some magazines complaining about the Mustang GT's exhaust note, or lack thereof. They claimed that the car was too quiet unless you were at WOT. Personally, I thought the car sounded great, and I appreciated the fact that there wasn't constant exhaust drone on long trips. But if you want a louder exhaust, Ford Racing offers the BOSS 302 exhaust for 2012-13 Mustang GTs.
We really only had a few complaints with the car:
First gear and reverse are REALLY close together, causing us to go into the wrong gear on more than a few occasions.
What's up with the ugly Sirius antenna mounted on the rear trunk? If it's got to be there, at least paint it so it doesn't stick out like a sore thumb. Everytime I see a Mustang with that black wart on the trunk, it bugs the hell out of me.
Ford really did a tremendous job with the 2013 Mustang GT, taking an already great car and making some subtle tweaks to make it even better. Dealers are offering some nice incentives on leftover 2012 models, but I'd really go for the 2013 if you can swing it!