Review: Boss Track Attack at Miller Motorsport Park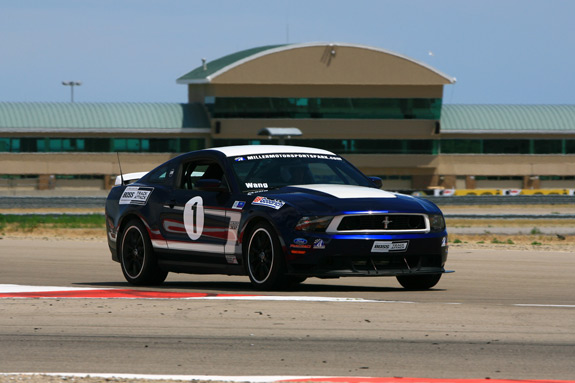 Last week, we were invited out to Miller Motorsport Park in Utah to experience Ford Racing's Boss Track Attack firsthand. I think Ford's done an amazing job with the new Boss 302, and I couldn't wait to drive the Boss in it's element – On the racetrack!
The Boss Track Attack is a complimentary program for new Boss 302 owners conducted by the Ford Racing High Performance Driving School. This program features a full Boss immersion, driving instruction and plenty of track time with racers and professional instructors. The experience is designed to give Boss owners a comprehensive, hands-on look at exactly what their cars are capable of – and just how much fun they can be.
As part of this event, we each got to drive a 2013 Boss Mustang to the track, which was about 30 minutes away. This was a great opportunity to see how the Boss behaved as a regular car. My "Gotta Have It Green" Boss received a TON of attention on the road, and not just because our exhaust restrictor plates were removed!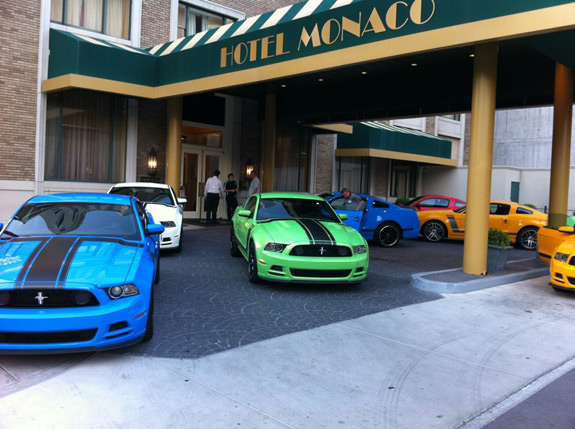 You might be asking yourself, why buy the Boss instead of the GT? For starters, there's the 444 horsepower, 380 lb-ft. V8, 3.73-ratio rear, optional Torsen diff, higher-rate coil springs at all corners, stiffer suspension bushings and larger-diameter rear stabilizer bar and four-piston Brembos up front. This car was built for the track, yet can still be daily driven if so desired!
The 2013 Boss Mustang receives a few updates for the new model year, including reflective "hockey stick" graphics (like the original 1970 Boss), 1970 Parnelli Jones-style "School Bus Yellow" paint, Sterling Gray accents on the track-focused Boss Laguna Seca, the addition of Ford Sync as standard equipment, and standard HID headlamps and LED-surround taillamps.
After arriving at Miller Motorsport Park, we sat down for a 30-45 minute classroom session which went over the basic concepts of performance driving. (Picking the right lines, hitting the apex just right, etc) While I've done a number of driving schools in the past, it never hurts to brush up on these things. The instructors break down the concepts so that they're easily understood. After that, we suited up (driving suit and helmet) and headed out to the garage.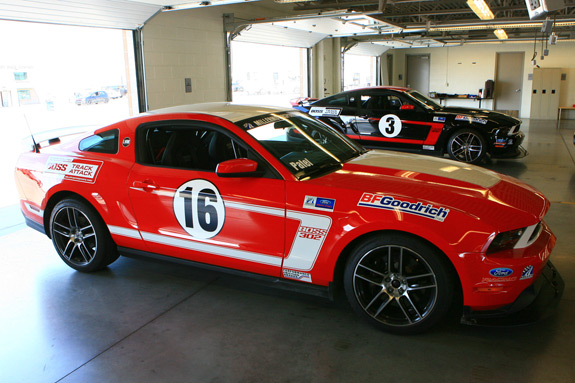 At the garage, each person had a Boss 302 waiting for them, with their name on the lower corner of the windshield. Once we got situated and put on our 5-point harnesses, it was time to head out to the first of three exercises for the morning.
First up for us was the skid car. They have a Ford Fusion with a suspension that can be adjusted on the fly to induce oversteer. I've done similar exercises at Bondurant before, and I've driven RWD cars for most of my adult life, so this was a piece of cake for me. Some of the other participants had a tougher time getting the hang of it. But it's an important skill to have, especially when you're piloting a 444HP RWD car!
After that, we headed out to work on heel and toe downshifts. I learned how to do this years ago, but I didn't really excel at it.. And today wasn't much better! Heel and toe isn't something you need in everyday driving, but on the track it's definitely helpful if done right.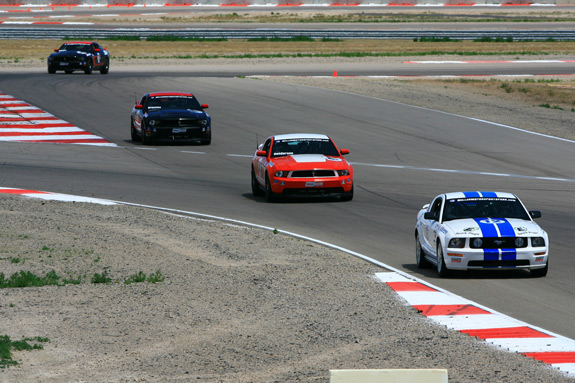 After that, we headed out to the track for some lead and follow laps. We went out in groups of three, following an instructor who showed us the correct lines, braking points, and turn-in points. It's a pretty technical track, so it was important for everyone to take it easy the first few laps and learn the track. After a handful of laps, it was time to break for lunch, rehydrate, and relax for a little bit before the afternoon session.
Our afternoon session was a little different than most. We spent time exploring some of the other options that Miller Motorsport Park has to offer: Karting, zip lining, and off-road ride-alongs in a 2012 Ford Raptor. In retrospect, I probably shouldn't have eaten so much at lunch!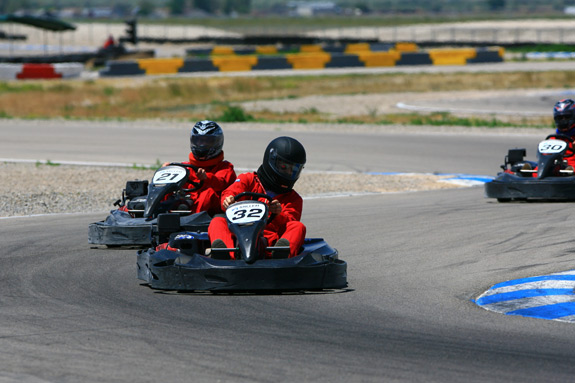 Karting was a ton of fun. I've only ever done indoor karting, and outdoor karting on a larger track was a completely different experience. Many pro-drivers get their start in go-karts, and it's easy to see why. All of the same principals are at work here, and I found myself using lots of the techniques I learned in the morning on the karting track. If you've got extra time, definitely make sure you head over here.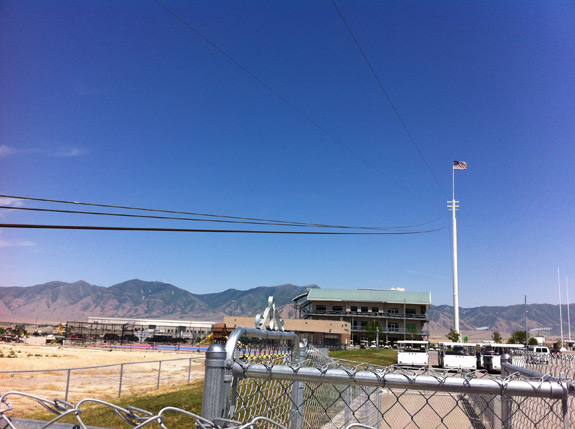 After that, we went over to the zip line. The zip line starts by towing a two passenger seat up to the top of the 150 foot tower, then releasing the thrill seekers towards the ground along 700 feet of fun filled excitement. It is the first electromagnetic zip line in the state. You'll hit about 40mph on the way down.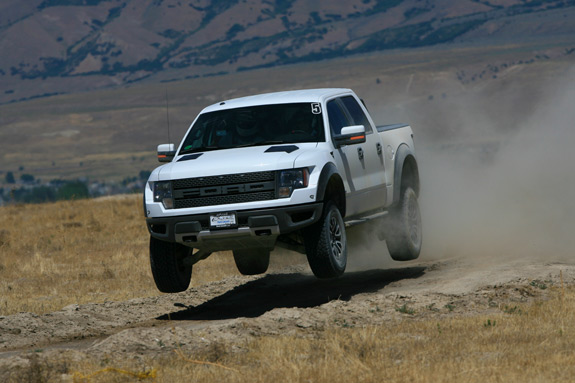 Last up was the Ford Raptor off-road experience, and let me tell you, these trucks are something else. We headed out to an off-road course, where the drivers turned off all the stability control functions and just went nuts! There were a few moments where I didn't think we were gonna make it, it was that intense.. But we made it back in one piece, with big grins on everyone's faces.
With a huge surge of adrenaline surging through our veins, we headed back to the garage for one last lead and follow session. This time, our instructors picked up the pace, and we were hitting about 95mph on the straightaway. I wanted to go even faster, but they kept us reigned in for our own safety.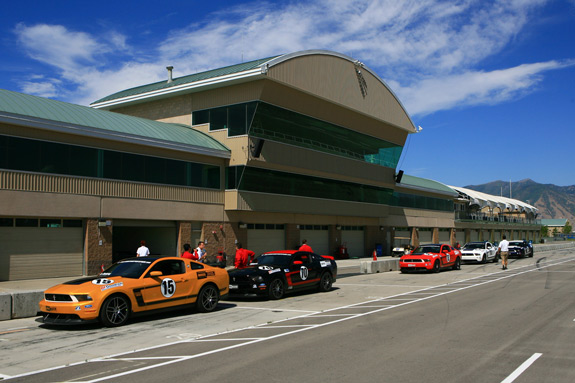 Finally, we were invited to ride shotgun for some hot laps with the instructors. Hot laps are a ton of fun, but they're also really educational. We saw firsthand how hard these cars could be pushed, how much braking power was available, and how much speed they could get on the straightaway (125mph or so). It's a humbling experience as well, as you realize you're not nearly as good a driver as you thought beforehand.
We headed back to the classroom for a graduation ceremony, took off those sweaty racing suits, and headed back to the hotel to decompress before dinner.
All in all, it was a spectacular day, and it gave me a newfound respect for the 2013 Boss Mustang. Kudos to Ford Racing and Miller Motorsport Park for putting together a great event. If you get the chance to attend the Boss Track Attack, I definitely encourage you to do so!