Review: 2012 MINI Coupe S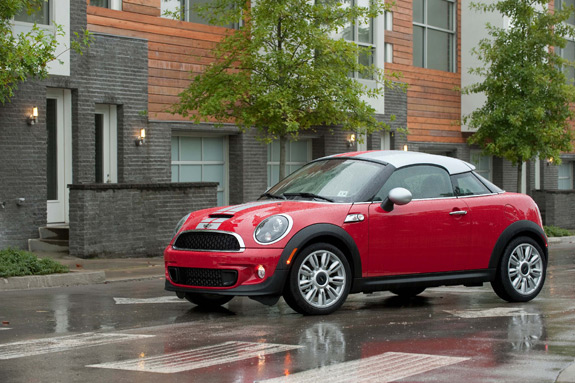 A few months ago, I posted a short piece about the MINI Coupe. My local dealership held an event over the weekend, and I got the chance to take a MINI Coupe S out and see if it lived up to the hype.
The Coupe definitely stood out in a crowd of regular MINI Coopers. That chopped roofline sporting inverted colors lets you know that this car is something different. Surprisingly, I've talked to a number of people who don't like the look. Personally, I think it's great!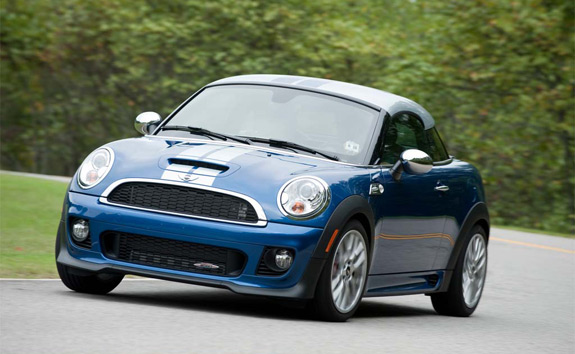 Of course, there are some downsides to this design. First off, you lose the backseat. Yes, the Coupe is a two-seater. It has a decent sized trunk (with a pass-through for your golf clubs or skis), but it's far from practical. The other issue I had was with rear visibility. The rear window is very small to begin with, but when the rear spoiler pops up (as seen in the video below), it makes matters even worse!
So why pick a MINI Coupe (MINI Cooper Coupe?) over the standard MINI Cooper?
Purely for performance. Taking a page from BMW's book, they followed the same blueprint as the 1-series, offering drivers a slightly smaller car that's lighter and handles better. The MINI Cooper already has go-kart like handling, and the Coupe just takes it up another notch.
The MINI Coupe puts down some respectable numbers:
Power for the S is rated at 181 HP and 177 lb-ft of torque. A temporary overboost function allows for a jump to 192 lb-ft. In JCW trim, the Coupe takes advantage of 208 HP and 192 lb-ft of torque. Overboost is also available here, and pushes torque to 207 lb-ft.
The S Coupe does the 0-60 in 6.5 seconds, and the JCW Coupe does it in just 6.1 seconds. The S Coupe has a top speed of 142 mph and the JCW has a top speed of 149 mph.
It won't dominate at the dragstrip, but it'll clean up at the Auto-X. And that's what the MINIs have always been about, exceptional handling cars that are fun to drive. If you don't mind the compromises, the Coupe is probably the best car that MINI's ever produced.
But for me, I'd stick with a regular MINI Cooper S or JCW and sacrifice the minor performance gains of the Coupe. YMMV.