Review: 2017 Ford Fusion Sport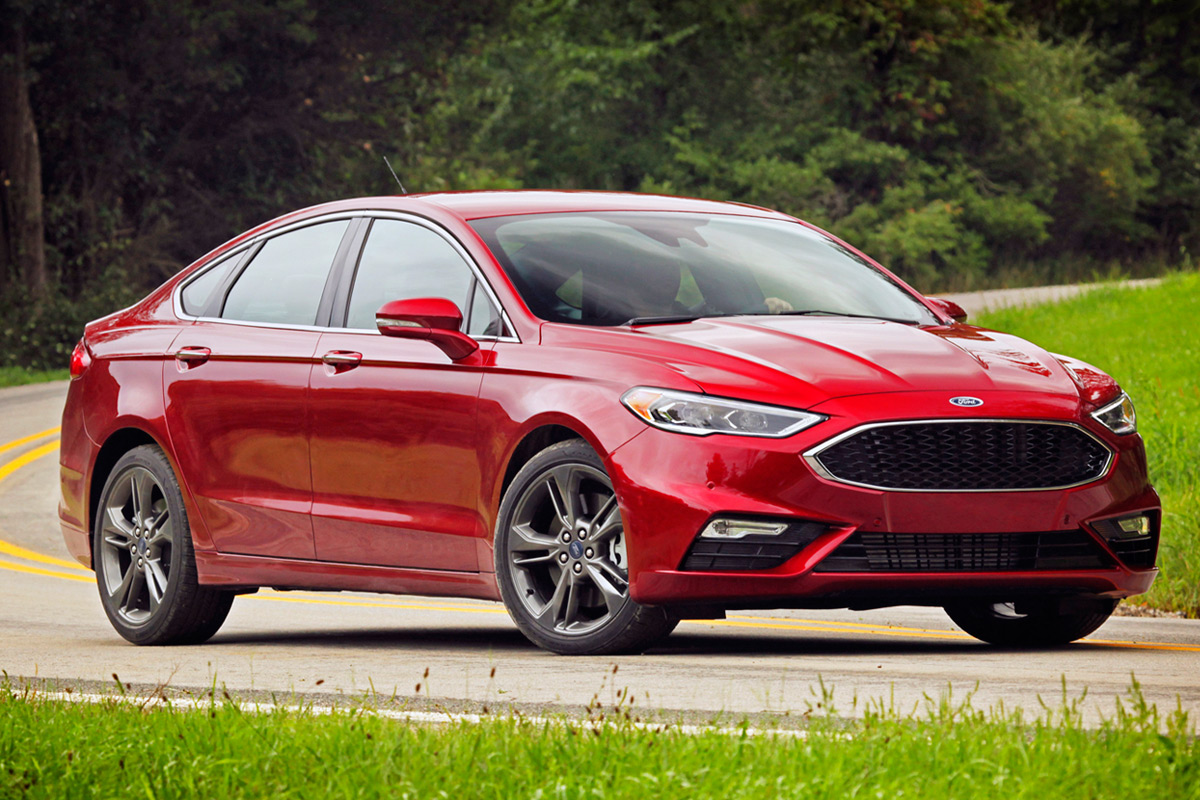 Car manufacturers love to throw around the word sport, but in most cases it doesn't amount to more than an appearance package to convey said sportiness. But in the case of the 2017 Ford Fusion Sport, they did the exact opposite. The car looks pretty much the same from the outside save for the extra exhaust pipes, but under the hood it's a completely different story!
Taking a cue from iconic cars like the Ford Taurus SHO and Contour SVT, the company decided to drop in their 2.7-liter twin-turbocharged V6 EcoBoost engine from the F-150, which puts out an explosive 325HP and 380 lb-ft of torque! And if that wasn't enough, they also equipped the car with all-wheel drive, to ensure that all of that power gets to the road. The result? The car does 0-60 in 5.3 seconds, with a 1/4 mile time of 14.3 seconds. Yes indeed, the Fusion Sport is one serious sleeper.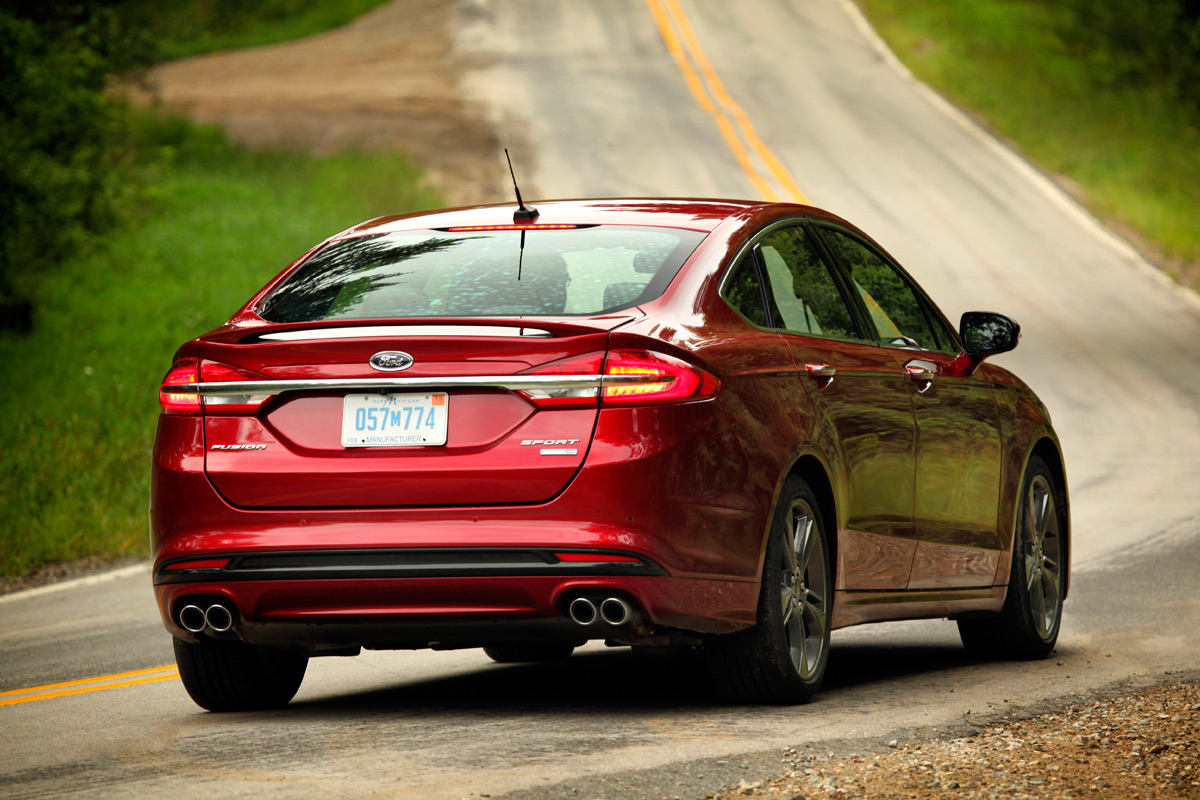 Ford isn't just gunning for the likes of the Toyota Camry and Honda Accord with the Fusion Sport, they have also got their eyes set on performance sedans like the BMW 535i, Audi A6 3.0T and Mercedes-Benz E400. Lofty goals for sure, but honestly I just don't see a lot of those people cross-shopping this car. But if they do, they'll find that the Fusion Sport offers quite a bit of bang for the buck.
Speaking of bucks, the Fusion Sport has a starting price of $34,350, and that number can creep up close to $40K depending on options. Still, that's a considerable savings over some of the German counterparts we mentioned above. But for the "regular" buyer, that's a lot of money for a Fusion.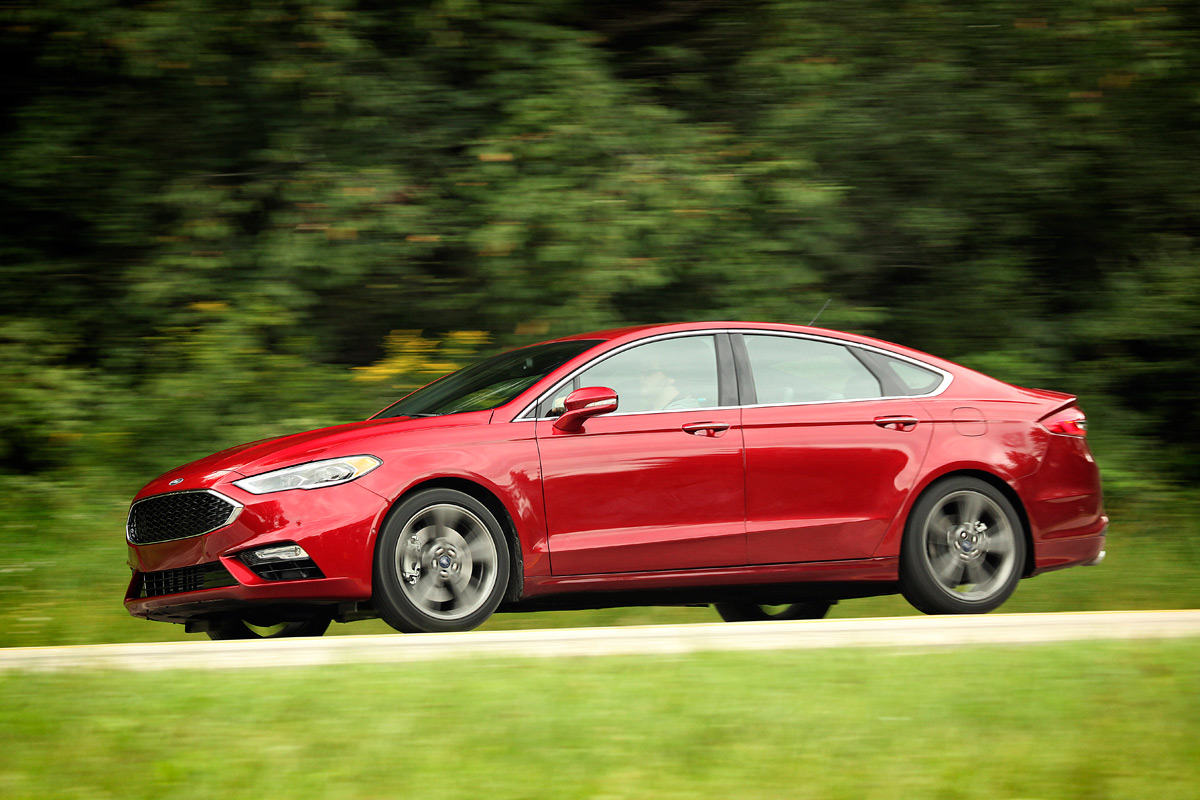 Still, we like the idea of a sleeper that is wife-friendly (as opposed to a Mustang, which is "small, impractical, and useless in the snow", her words not mine) that can still offer drivers a shot of adrenaline with the simple push of the Sport button on the rotary gear shift dial. She's none the wiser, and you have a more entertaining commute to work. Talk about a win-win!
When you switch to Sport mode, the steering is a bit quicker, the throttle is more responsive, shift points are more aggressive, damping is firmer under spirited cornering to minimize body roll, and the exhaust note is enhanced.. through artificial engine sound that's played through the speakers. I wasn't a big fan of the sound, and I had some passengers that also commented on how "fake" it sounded.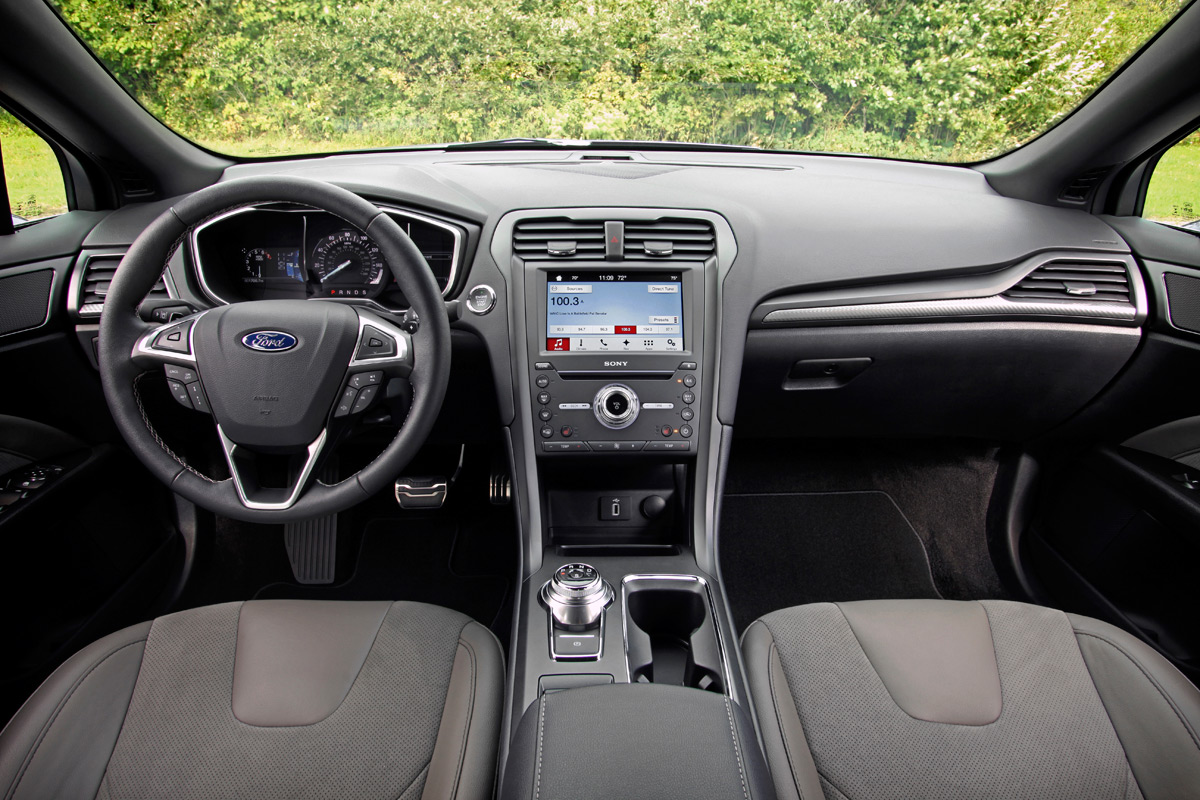 Inside, the Fusion Sport looks much like any other Fusion, though the Sport trim includes touches of suede, matte-finished metal, a few chrome touches, and some faux carbon fiber that runs from door to door. While a suede-wrapped or flat-bottomed steering wheel would have been a nice sporty touch, Ford decided to keep it simple. On the tech front, the Fusion is packed to the gills, with an extensive suite of driving assists available (pre-collision warning, pedestrian detection, park assist, etc), Sync 3 and Android Auto / Apple Carplay, along with a trick pothole detection system that 'catches' the car's wheel before it has a chance to drop all the way into the pothole. Automatic high-beam lights in dark areas was another feature that came in handy.
Overall, we were pretty impressed with the 2017 Fusion Sport. It's the perfect vehicle for the family man who needs space for the kids, but still wants to have a little bit of fun from time to time. You may have to stop for gas a little more often, as that extra power comes at a cost in terms of mileage. But that's a small price to pay for being able to do 0-60 in 5 seconds in a 4.000-pound midsize sedan!