Review: 2017 Lincoln Continental AWD Reserve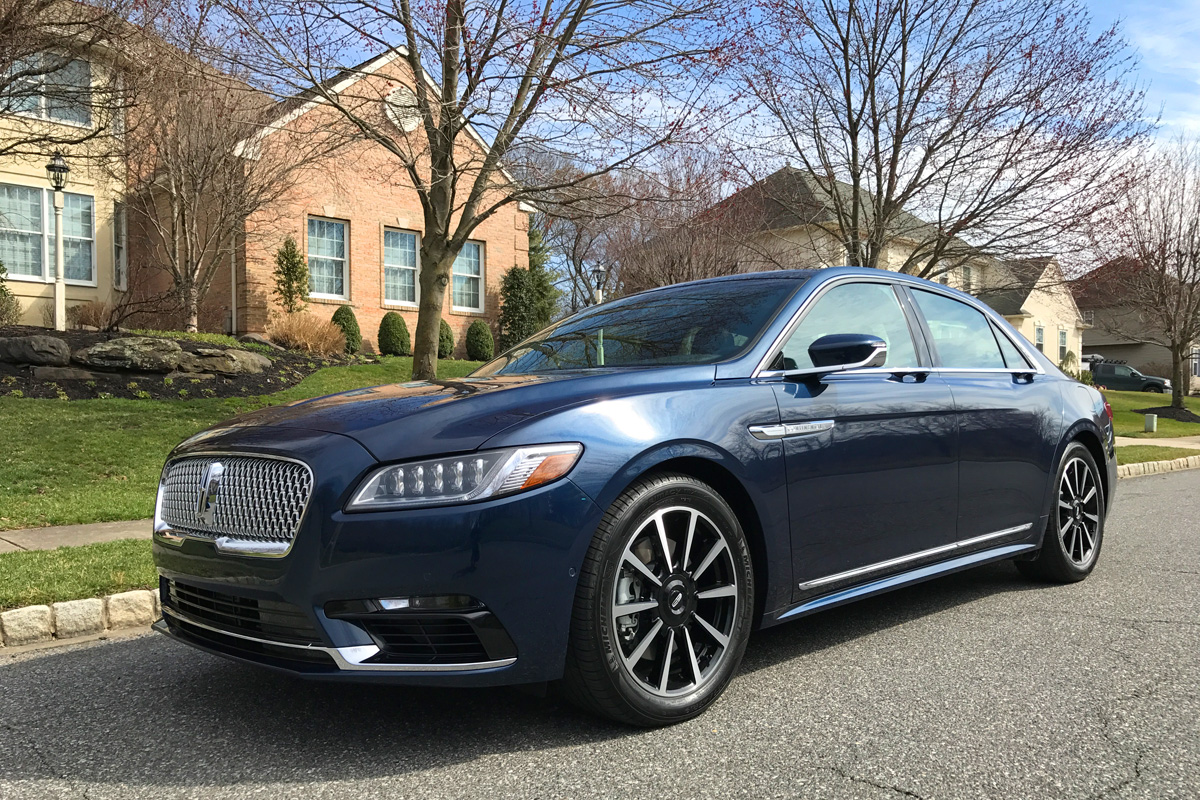 For decades, the Lincoln Continental was one of the most desirable & expensive automobiles around, a sign that you had truly made it in the world. But in the late 90's, the Continental started losing ground to the likes of the BMW 7 Series, Mercedes-Benz S-Class, Lexus LS, and after several years of decreasing sales, the iconic luxury car was discontinued in 2002.
But like a phoenix rising from the ashes, the Lincoln Continental is back in showrooms after a 15-year hiatus, and it's ready to take on the competition with it's stunning good looks, a relatively low price of entry, and that storied nameplate that still holds some value after all these years.. Not to mention, those hilarious Matthew McConaughey commercials that have people talking about (and buying) Lincolns once again.
When the Lincoln Continental concept debuted at the New York Auto Show in 2015, it was love at first sight, a sign that Lincoln was back in a big way. And unlike many concept cars, the production model stayed pretty true to it, save for those awesome rear-hinged suicide doors (likely due to cost). That's a shame, as that feature is what makes the 60's-era Lincoln Continentals so freaking cool.
There's no question that Lincoln designers had a challenging road ahead of them, taking an iconic car like the Continental and modernizing it for today's consumer while still paying homage to the car's history. But they've done just that, delivering to us a gorgeous sedan that is distinctive, luxurious, and decidedly American.
"Elegant" is the best way to describe the Continental's styling. It's big and imposing (at 201.4 inches long, it's hard to miss), but it's understated, with just the right amount of chrome accents to make it pop. But the most impressive design feature are those trick door handles that runs along the window sill, as not to disrupt the car's sleek body lines. The handle hosts a small button that unlatches the door electronically.
Pictures don't do our tester's Midnight Sapphire Blue Metallic paint justice, it really looks incredible in person.
While our fully-loaded Lincoln Continental AWD Reserve had a hefty $75K price tag, those who don't need all the bells and whistles can get into a Continental for significantly less money. The base Premiere model starts at just $45,485. That's half the cost of a Mercedes S-Class, and comparably priced to a Genesis G80. Even in top-of-the-line trim, it's quite a bit cheaper than a Lexus LS.
With three models to choose from (Premiere, Select, and Reserve), there's a Continental for every budget out there. Our 2017 Lincoln Continental AWD Reserve is the best of the bunch, with every luxury and technology feature you could imagine (including sumptuous, 30-way adjustable seats), plus that glorious 3.0L EcoBoost V6 twin-turbo engine that puts out an impressive 400HP and 400 lb-ft of torque.
As you can imagine, this car has plenty of get up and go when you need it.. But don't mistake the Continental for a sports car, because that's not what it aspires to be. This car is all about traveling in quiet luxury, with the back massagers kneading away your stress while you lose yourself in the music from the 19-speaker Revel Ultima audio system. And it delivers that in spades.
The 2017 Continental is just what Lincoln needs to bring the oft-forgotten brand back to relevance, and based on what we experienced during our week with the car (including random folks coming up to us in parking lots to talk about the car and share fond memories about Continentals from their past), they're off to a good start.
We think Lincoln has a hit on their hands with the Continental, bucking the status quo to deliver a truly unique luxury sedan that's a nice change of pace from the boring sea of Germanic cars on the road today. It's great to see Lincoln step up and deliver that American luxury experience that's been lacking for so long, and we're excited to see what the future holds for them.
Final verdict: The 2017 Lincoln Continental is alright, alright, alright!
2017 Lincoln Continental AWD Reserve:
Base Price: $56,075
As-Tested Price: $75,020
For more information: https://www.lincoln.com/continental/