Flying High In The All-New Lincoln Aviator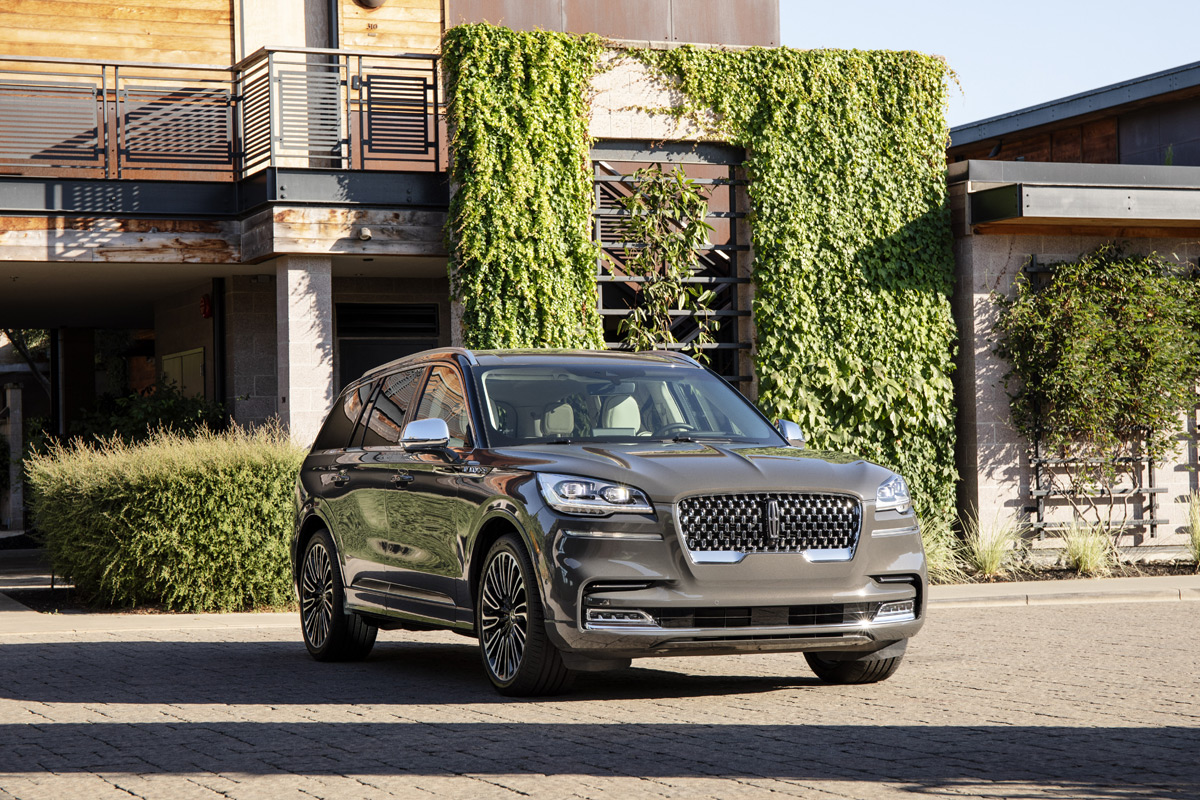 If you've been following the Lincoln story, you've seen firsthand how they've transformed from a nearly-forgotten brand to a luxury trendsetter in just a few short years, thanks in part to the Lincoln Continental and Navigator. And that story continues with their latest offering, the all-new 2020 Lincoln Aviator.
At first glance, it's easy to dismiss the new Aviator as simply an upscale Ford Explorer with a more elegant design and fancier tech. But after spending a day driving around Napa Valley in both the Aviator and Aviator Grand Touring, I can honestly tell you that while these two SUVs share the same platform architecture, they're about as different as they can get.
Visually, we think Lincoln really knocked it out of the park, with the Aviator sporting a strong, confident stance, flowing horizontal lines that taper towards the rear, and Lincoln's signature grille. While the Explorer has a more rugged look, the Aviator is all about sleek elegance and delivering that luxury experience that Lincoln has come to be known for.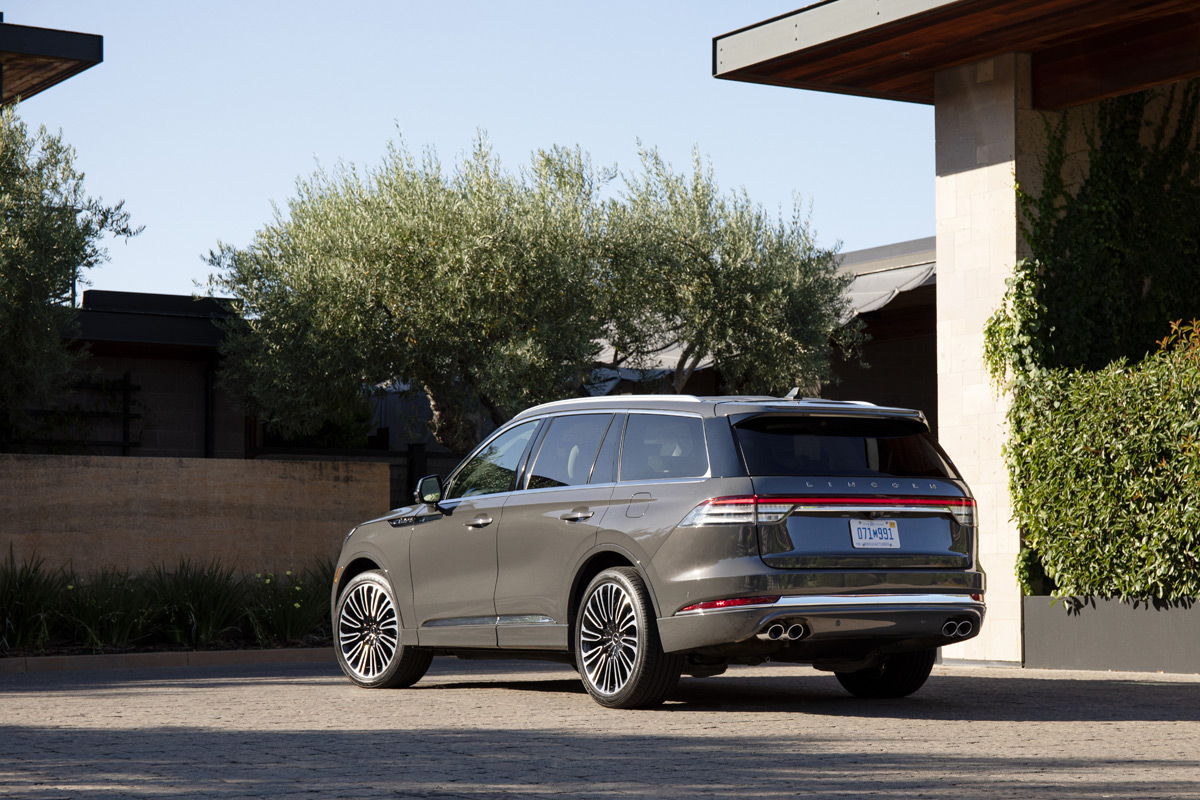 That elegance carries over into the Aviator's spacious, airy cabin, which accentuates horizontal lines, minimizing visual clutter and offering a relaxing ambience. As you would expect, there's plenty of leather and wood to go around, and stepping up to one of the Black Label packages (Flight, Chalet, or Destination) takes the luxury appointments to a whole other level.
But they didn't stop there. Those notification sounds you hear when the door is ajar, your seat belt isn't fastened, or your fuel door is open? The Aviator features unique chimes recorded by the Detroit Symphony Orchestra provide musical alerts for 25 features.
Aviator also has available Perfect Position, 30-way adjustable seats, which not only help you to get perfectly comfortable, but they also have a massage feature to work out the knots in your back after a long day at the office or during a long road-trip. Seriously, who needs one of those fancy Brookstone chairs when you've got these in your car?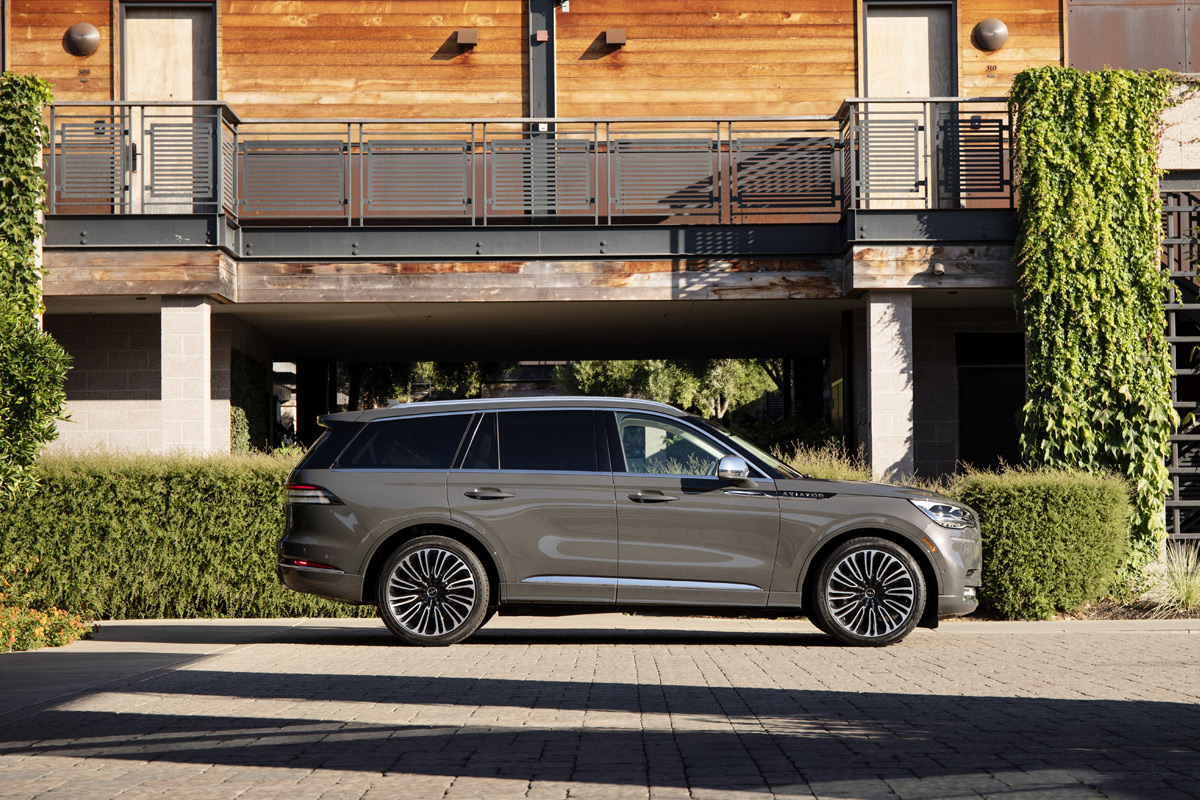 The 2020 Aviator touts their Quiet Ride technology, which delivers vault-like quiet thanks to laminated glass, significant sound-deadening, active noise cancellation, and low-noise tires, among other efforts. It's pretty remarkable, simply close the door behind you, and the chaos of the world around you all but disappears.
But if things are too quiet for you, simply crank up the available 28-speaker Revel Ultima 3D sound system, and prepare to be amazed. There's not enough room to write about it here, but click the link above and learn all about this game-changing sound system, and why you need to pony up for it if you're buying an Aviator.
And of course, this car is loaded to the gills with technology. Walk up to the vehicle and the air suspension lowers automatically, making it easier to get in. Phone As A Key is just as it sounds, enabling drivers to unlock, start the car, or roll down the windows using an iPhone or Android-compatible app via Wifi or Bluetooth. And there's a plethora of safety features to keep you and your family safe thanks to Lincoln Co-Pilot360.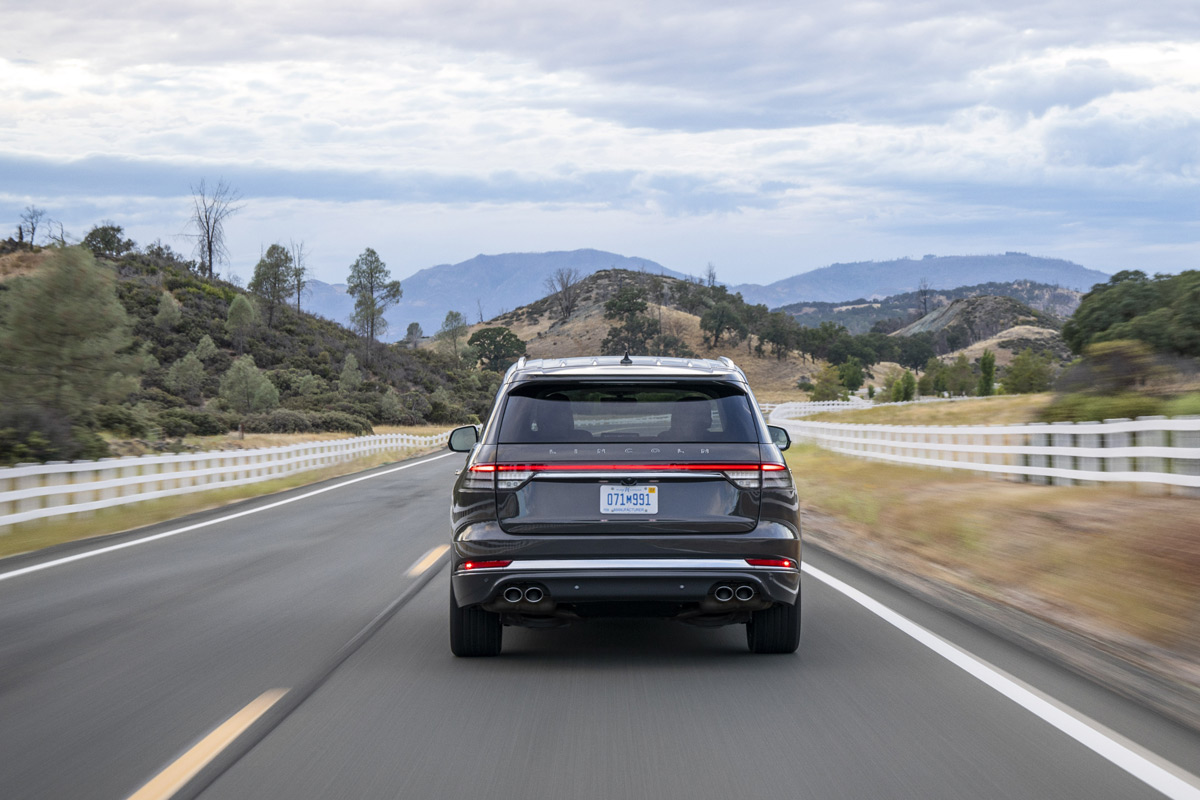 Now lets talk about the Aviator's driving dynamics. With a rear-wheel-drive architecture and plenty of power under the hood, the midsize luxury SUV offers a compelling combination of performance, capability and choice, with intelligent all-wheel drive available and the option of a gasoline or hybrid powertrain.
The Lincoln Aviator's base engine is a twin-turbocharged 3.0-liter V6 engine that's paired with a new 10-speed SelectShift automatic transmission, delivering 400 horsepower and 415 lb-ft of torque for effortless acceleration. Despite it's size, the 5,167-pound vehicle is plenty quick, racing from 0-60 mph in 5.4 seconds, and covering the quarter mile in 14.1 seconds.
The Aviator Grand Touring plug-in hybrid takes the levels of performance even higher, with an impressive combined output of 494 horsepower and 630 lb-ft of torque. While the car is a bit peppier (thanks to the instant low-end torque from the electric motor), the extra motors and batteries add nearly 700 pounds to the car's weight, so it's not that much quicker.
On the back roads of Napa, the Aviator performed admirably, with no noticeable body roll in the twisties and soaking up road imperfections with ease, thanks in part to the its all-new architecture and the optional adaptive suspension, which uses multiple sensors to read the road ahead within milliseconds and adjust accordingly.
Pricing for the Lincoln Aviator starts at $51,100. Moving up to the Aviator Reserve brings the price up to $56,190, but it adds a lot of useful content. Stepping up to the Aviator Black Label will set you back $77,695. Meanwhile, the Aviator Grand Touring Reserve starts at $68,800, while the Grand Touring Black Label tops $90,000!
Overall, there's a lot to like about the all-new Lincoln Aviator, and we think it should prove to be competitive against the likes of the Lexus RX, Cadillac XT6, Mercedes-Benz GLE, BMW X7 and others, assuming you don't go overboard on packages and options.
Click here to learn more about the Lincoln Aviator, build your own, or schedule a test drive.