Review: Sugar Factory American Brasserie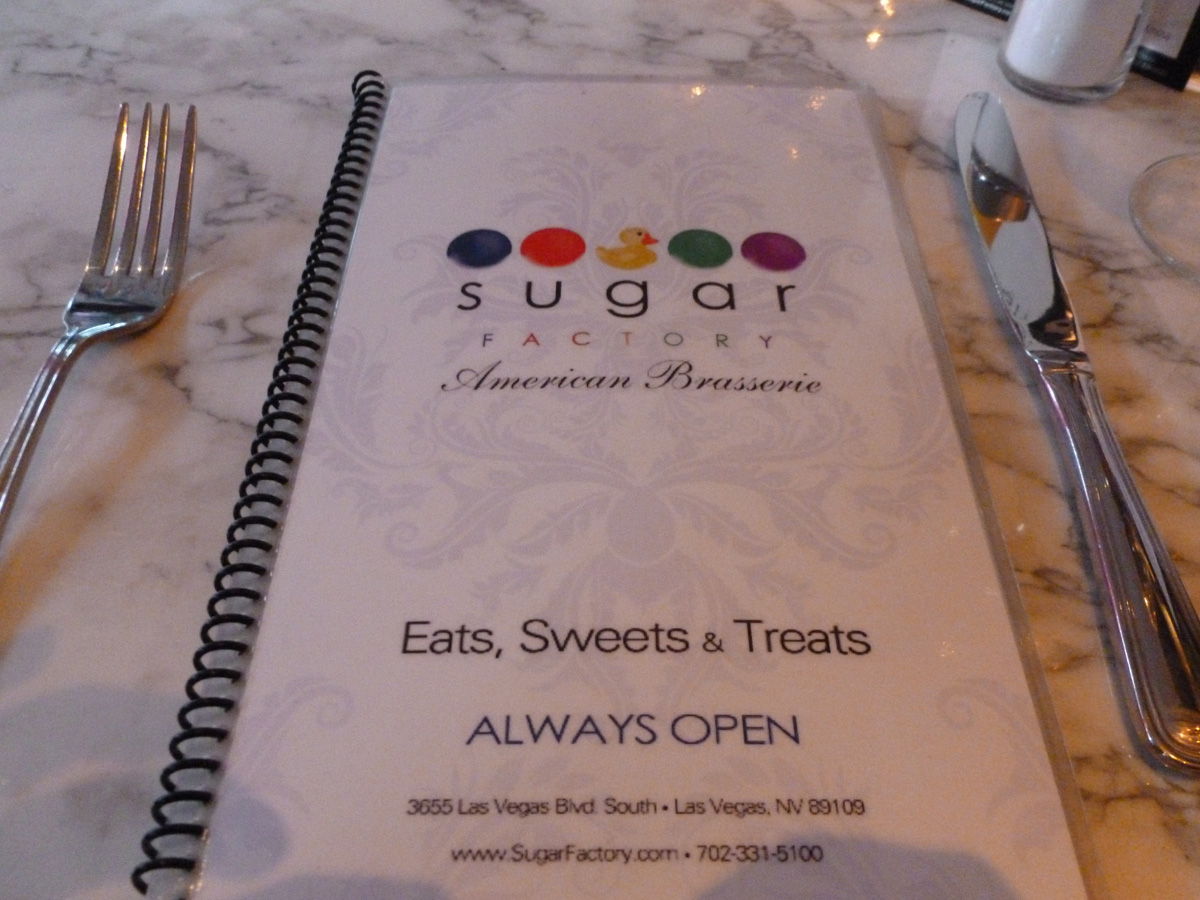 I've been wanting to eat at Sugar Factory in Las Vegas for awhile now, but timing always was an issue. Most of my trips to Vegas are so jammed packed with activities that it's hard to add something to the schedule. So when we made plans to come out to Vegas again, I made sure to set aside an evening to dine at Sugar Factory. It was an AMAZING dinner that I won't soon forget, and I'll be back the next time I'm in town!
The mouthwatering menu at Sugar Factory has been handcrafted by a team of world-class chefs and features perfectly executed classics such as pizzas, burgers, pastas, salads, steaks, seafood, sandwiches and more. Breakfast options are served all day including fluffy waffles, omelets, crepes and specialty egg dishes. Sugar Factory also has an over-the-top dessert menu featuring classic sweet treats and signature selections.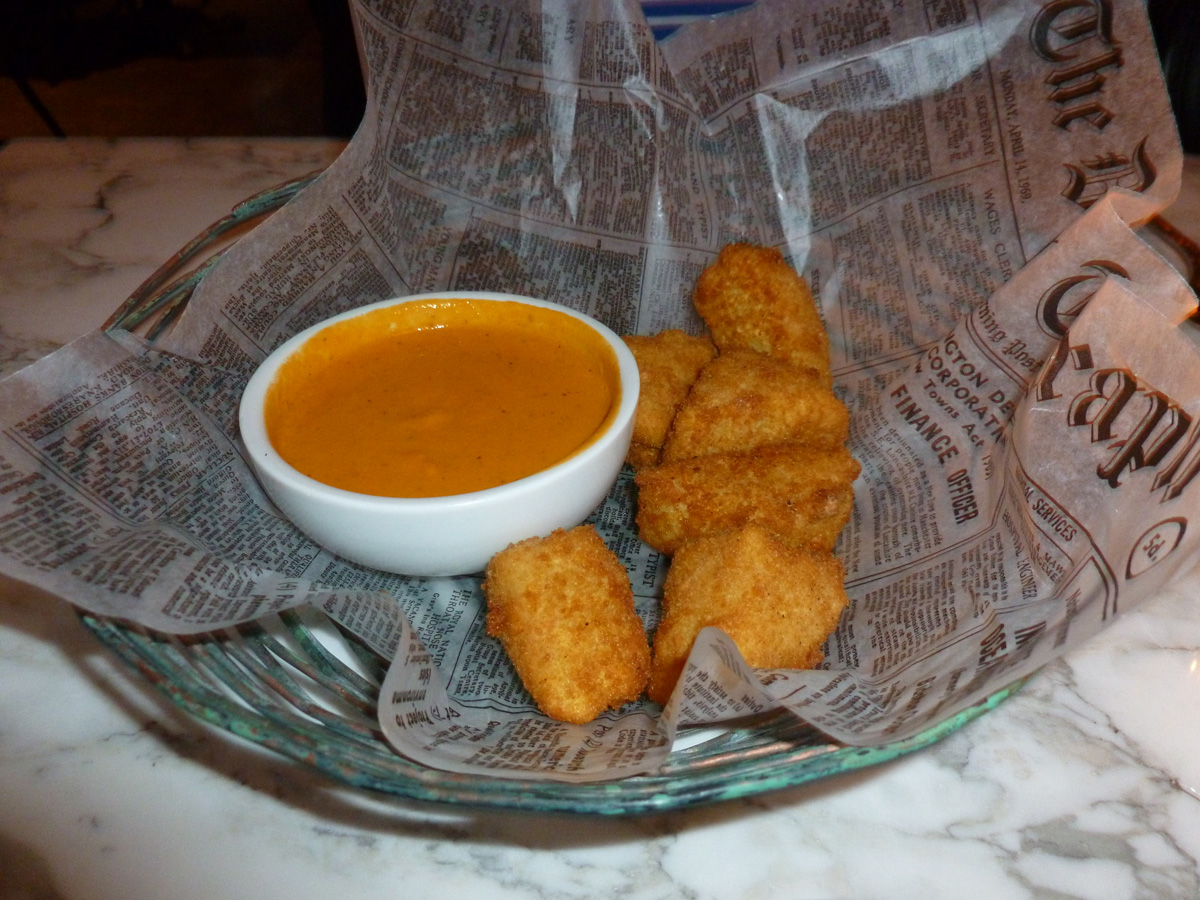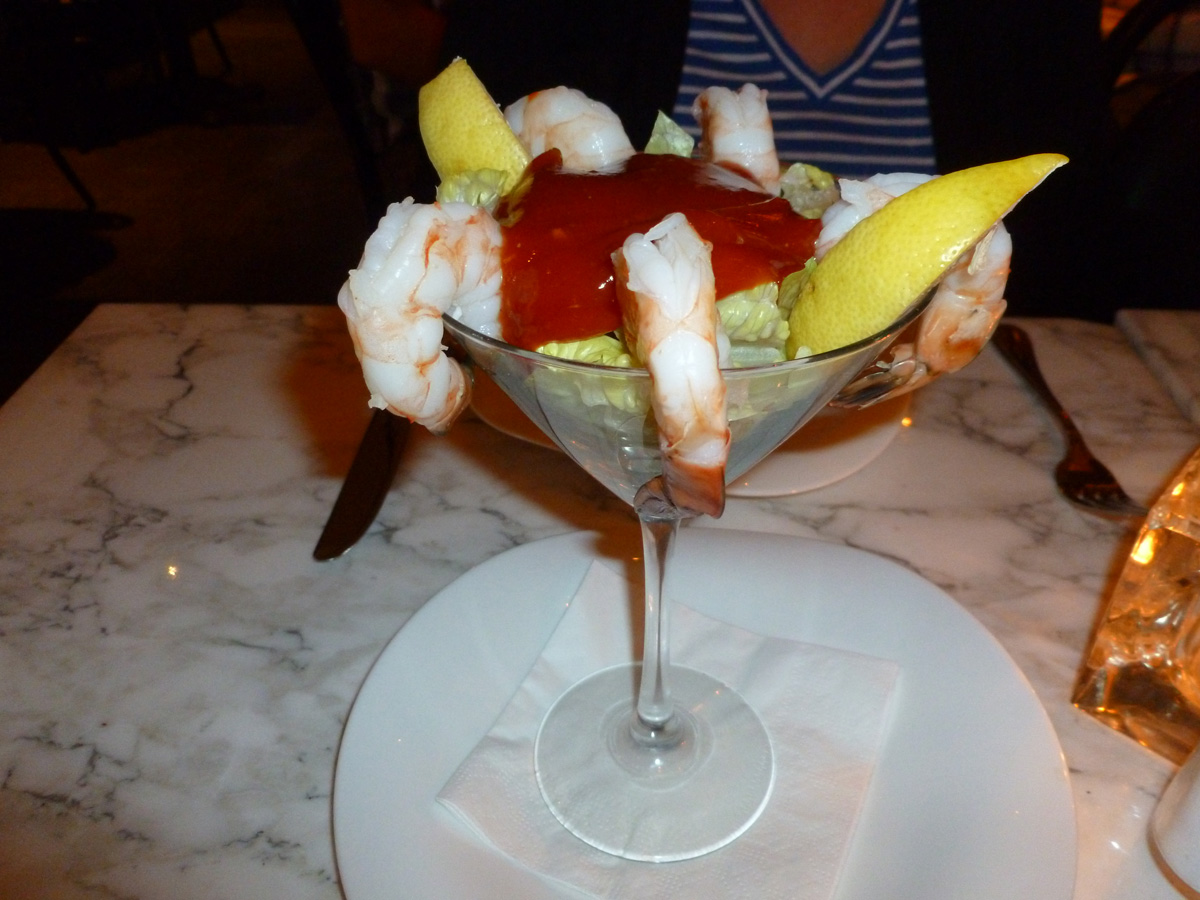 We started out with some appetizers. Everyone raves about how great the Fried Macaroni & Cheese-Pops are, so we had to try that. And we ordered the Jumbo Shrimp Cocktail as well. The Fried Mac & Cheese-Pops is basically macaroni and cheese that's been battered and deep fried, served with a creamy tomato-herb sauce. Delicious, and I can see why everyone raves about them! The shrimp cocktail was also very good, but a little pricey at $17.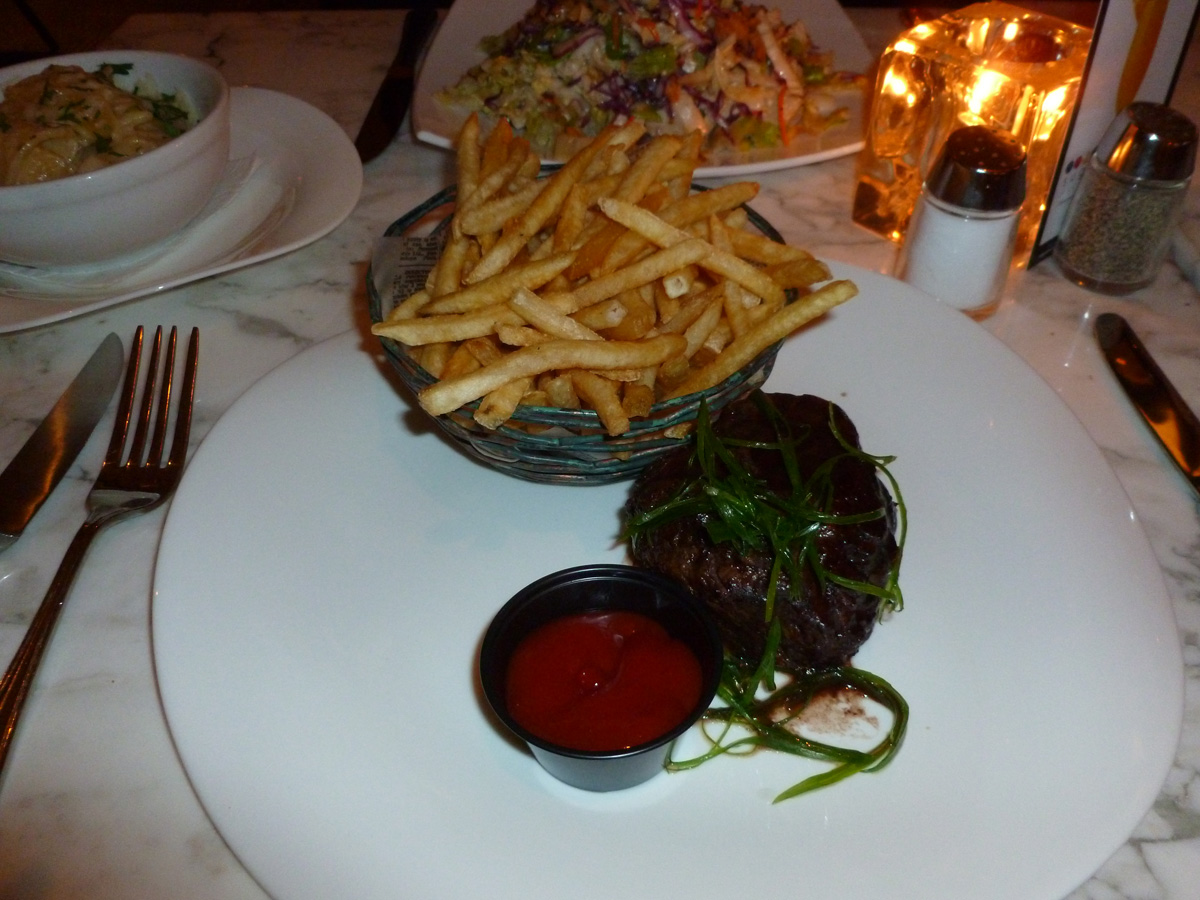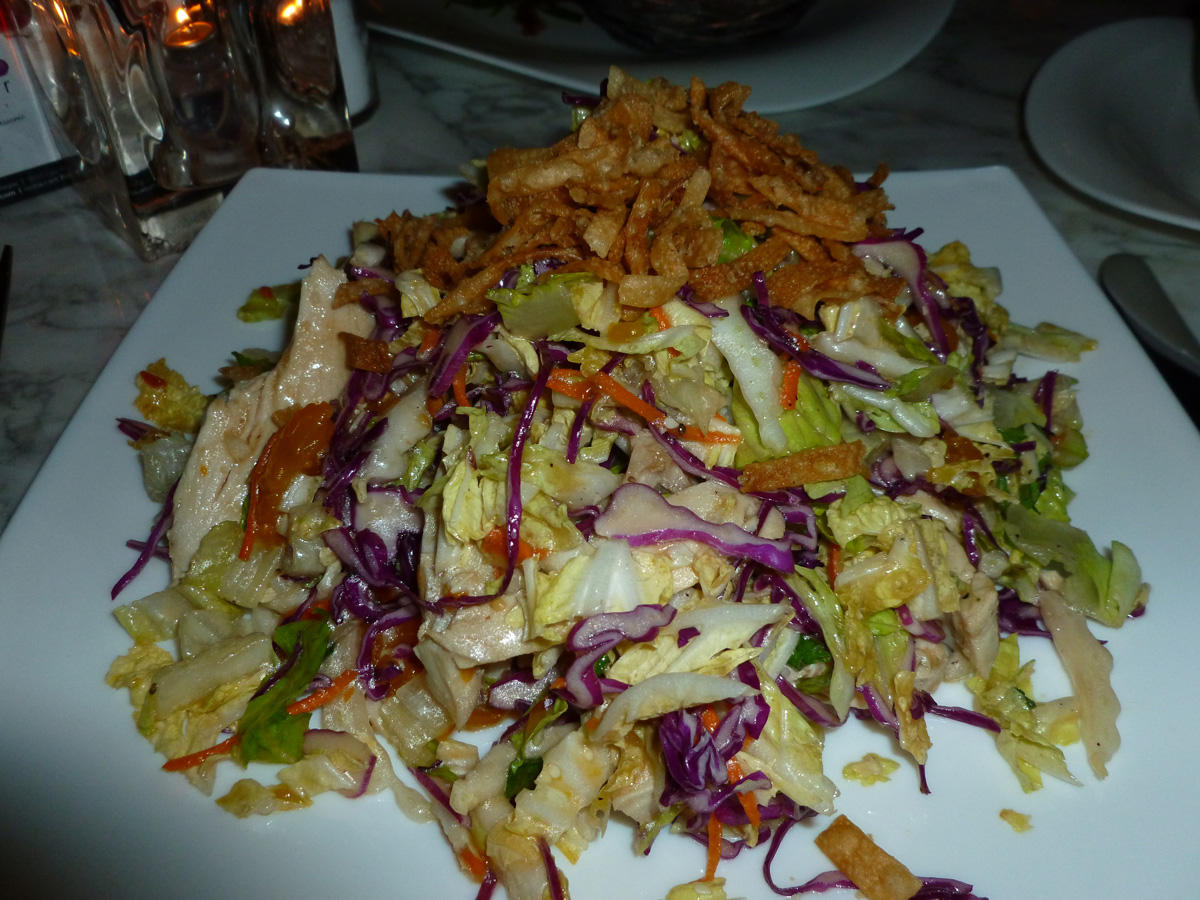 For our entrees, I ordered the Grilled Black Angus Filet, and my wife went with the Chinese Chicken Salad. Our waiter actually suggested the filet, and it was absolute perfection!
The steak was beautifully cooked, it just melted in your mouth! It came with a red wine sauce that really put it over the top, and next time I'll be asking for some extra sauce on the side. It's a real bargain at just $29, having paid almost twice that at some steakhouses in NYC for a similar dish (that may not have been as good as this).
My wife's salad wasn't something that I would have ordered, but she really enjoyed it. The Chinese chicken salad comes with shredded cabbage, crispy wontons, carrots, green onions, sesame seeds, peanuts, cilantro, and a ginger sesame dressing. As you can see from the picture above, it's a pretty massive salad, one that could easily be shared by two people.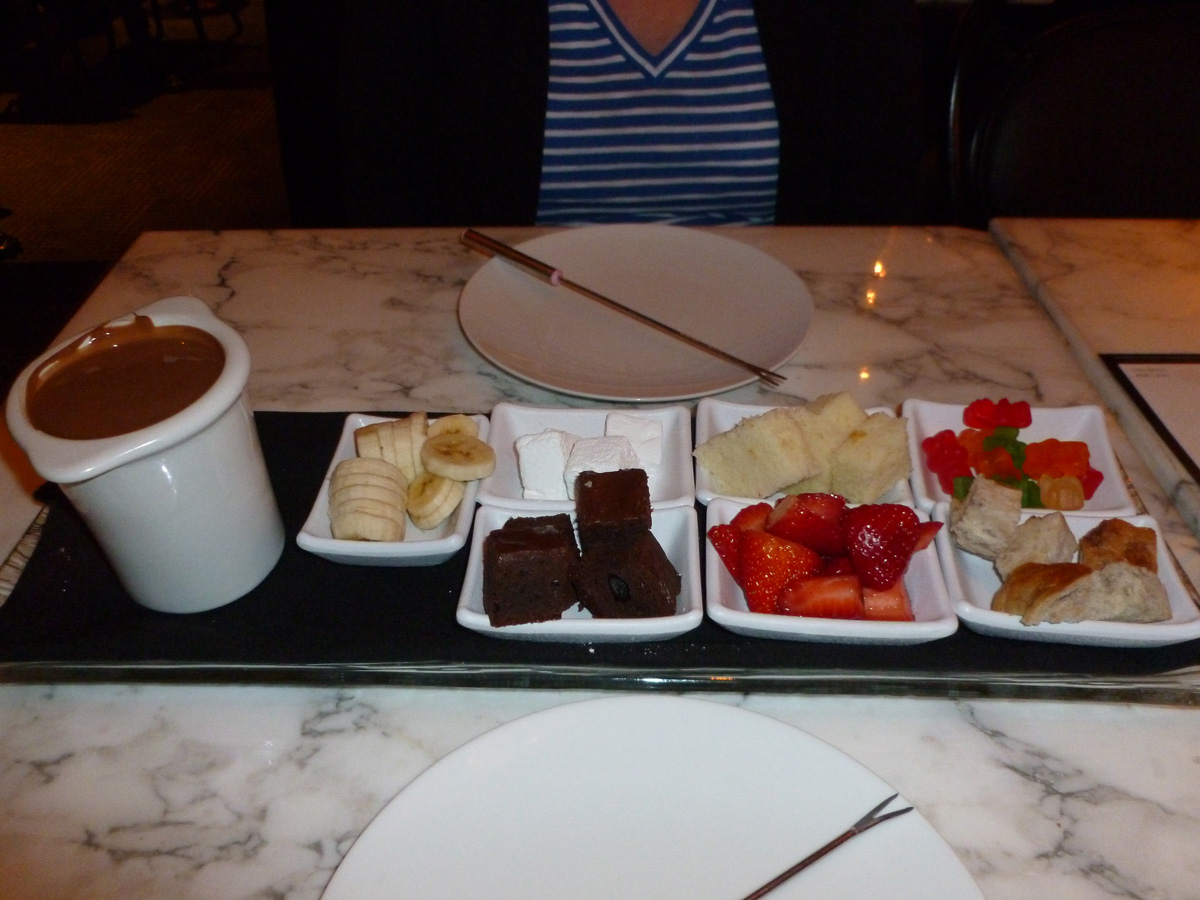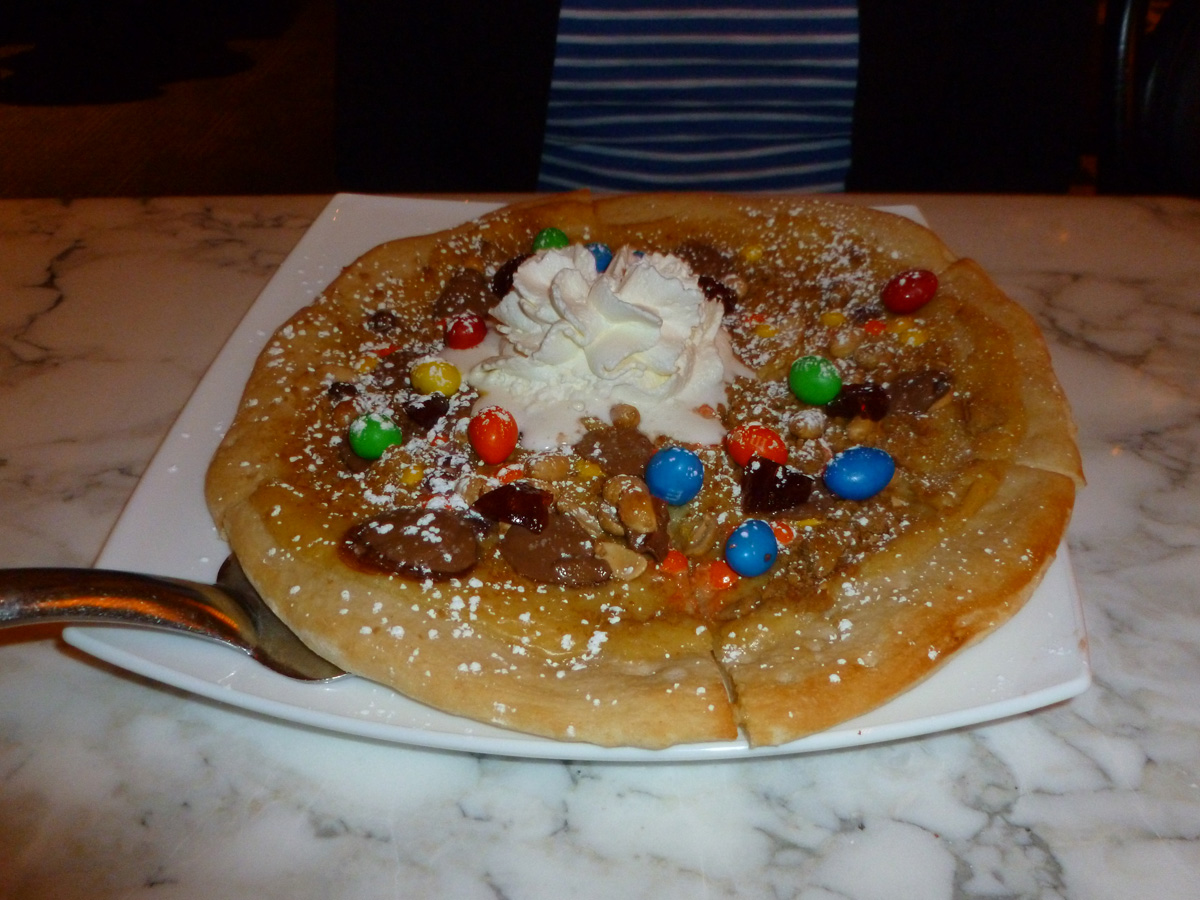 And finally it was time for dessert. We got the Sugar Factory Fondue and the Peanut Butter, Jelly & Milk Chocolate Pizza. It was overkill for sure, but we couldn't decide on just one. 🙂
I absolutely LOVE chocolate fondue, and Sugar Factory is well-known for this, so of course I had to order it! The fondue is served with brownie bites, homemade marshmallows, gummy bears, white chocolate bread (wow), bananas, strawberries, and a lemon buttery pound cake. Ah-mazing! I actually liked it better than The Melting Pot's chocolate fondue, if you can believe that. Next time I'm going to try some of the other fondue treats they offer, like the Rice Krispy bites, chocolate pretzels, and cheesecake chunks.
The PB&J chocolate pizza was unlike anything I had ever seen before, and pure curiosity convinced us to try this. The pizza "crust" is actually sugar cookie dough, and it's topped with peanut butter, milk chocolate, crumbled peanut butter cookies, Reese's Pieces, strawberry jam, whipped cream, peanut butter M&Ms, and toasted peanuts. Certainly not the easiest thing to eat without making a mess, but it's well worth the effort! (And if you're not a peanut butter fan, they've got some other sweet pizza varieties that are sure to please)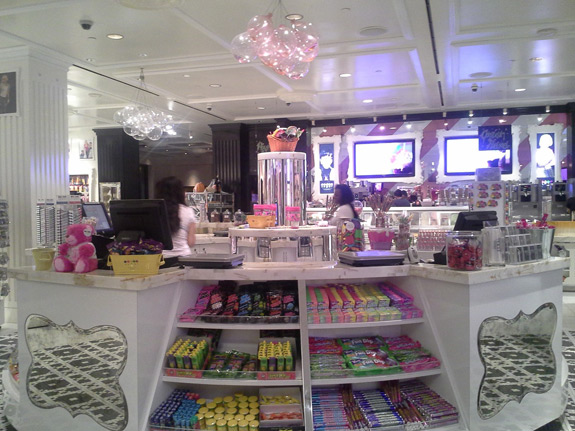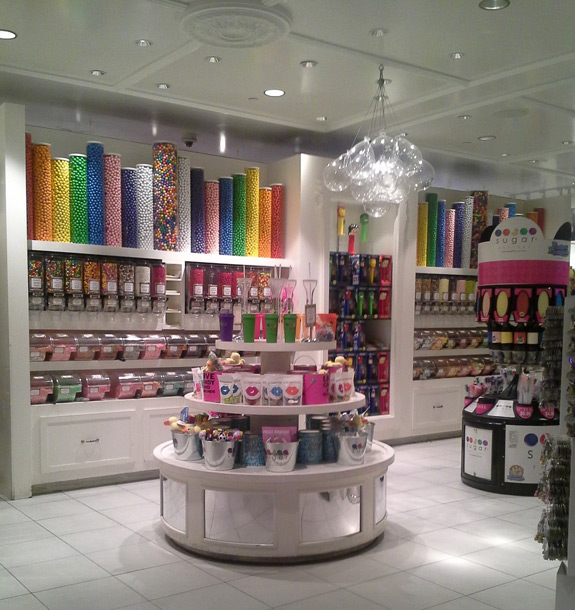 After that sensational dinner, we waddled out to Sugar Factory's retail store, a one-of-a-kind confectionery heaven where the imaginative world of Willy Wonka meets the trendsetting style of MTV. The walls are adorned with photos of celebrities who have stopped by Sugar Factory, and there's candy as far as the eye can see. If I wasn't so full from dinner, I probably would have bought some treats here.
What else can I say? The food was incredible, the service was impeccable, and I can't wait to come back here on my next trip to Las Vegas. Whether you're coming for the massive drinks, the delicious food, or the decadent desserts, you simply can't go wrong at the Sugar Factory!