Review: Turtle Shell Wireless Boombox
Bluetooth speakers are great. They allow you to take your audio with you without worrying about tons of wires, but with all this freedom comes concern. What good is a portable speaker if you always worry about dropping it, or getting wet, or even getting it dirty? Enter the Turtle Shell from company Outdoor Technology.
This new product has been propelled by a super-successful Kickstarter campaign, and now the world may reap the rewards. The funky looking speaker is IPX-5 certified meaning it is dustproof and extremely water resistant. This is a huge boon for anyone who, like your author, enjoys spending time outdoors. Being an avid SCUBA diver, this speaker is one of the few options on the market that fits the bill for ruggedness. Other friendly features include a metal clip for hanging the speaker to things, and there is also an included screw mount. The mount is a standard screw base like you would find for any digital camera, and Outdoor Technology have already developed a bike clamp mount for the speaker.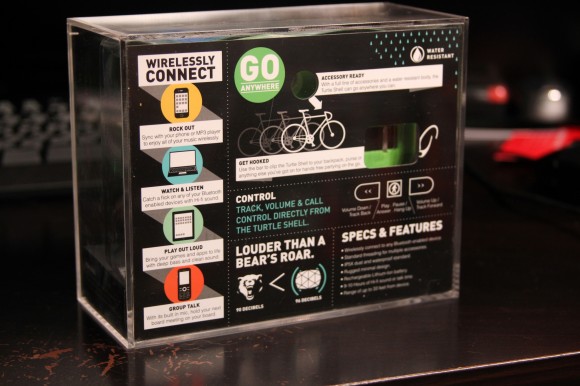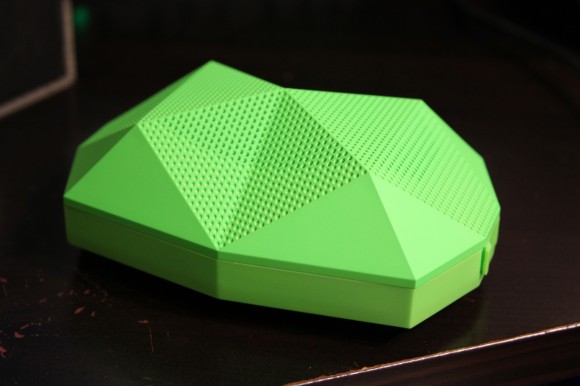 We personally like the odd angular shape of the device and it lends it a very turtle like look, but our favorite thing about the exterior is the color. Ours came in a neon green color that is fun and funky, a far cry from much of the staid designs many companies are using. The color also made it much easier to keep track of when outside. If green isn't your thing, they do sell the Turtle Shell in six more colors: white, red, blue, pink, seafoam (think teal) and black.
The Turtle is relatively easy to set up. Pull it out of the very sturdy case and turn it on using the switch on the side. To pair the speaker, just hold the center of the three buttons until the power switch flashes red and blue. Once your device is paired, press play and have fun. The box also comes packed with a charging plug, USB cord, a white carrying bag, and 3.5mm auxiliary cable so that you can connect a device that doesn't have Bluetooth.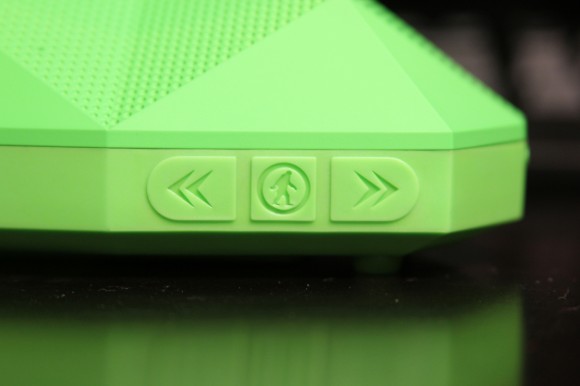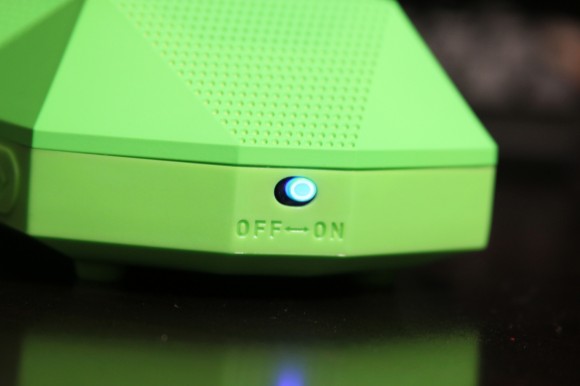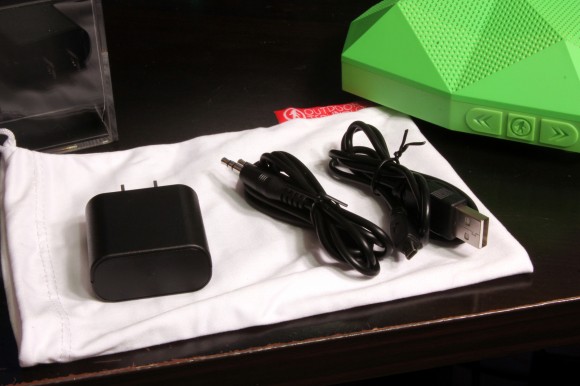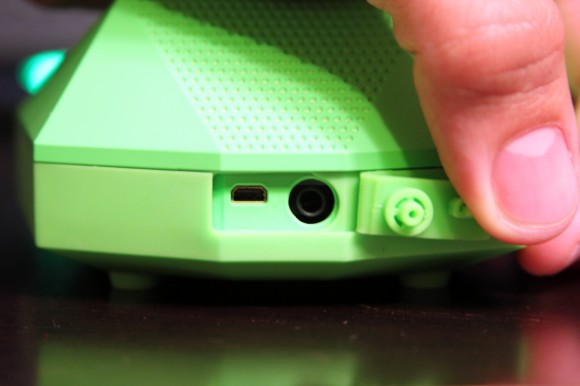 The buttons on the side are all multi-functional with the side buttons controlling volume, or they can be held to change songs. The center button handles play, pause, pair, answer and end. Yes, answer and end, the Turtle has a built in microphone and doubles as a Bluetooth speaker phone.
The whole shebang is powered by a built-in Li-ion battery that is rated for 10 hours of continual use. While we have yet to run a full battery test, we can say that it doesn't run out of juice quickly. The sound quality from the Turtle is not spectacular, but we would call it above average for a speaker of its size. At lower volumes, quality is good with crisp sounding highs and solid mids. Bass is good from a speaker of this type, but anyone looking for really punchy sound should look to something larger.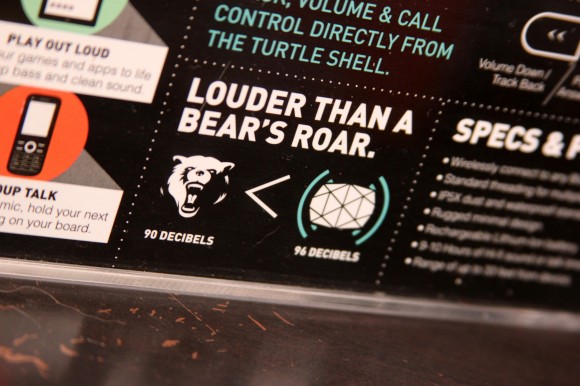 The real strength of this speaker though lies not in its quality, but in its volume. This thing is loud, seriously loud. It says on the back of the box that it will reach a level of 96 decibels, which is apparently louder than a bear's roar (although they didn't say what kind of bear). This is great for anyone who wants to use this speaker at social gatherings. During a recent outdoor gathering, the speaker produced enough sound to keep everyone entertained. Best yet, you don't have to worry about anyone spilling a drink on it! The music does lose some of the sharper definition at the louder volumes but it is not anything that would significantly impact its usability as a quick party speaker.
We have always been fans of Bluetooth portable speakers, but have refrained from a lot of serious usage due to durability concerns. Thanks to the rugged nature of the Turtle Shell, that is no longer a problem. The price is also very palatable with a MSRP of $149.95. Most Bluetooth speakers we have tested of this quality are much more expensive.
Pros: It looks great, has good battery life, and sound quality is better than its price suggests. It is also super rugged and super loud.
Cons: Some might not like the bright color or angular design, bass response is a little shallow, and sound quality is lessened at volume.
Score: 7.5/10