Ripping Around Austin In The 2022 Polaris Slingshot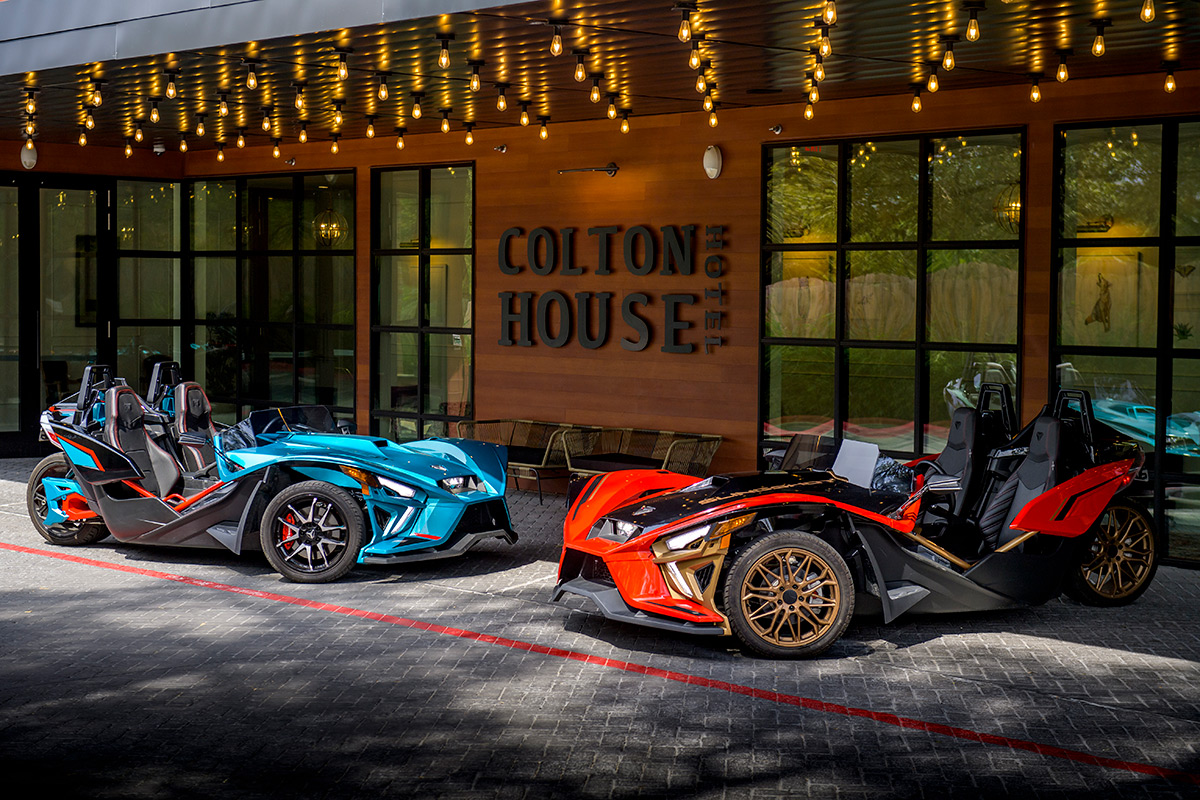 A few years ago, I was driving down the highway when this crazy three-wheeled vehicle passed me, and I was like, "What the heck was that?" At first, I thought it was a trike (a three-wheeled motorcycle), but the rider was sitting super low to the ground, and the skeletal design of the vehicle was wild, unlike anything I had ever seen before. Turns out it was a Polaris Slingshot, and I was immediately taken by it.
Introduced back in 2015, the Polaris Slingshot is a three-wheeled autocycle, bridging the gap between motorcycle and car and delivering the best of both worlds. Hop inside the Slingshot, and you'll see a traditional steering wheel, gas and brakes pedals, making it easy for anyone to drive one, even if they've never ridden a motorcycle before.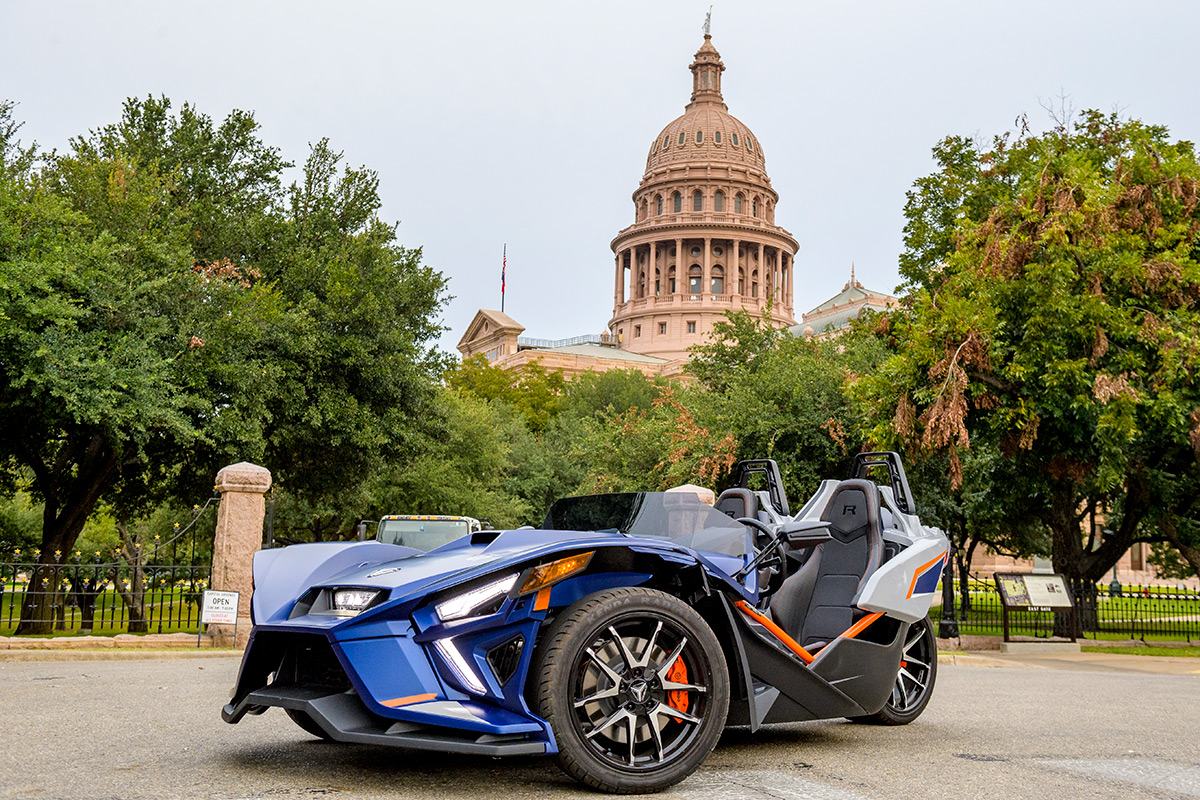 Furthermore, while it's still technically classified as a motorcycle, nearly all states in the US allow you to drive one with a standard drivers license, no motorcycle endorsement required. Helmet laws vary from state to state, but I'd suggest wearing a helmet regardless, as that tiny windshield isn't doing much to protect you from bugs and road debris.
Back in 2019, I had a chance to review a Slingshot, and it was an absolute riot. But since then, a number of changes and improvements have been made (including the addition of an optional automanual transmission). So when Polaris asked if I would be interested in coming to Austin to drive their new 2022 Polaris Slingshot models, attend the Austin City Limits music festival, and eat some delicious BBQ, it was a no-brainer for me!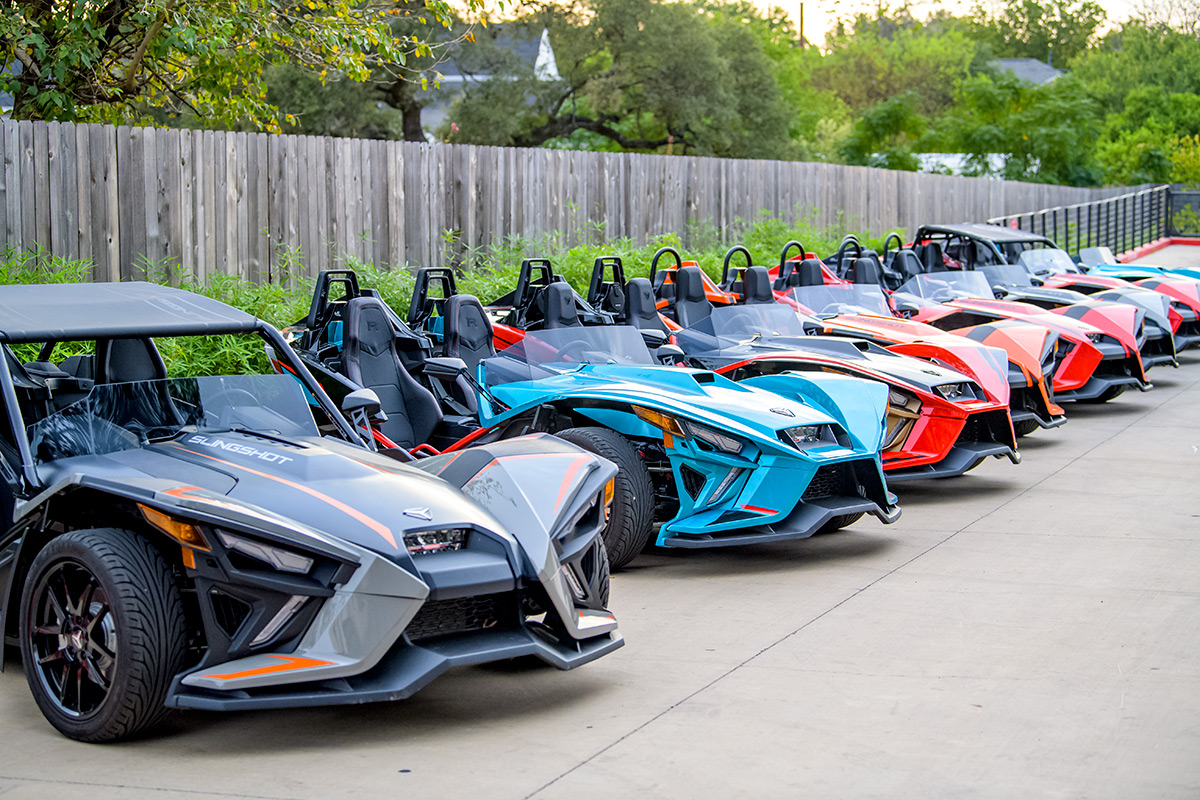 Arriving at the Colton House Hotel, I was immediately greeted by a whole fleet of Slingshots in various colors and configurations, and I couldn't contain my grin about the fun that was about to be had. After a quick briefing, we headed downstairs to find our assigned vehicles, found our helmets (which were custom painted by Skratch's Garage), and got ready to head downtown for a nice leisurely Friday afternoon cruise. I was lucky enough to score a Slingshot Signature LE model with a 5-speed manual, so I was pretty stoked.
Speaking of which, there are 5 trim levels to choose from: Slingshot S ($20,799), Slingshot SL ($26,799), Slingshot SLR ($29,699), Slingshot R ($33,299), Slingshot Signature LE ($35,799). The S is the base model, a blank canvas for those who want to customize their ride themselves, or for those who are on a budget but still want to have some fun. Each model up from there adds more style, comfort, and performance, so you can go as crazy as your wallet allows for.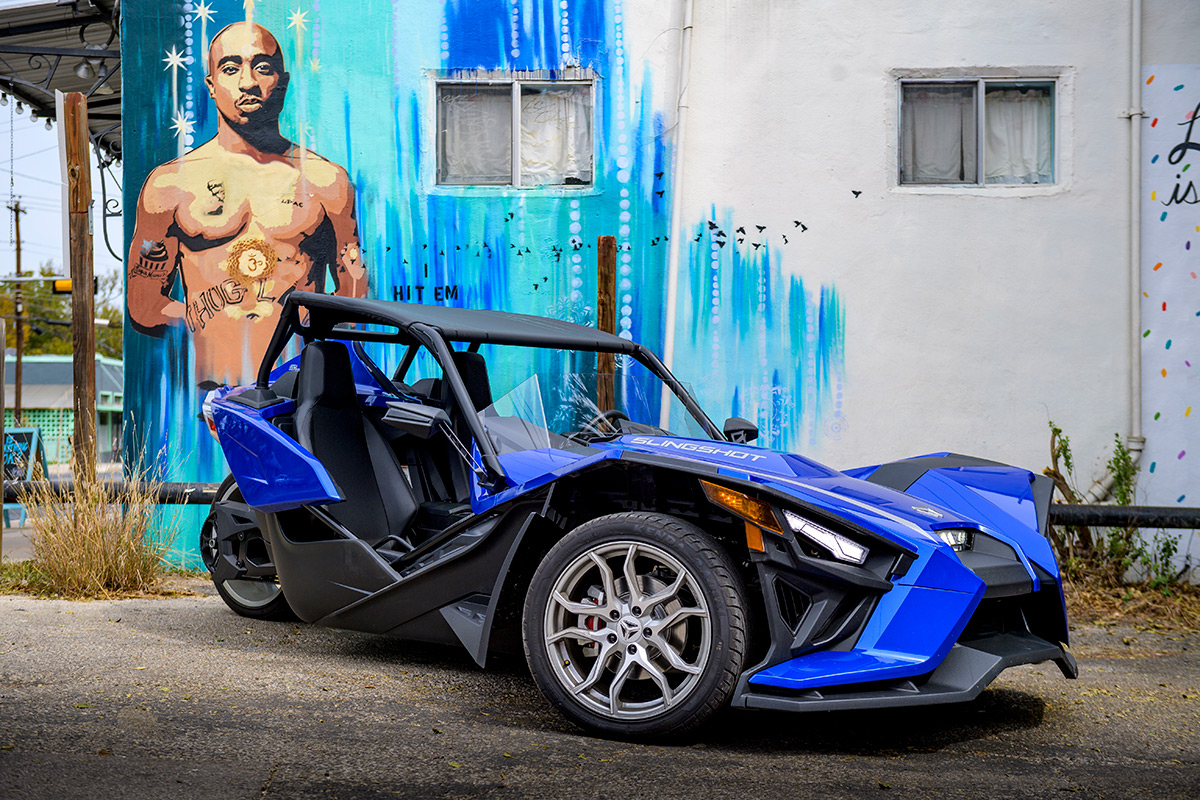 Polaris offers a ton of accessories as well so that you can customize your ride to your liking, including a couple of top options, a vented hood, a bumping sound system, interior lighting, and much more. And of course, the Slingshot comes in a variety of different colors, with some really bold paint schemes that will have people turning their heads as you zip on by. Our rides were all distinctly unique and colorful, so we were quite a sight to see rolling down the street.
That's actually a huge part of the Slingshot driving experience, the attention that it gets. When we drove through downtown, all eyes were on us, and I can't tell you the number of people that stopped to check us out, not to mention people hanging their phone out their window to get some pics of our sweet rides. Heck, even motorcycle riders gave us thumbs up as we drove by. The Slingshot turns heads everywhere you go, so you've got to be prepared for that. If you're an introvert, this might not be the right vehicle for you. 🙂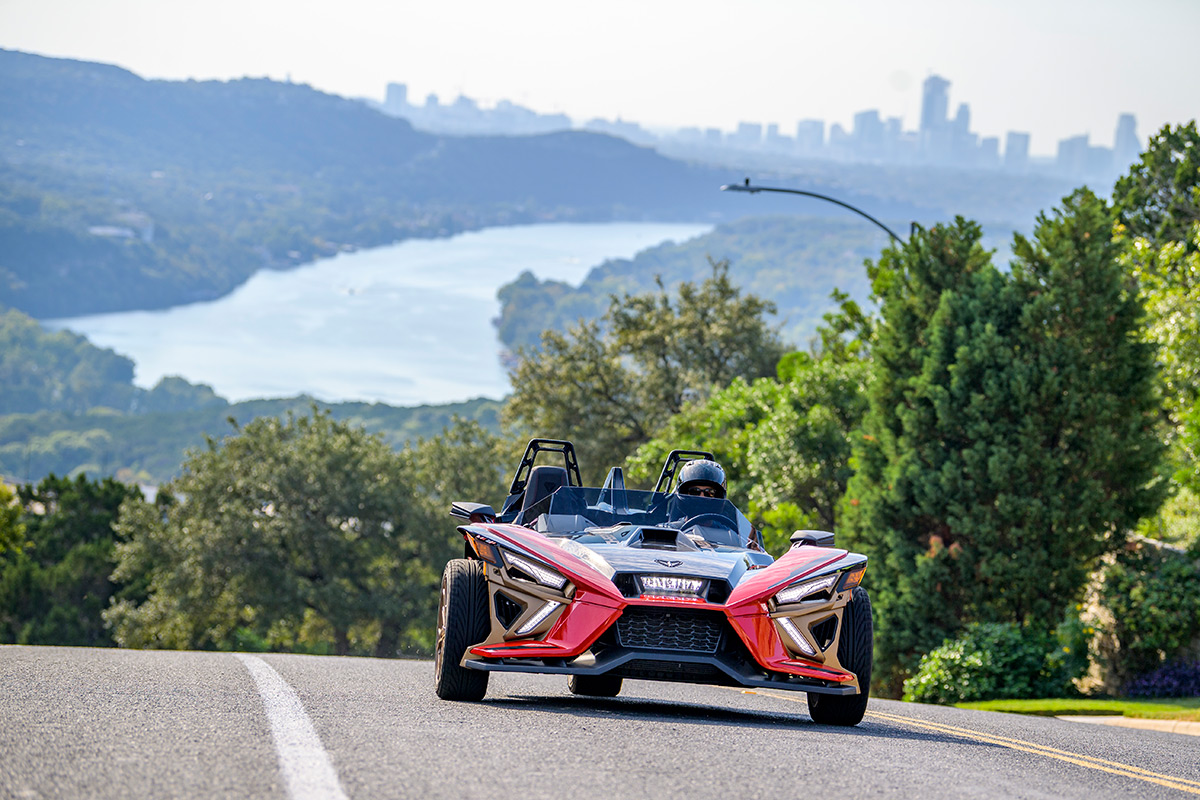 On Saturday morning, we headed into Hill Country to really test out the performance aspects of the Slingshots, and it's pretty insane. While 203HP and 144 lb-ft of torque might not sound like a lot on paper, keep in mind that the Slingshot weighs just 1,651 pounds, giving it a wild power-to-weight ratio of 8.1 lb/hp. And sitting just 5.4 inches off the ground, the low center of gravity allows you to take curves at high speeds, the handling is just amazing. Plus, the open-air cockpit makes the whole driving experience that much more engaging, making your speeds feel way faster than it really is. 65 MPH feels more like 100 MPH, it's pretty nuts.
The Polaris ProStar 2.0L 4-cylinder engine replaces the old GM Ecotec 2.4L DOHC 4-cylinder engine, and it's a noticeable improvement. This engine has low rotational inertia making it super eager to rev up to its 8500RPM redline and provide that immediate thrill of 203HP. This new engine also offers a wide power band paired with new gear ratios in the transmission, making it as enjoyable and exciting around town as it is in the sweeping corners of the open road. What's more, the new engine is actually 65 pounds lighter. With more power and less weight, the 2022 Slingshot is able to achieve a 0-60 MPH time 4.9 seconds.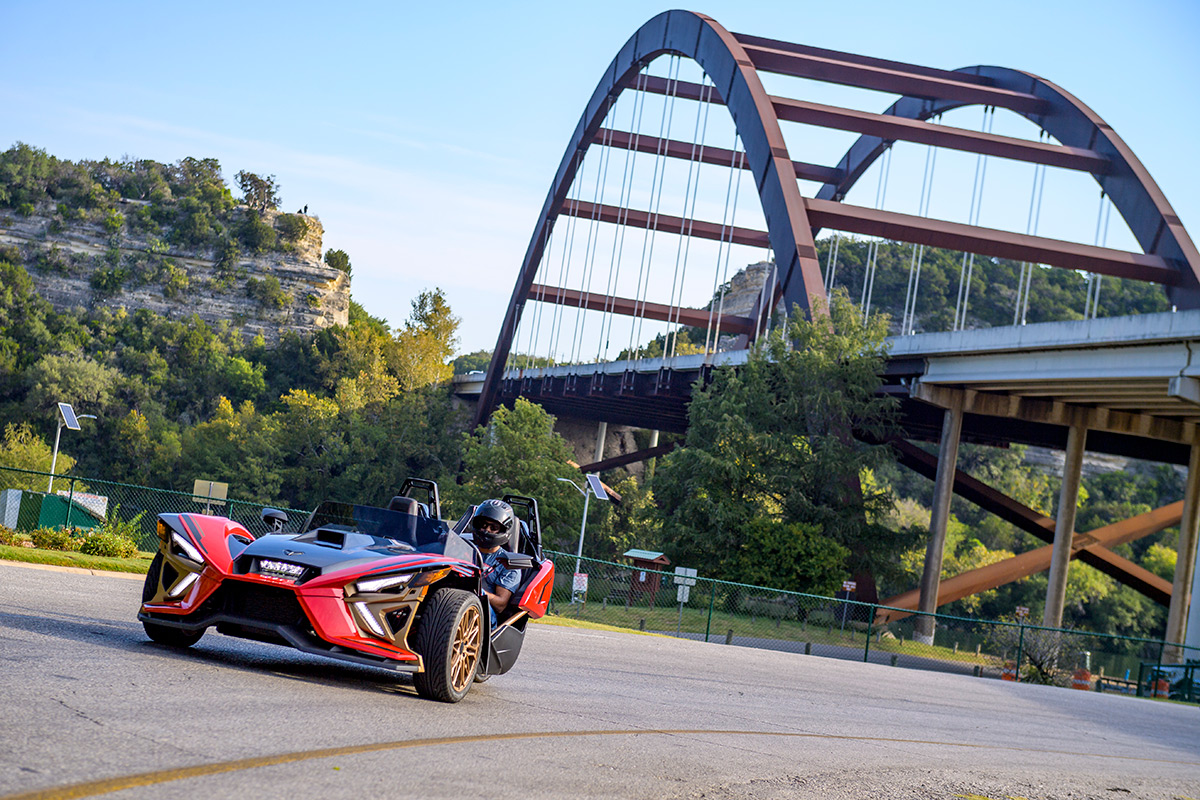 Within an hour of starting the drive, I was already thinking about how much I wanted to buy one when I got home, as I was having SO MUCH FUN behind the wheel of this bad boy. Keep in mind, I don't actually need a second car, and I live in a climate where I could only drive the Slingshot for part of the year. But all of those thoughts went out the window as I was ripping through the gears and tearing through the twisties, with a big smile plastered across my face.
I pictured myself taking off on the weekends, driving for a few hours along a scenic route "just because", with my girlfriend sitting next to me (another bonus of a Slingshot over a traditional bike, your passenger is next to you rather than behind you), jamming out to some tunes on our Rockford Fosgate Stage 3 audio system and just getting away from it all. Limited storage space might make a multi-day trip a bit challenging, but we could probably make it work.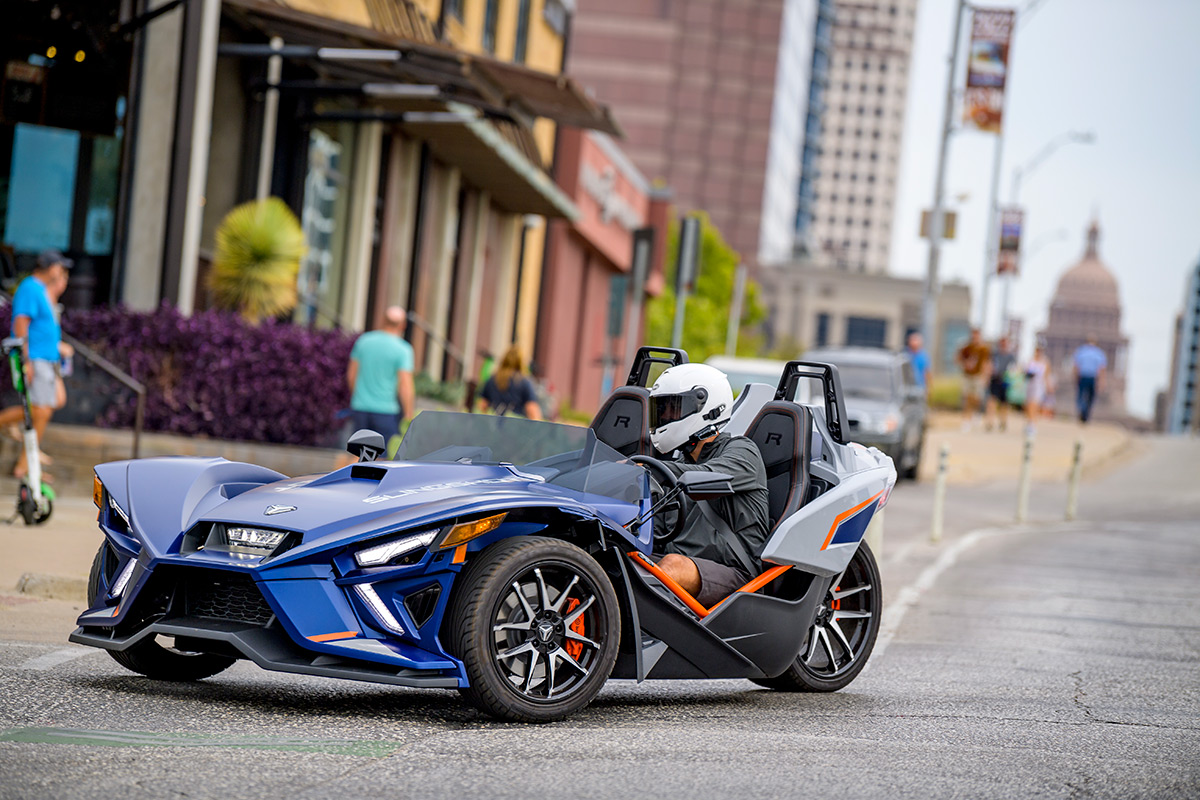 Yes, the Polaris Slingshot is totally impractical, but that is beside the point. This is a second vehicle for most, and I'd personally much rather have this over a motorcycle, a boat, or a UTV, as I know I'd get more use out of it. What's more, Polaris continues to improve these year after year. The ones I drove this weekend are more comfortable than ones I have driven in the past, and features stuff like heated and cooled seats are great to have, especially since there's no air conditioning (due to weight restrictions required to keep it classified as a motorcycle). There's even GPS navigation, RIDE COMMAND+ connected services, Apple CarPlay, and more.
Lastly, Polaris' optional AutoDrive fully-automated manual transmission makes the Slingshot accessible to more people, and the 75% take rate on it only proves that. While I'm a die-hard "save the manuals" person, I have to admit that this transmission is surprisingly great, it feels and engages gears like a true manual. The paddle shifters also work amazingly well. Honestly, if I were in the market for a Slingshot, I would seriously consider getting one with AutoDrive, as it would give my g/f the ability to drive it from time to time, and I'm not giving up anything.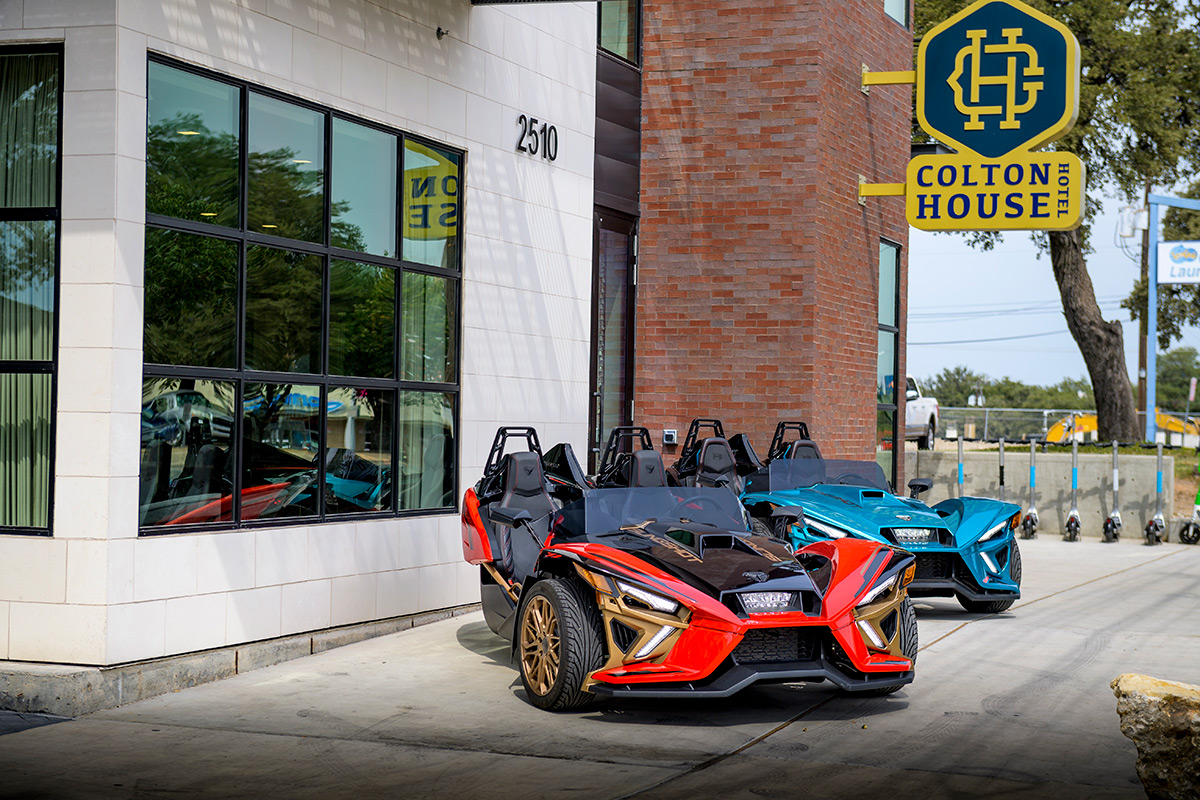 Overall, the 2022 Polaris Slingshot is an absolute blast, and I can certainly see the appeal of it. It's safer than a motorcycle, more thrilling than a convertible, and it elicits attention like you wouldn't believe thanks to its bold styling, loud colors, and its sheer utter coolness. It looks, sounds, and drives like nothing else on the road. Each one is as unique as its driver, serving as the ultimate platform for self-expression.
And with a starting price of around $20K, it's well within reach for most buyers. You can visit https://slingshot.polaris.com/ to learn more about the Polaris Slingshot and build your own.