The 2019 Polaris Slingshot Three-Wheeler Is Like Nothing I've Ever Driven Before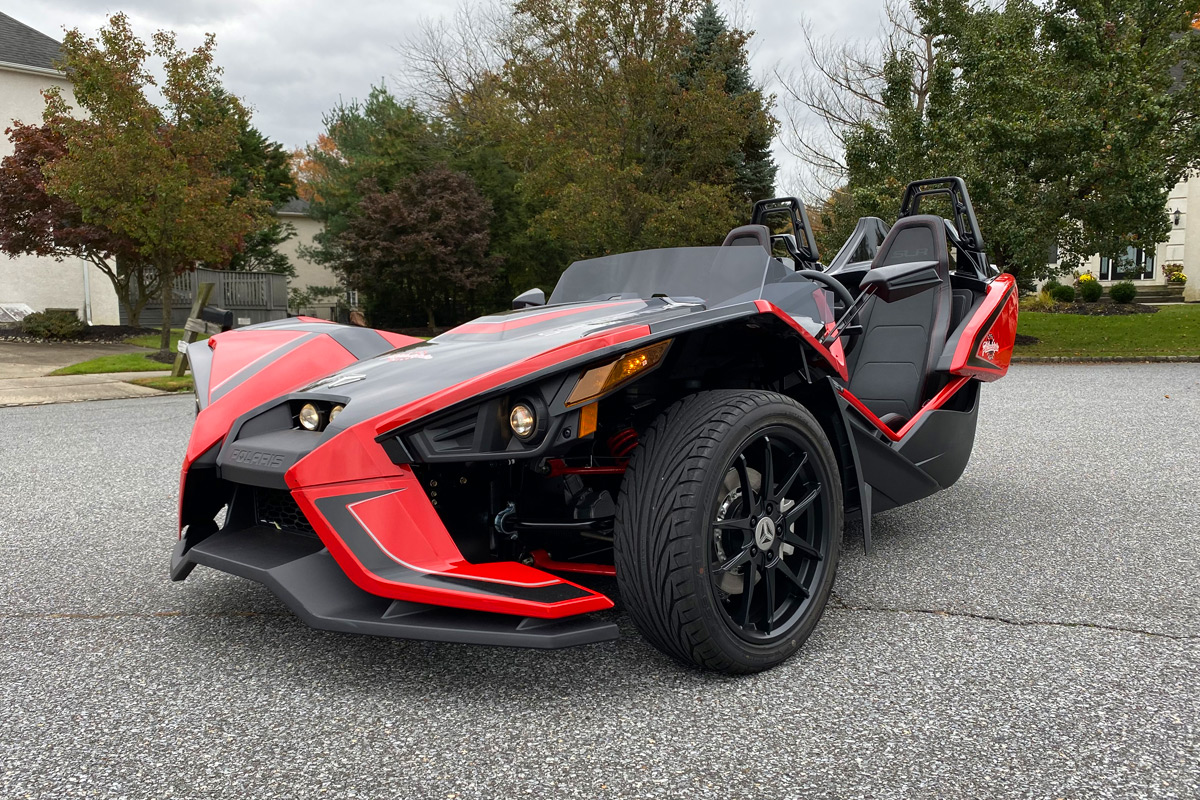 Feast your eyes on the 2019 Polaris Slingshot SLR, one of the strangest but most fun cars I've ever had the pleasure of driving. Part car, part motorcycle, this crazy three-wheeled autocycle is like nothing else on the road, attracting WAY more attention than anything I have driven in recent memory, including the sinister 2020 Ford Mustang Shelby GT500.
But looks are only the half of it. While on paper, the Slingshot doesn't sound like it should be that fast, with 173HP and 166 lb-ft of torque from a GM Ecotec 2.4L DOHC 4 cylinder engine, this sucker only weighs 1,749 pounds. Your average car? Nearly twice as heavy. Do the math. It's got a power-to-weight ratio similar to the BMW M2, and it's stupid fast!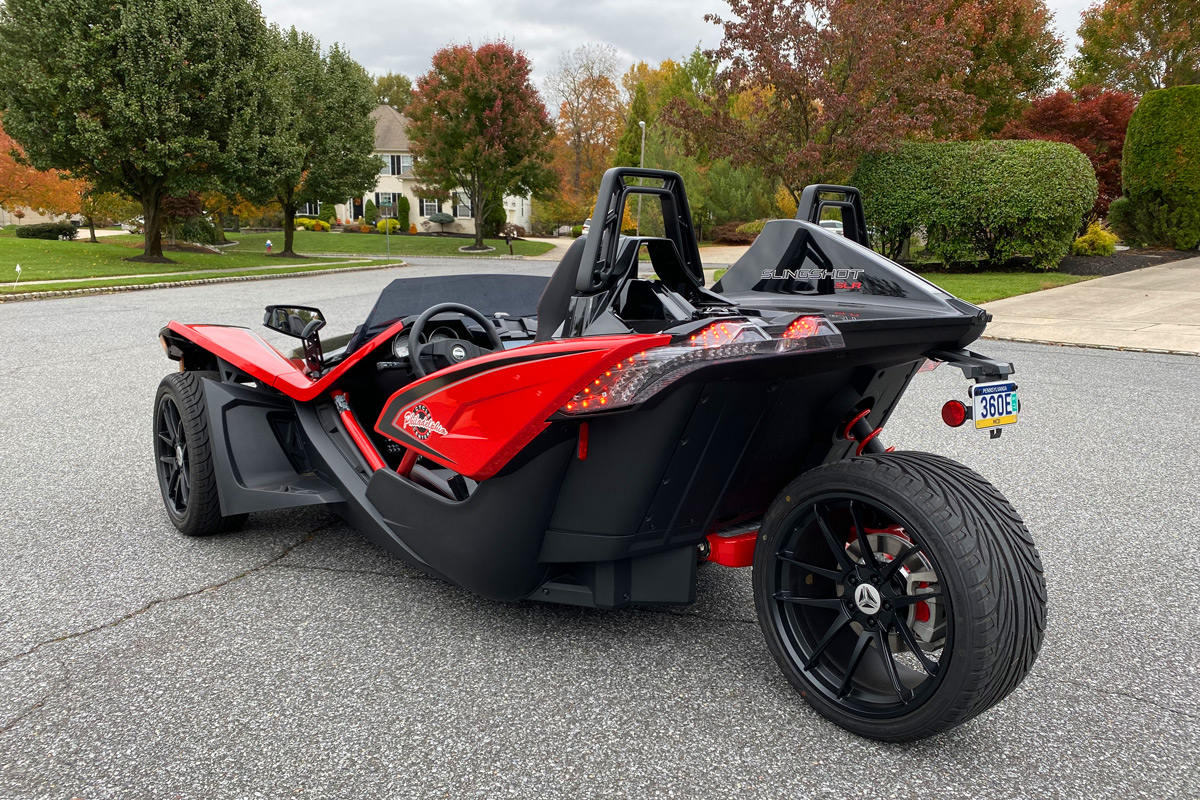 Or at least it feels that way… 0-60 mph happens in just a tick over 5 seconds, which is suitably fast. But due to the fact that you're a mere 5 inches off the ground, with the elements rushing at you, it feels much faster. If that's not enough, the massive 305/30R20 rear tire struggles for traction when you launch it hard, causing you to do a smokey one-tire burnout as it wiggles from side to side. It's a fun way to get up to speed. 🙂
So how exactly does one classify the Polaris Slingshot? It's not a car, it's not a motorcycle, and despite having three wheels, it's not a trike. It's more like a street-legal go-kart, minus one wheel. It's kind of a like an Ariel Atom, only more affordable. And again, with one less wheel. It's basically a recreational vehicle like an ATV or snowmobile, a neat weekend toy for when you want to have a little fun in the sun.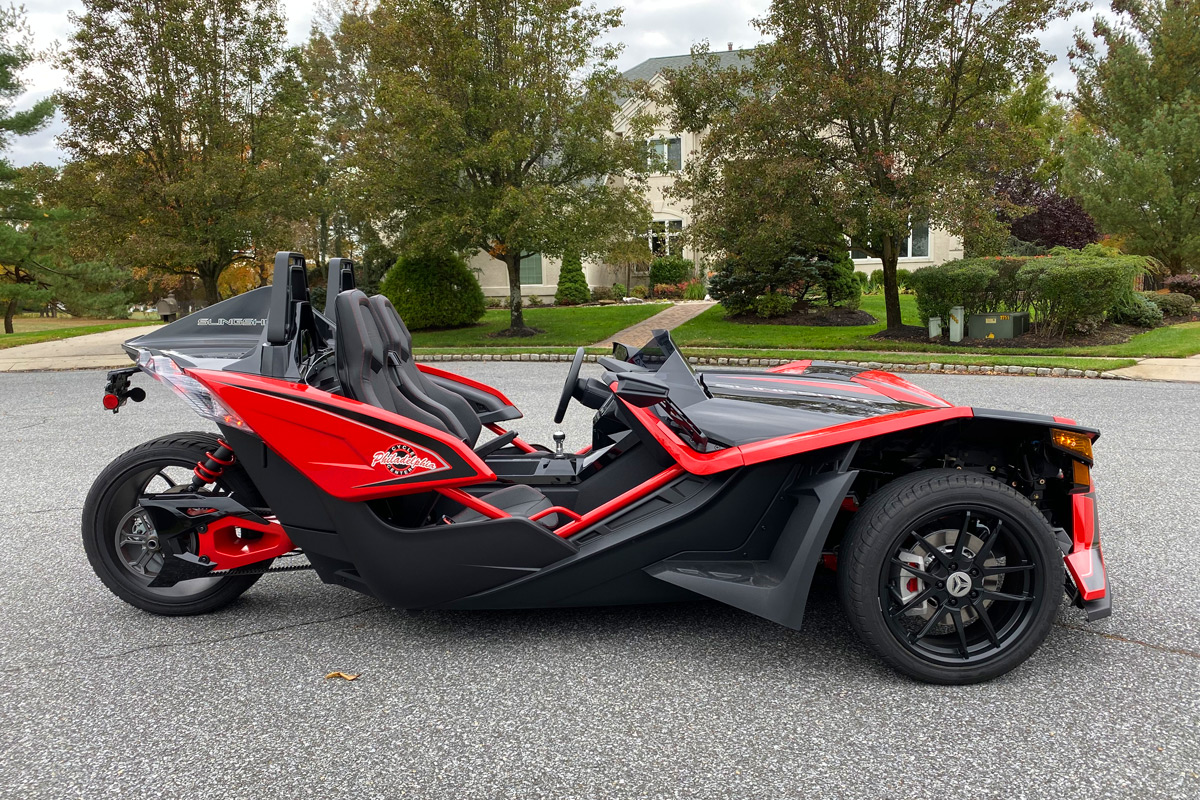 As you can see from these photos, it's not exactly practical, with no roof, no doors, no heating or A/C, and not much of a windshield either. Clearly, Polaris designed the Slingshot for warmer and dryer climates, though I made it work here in New Jersey, despite 3 days of rain and 2 days of 40-degree weather. Like a convertible, you simply take it out when Mother Nature is on your side, and tuck it away when bad weather is headed your way.
On the topic of bad weather, I didn't have a garage in which to store the Slingshot in, so when it rained, it got pretty wet. Thankfully, the interior is fully waterproof like a Jeep, so you don't need to worry about the radio and speakers getting wet. Just bring a towel afterwards and dry off your seat. And make sure you check the weather forecast beforehand, as the last thing you want is to get soaked if it starts raining while you're out.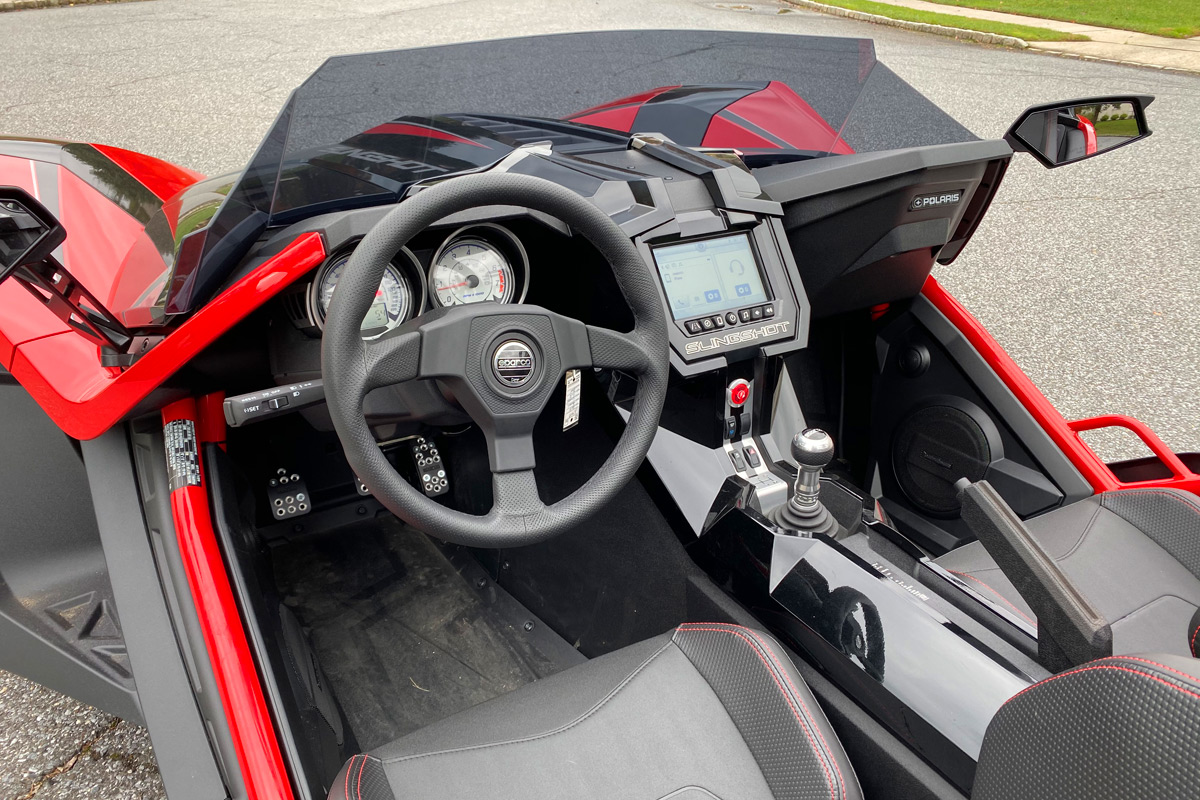 With all of that said, lets talk about the driving experience. It's an absolute riot to drive, and I took it out every chance I got. The Slingshot is happiest on twisty back roads, diving into turns with aplomb and powering out of corners with ease. It's the definition of a canyon carver, and I can only imagine how much fun it would be on a road like Angeles Crest Highway, where you have got endless miles of amazing, twisty roads.
But on the highway, it's not exactly the most comfortable ride. Not only do things get a little buzzy when you get into highway speeds, but you're also very aware of how exposed you are, feeling dwarfed by large SUVs and tractor trailers and constantly checking your surroundings so you don't get flattened by a careless driver. My advice? Take the back roads instead and enjoy the drive. A commuter this is not.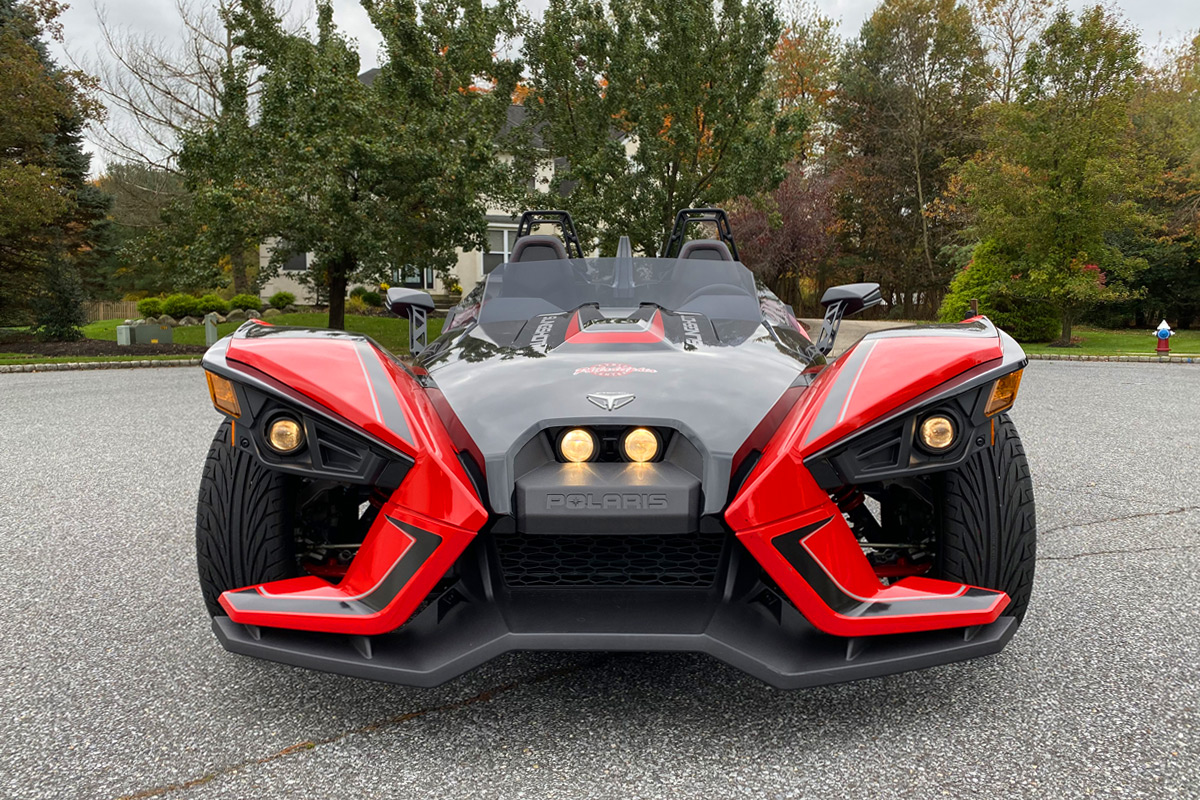 Finally, lets talk about the "wow factor" of the Slingshot. You feel like a celebrity while driving this, as it attracts attention like you wouldn't believe. If you're an introvert, this probably isn't the vehicle for you. People would take pictures of it at stoplights, give me thumbs-ups/waves, try to ask questions ("I'm wearing a helmet, I can't hear you!"), and even when parked, I'd see people slow down so they could get a better look at it.
Overall, I had an absolute blast with the Polaris Slingshot, and I can certainly see the appeal of it. It's safer than a motorcycle, more thrilling than a convertible, and elicits attention like you wouldn't believe. At $29,999, our fully-optioned Slingshot SLR model is a fairly expensive toy, especially considered it's limited use. But if you've got the disposable income and are looking for a fun weekend ride, this will most definitely deliver smiles for miles!
Visit https://slingshot.polaris.com to learn more about the Polaris Slingshot SLR.