The 2020 Ford Mustang Shelby GT500 Just Shattered All Of My Expectations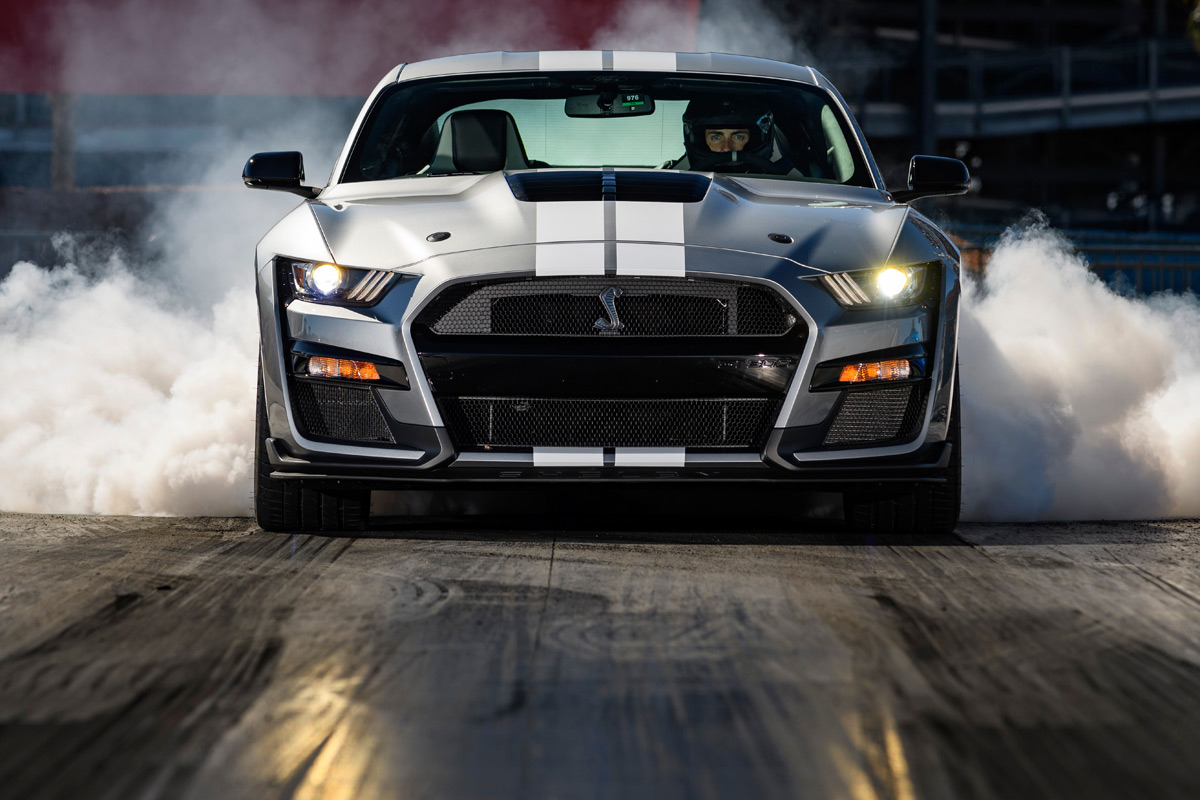 Looking at the performance numbers for the all-new 2020 Ford Mustang Shelby GT500, it's hard not to get excited. 760 horsepower and 625 lb-ft of torque from a supercharged 5.2-liter V8. 0-60 in 3.3 seconds. A 10.6-second quarter-mile time. Shifts as fast as 80ms. It's the most powerful street-legal Ford in history. Giddy up!
Now it's not hard to stuff a giant motor into a car to make it go fast in a straight line. After all, that's the basic tenant of drag cars. But Ford wanted the new Shelby GT500 to be an all-around performer, whether on the street, track, or drag strip. And as you can imagine, that required a lot of work and magic from the Ford Performance team.
To prove that the GT500 wasn't just a "one-trick pony", Ford brought us out to Las Vegas to see what this this venomous snake could really do, both on a race course and at the drag strip. And they also sent us out on some regular roads to see what it'd be like as a daily driver. (Though if you plan on doing that, you'd better have a traffic lawyer on speed dial)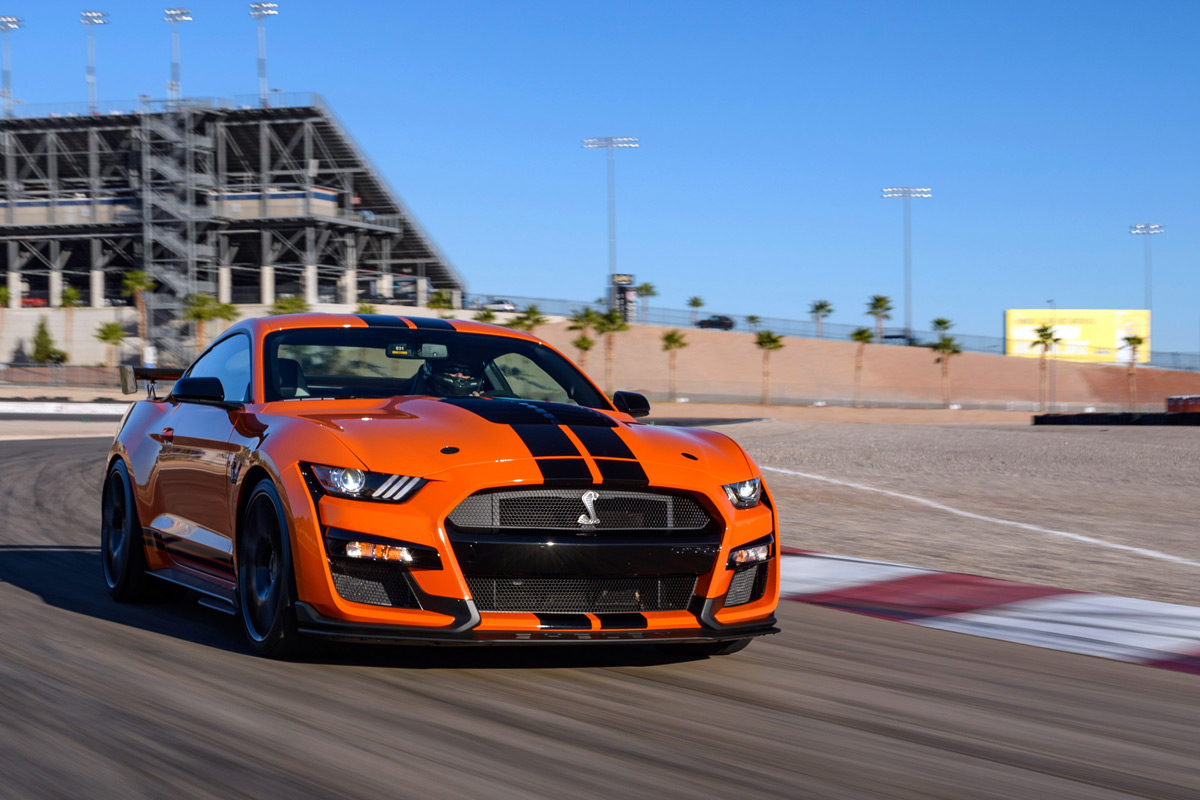 As the numbers suggest, the 2020 Shelby GT500 is ludicrously fast. Zero to "I'm going to jail" happens in the blink of an eye. But what's most amazing is how smooth the power delivery is. Squeeze the throttle in any gear, from any rpm, and the GT500 just surges ahead without any lag or hesitation, the exact opposite of the Hellcat.
The GT500's 760 horsepower comes from a supercharged 5.2-liter aluminum alloy engine that is hand-built. To keep the intake air cooler and deliver a lower center of gravity, Ford inverted a 2.65-liter Eaton supercharger that generates up to 12 psi of maximum boost with an air-to-liquid intercooler tucked neatly into the V8 engine valley.
While the Internet bench racers might find fault with the singular choice of a Tremec 7-speed dual-clutch transmission, the truth of the matter is that it shifts gears faster than any human can, and it's more tunable than other transmission types for the five different drive modes. On the road, the paddle shifter delivers instantaneous upshifts and downshifts, it's just wild.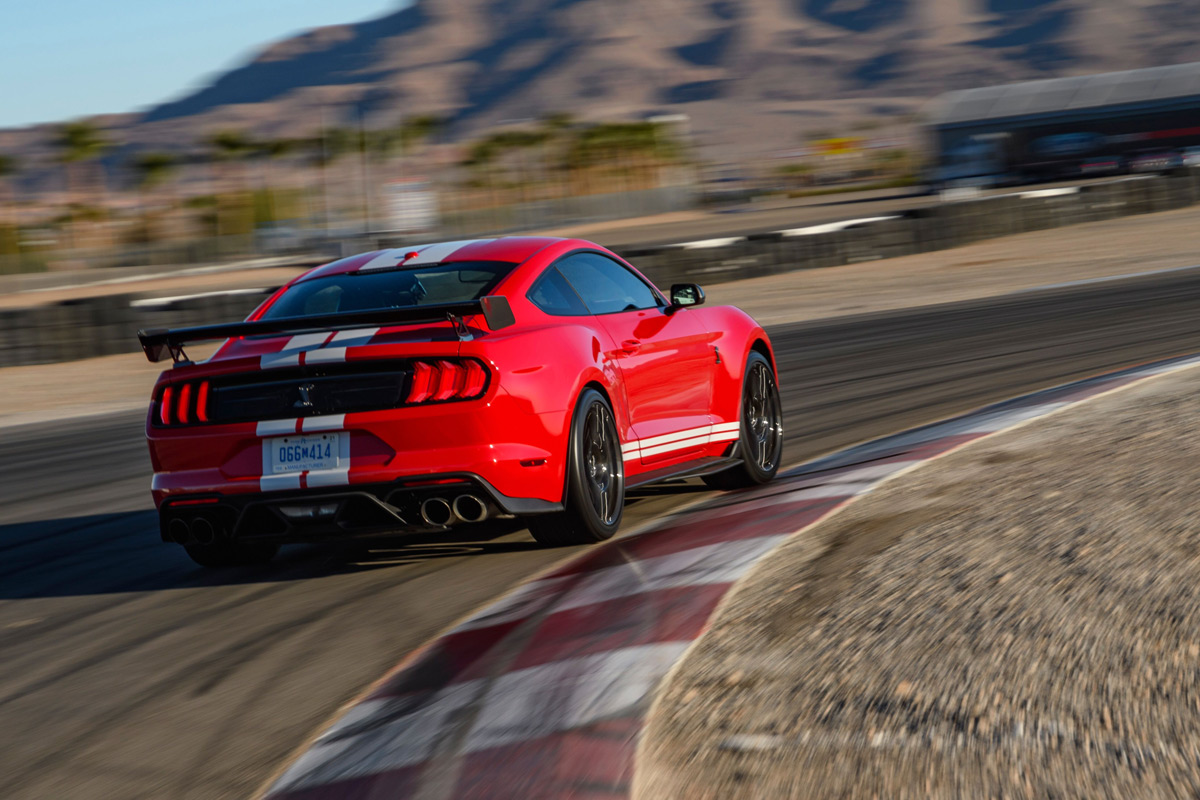 Our day started with a planned route to the top of nearby Mount Charleston, with a stretch of highway driving, followed by some pretty incredible mountain roads where we got to test out the GT500's handling characteristic. Our GT500 tester had the optional Handling Package and standard Michelin Pilot Sport 4S tires, and the car felt like it was glued to the road, diving into each corner with gusto, with no noticeable wheelspin or squealing tires.
Surprisingly, the GT500's ride quality is quite comfortable, thanks in part to the car's next-gen MagneRide adaptive suspension. We spent nearly 2 hours driving on less-than-perfect public roads, and the car didn't beat us up at all. The available Recaro racing seats also proved to be rather comfy, even during a long stretch of driving like so. Not many racing seats can say that.
Road noise is fairly tame as well, with Ford doing a good job on the noise isolation front. While you can still hear the exhaust during acceleration, it's not intrusive in the least when you're cruising along. But if a Camaro rolls up next to you, you can flick the exhaust switch, give it a few healthy revs, and warn them that they're not messing with a "regular" Mustang.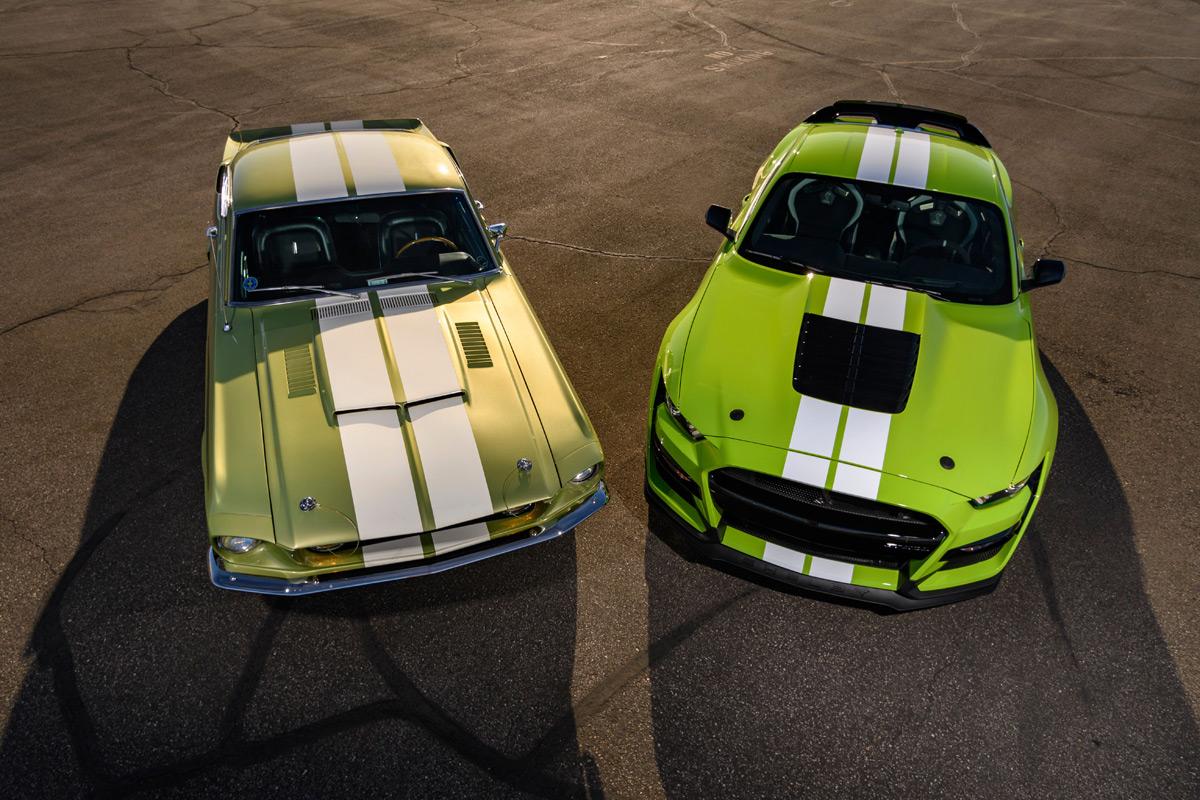 After getting a feel for the Shelby GT500 on the streets, we headed to the outside road course at Las Vegas Motor Speedway. After a short track orientation, we suited up and hopped into a GT500 with the Carbon Fiber Track Package (which includes that big wing, stickier Michelin Pilot Sport Cup 2 tires, carbon fiber wheels, and no back seat).
For those of you who haven't driven this track before, it's a tight and technical 2.4-mile course that features 12 turns. I have tested a few other cars here over the years, so I was familiar with the track layout. But obviously, nothing with the kind of power that this beast was putting out, so I'd have to be careful not to get too carried away and drive beyond my means.
Turns out, despite having 760 horsepower on tap, the Shelby GT500 is beyond easy to drive on track, making it's way around the course at triple-digit speeds with surgical precision. It's a testament to the suspension, chassis tuning, steering, tires, and braking upgrades that Ford Performance made, delivering exotic-car level performance for a fraction of the cost.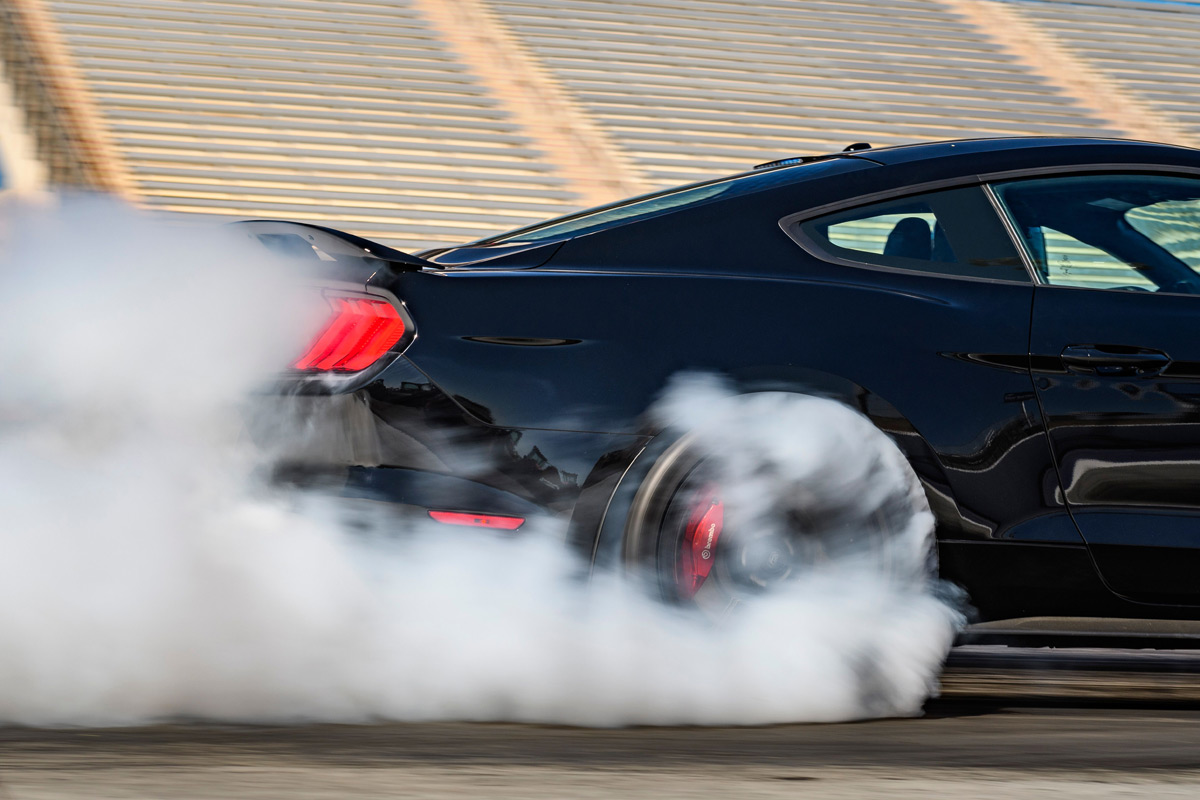 Despite us driving in Track mode (which turns off traction / stability control), the car remains firmly planted as you dive into a corner as speed, those sticky Michelin Pilot Sport Cup 2 tires and MagneRide active suspension working together to defying physics and keep the car right on course without a hint of understeer or oversteer.
And we can't forget about those massive, 16.53-inch two-piece brake rotors with Brembo six-piston calipers, which shed speed like you wouldn't believe. On the front straightaway, I raced towards the first corner carrying some serious speed (130mph+), and I literally stood on the brakes to scrub enough speed for the turn, pulling an insane 1.5Gs of braking power. Wow!
While it might sound sacrilegious, driving the 2020 Shelby GT500 on track reminded me of the $212,000 Nissan GT-R NISMO that I had tracked just a few weeks earlier at Monticello Motor Club. Not bad company to be in, especially considering that it costs half as much..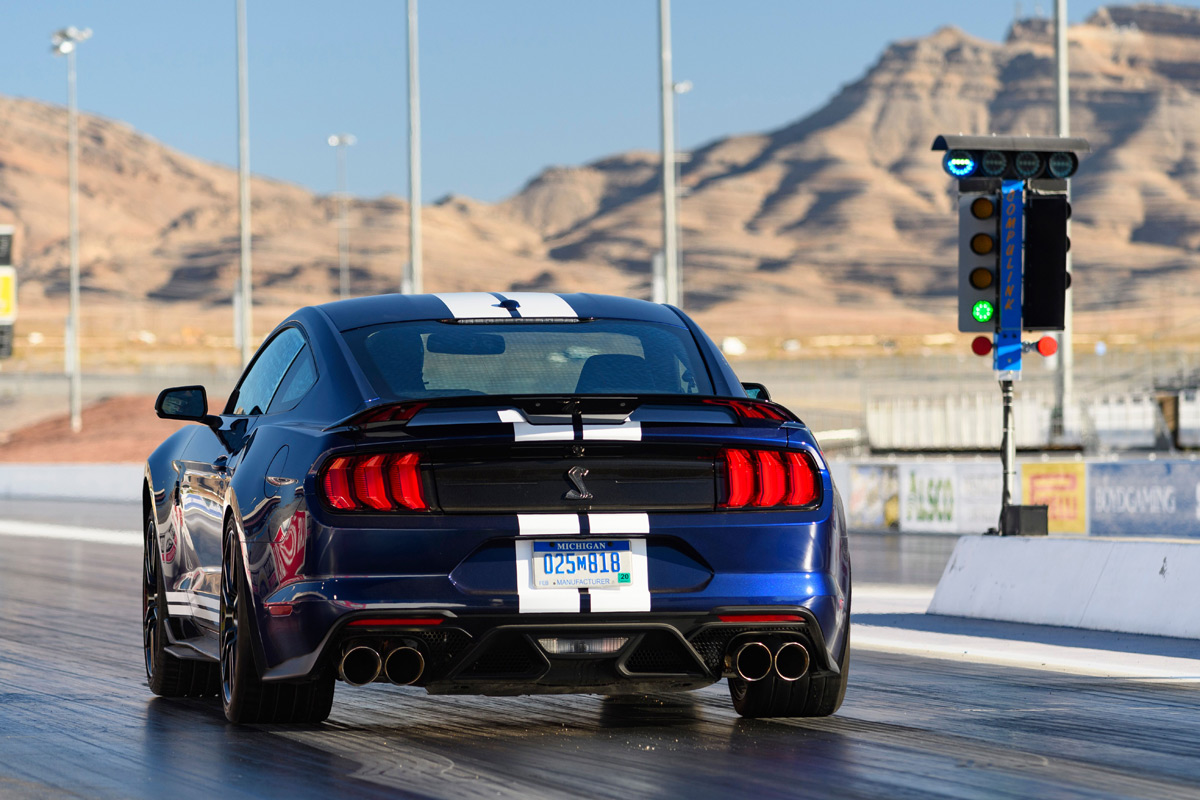 After our session on the road course was done, we headed over to Las Vegas Motor Speedway's drag strip to try our hand at drag racing. Like many of my colleagues, I've never actually done a quarter-mile run at a drag strip before, but I've watched a lot of Street Outlaws: No Prep Kings over the years, so I was feeling confident. 🙂
While Ford was able to coax an insane 10.6-second quarter mile run with a professional behind the wheel, I didn't expect to do nearly as well, given that this was my first time doing this and such. But the car makes it dead easy, and my first run ever was 11.455 seconds at 129 mph! My next two runs were within a few hundredths of that as well, so it wasn't just beginners luck.
Driving up to the burnout area, I activated Line Lock to lock the front brakes and did a smoky burnout to warm up the tires. Afterwards, I pulled up to the line, with Launch Control set for 1800 rpm, and mashed the brake pedal and gas pedal. When the tree turned green, I took my foot off the brake and held on for dear life. It couldn't have been easier.
In the end, the big takeaway from our day with the 2020 Shelby GT500 is just how easy it is to drive. While the last-generation GT500 was ready to kill you at the slightest misstep, the new GT500 delivers the ultimate in performance while remaining very approachable, regardless of your driving abilities.
The GT500 really delivers on all fronts. It looks absolutely menacing, is fairly comfortable, and has loads of tech. You can drive it to work during the week, hit the drag strip on Friday nights, and do a couple of track events each month. All for a very reasonable starting price of $71,395, and a fully loaded price of less than $100K.
Ford absolutely knocked it out of the park, and if Carroll Shelby were still around to see this, we know he'd give it two enthusiastic thumbs up. 👍👍