Ripping Up The Racetrack In A 2013 Subaru BRZ Premium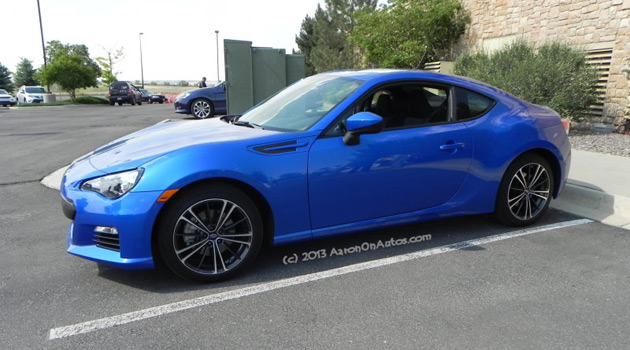 When someone asks you if you want to drive their car on the race track, the proper answer, every single time, is "Hell yes!" When the car they're offering is one of the most-anticipated and heavily hyped sports cars of recent times, you throw in some extra expletives between the "Hell" and the "yes!" So it was on the High Plains Raceway near Denver, Colorado when Subaru's Dominick Infante, National Manager of Product Communications, offered me the keys to a 2013 Subaru BRZ Premium.
The BRZ was four years in development and is the first and only recent Subaru to not feature all-wheel drive. This comes thanks to its collaborative build with Toyota, who sells the almost identical car as a Scion FR-S. Comparing the two superficially, most of the differences are in paint schemes and interior fittings. The good news is that when doing away with the AWD, they instead went to a rear-wheel driven platform, which is a must on the track.
The 2013 BRZ has two things going for it: it's light and it's exceedingly agile. What some might think is a lack of power is actually a smart application of engine output versus weight to make this compact sport coupe a very, very fun drive. At a $25,000 or so starting price, the 2013 BRZ Premium is a lot of car for the cash. It may not be as fast as, say, the Nissan GT-R, but it's also not nearly as budget breaking. Likely the nearest competition to the BRZ, outside of its FR-S twin, is the Ford Focus ST, which is a worthy competitor.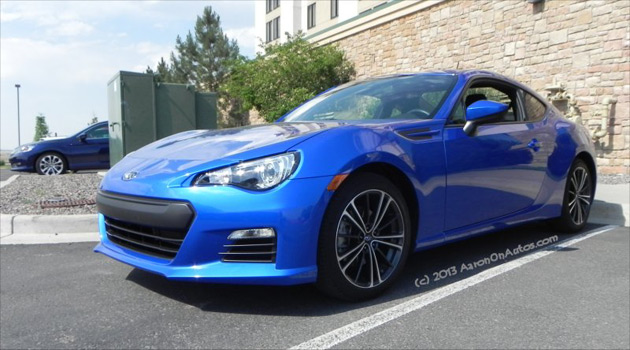 The 2013 Subaru BRZ Premium is a great-looking car. Unlike the Focus, it has a more contemporary, less ostentatious look and is a two-door coupe rather than a four-door hatch. It utilizes a classic 1:1 style, with an equal balance of hood and cabin, giving it a sleek appearance. Details like the cuts where door meets front fender and the wheel bumps on either side of the hood make sure you know it's a Subaru while the fastback and small spoiler showcase its sporty nature. The well-designed 17-inch alloy wheels are a great touch.
Like most sport coupes, of course, it suffers from a tiny back seat and lack of trunk space, but makes up for this with exceedingly well-considered front seating and a very ergonomic driver's cockpit. Under its hood lies a 2.0-liter, four-cylinder, naturally-aspirated boxer engine that produces 200 horsepower through a six-speed manual transmission. An automatic trans with paddle shifting is optional. As an everyday car, it is as practical as a sport coupe can be and achieves a respectable 25 mpg city and 34 mpg highway.
On the track, of course, MPG flies out the window. Through that gearbox and the limited-slip rear differential, power transfers from the throttle to the ground. Gripping the tilt-and-telescoping leather-wrapped steering wheel, you feel every vibration, every curve, and every movement of the car on the tarmac. Even a man of my size, standing at six feet three inches and weighing in at 245, fits easily within the car thanks to the ample adjustments offered.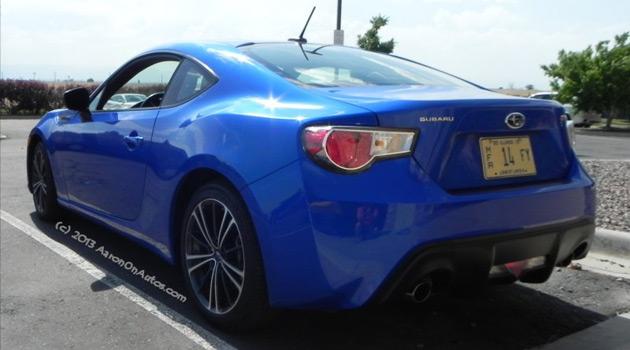 The two hundred horses may not sound like much, but they give a wonderful exhaust note from the short chassis, and a lot more get-up than one might expect. The light weight of the car plays into this, making that non-turbo engine become bigger than it is. A good driver can do a 0-60 mph in the 2013 BRZ in under seven seconds, which is a little slow for the segment, but plenty for the track. Why?
Because track driving is about cornering as much as it is about acceleration. The 2013 Subaru BRZ Premium may be slower than some of the competition, namely the Focus ST, but it's far better in the corners to make up for that. In fact, it's a real blast to slide around in, allowing faster cornering than many other cars its size thanks to that low stance and excellent weight distribution. With that superior cornering capability, I came into the quarter mile straight at a higher speed than I did in the Focus ST, allowing the 2013 BRZ to match its top speed on that length at 133 mph. Although laps weren't timed, I suspect that the two cars would have come in at about the same loop time as well.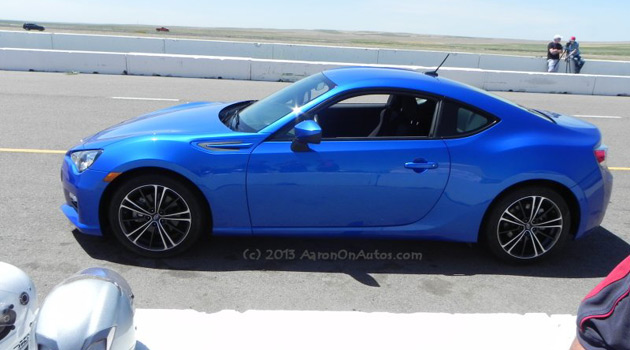 Given the great interior, fun drive, and excellent safety ratings of the 2013 BRZ Premium, a buyer would be hard pressed to find a better everyday street car cum occasional track burner. The tiny little 2013 Subaru BRZ Premium definitely hung with the big boys in its class on the track that day and proved to be a very lively and exhilarating racer.