'Rock Of Ages' Musical Comes To Caesars Atlantic City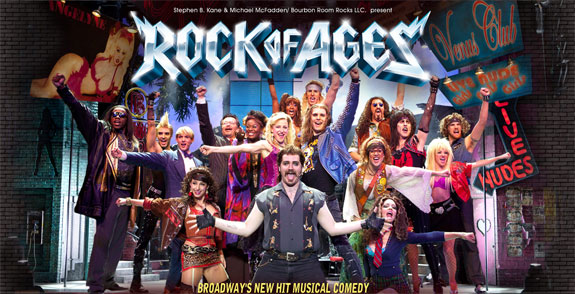 Caesars in Atlantic City celebrated the opening of the hit musical Rock of Ages with a media night. Our night started out at Nero's Tuscan Steakhouse, where the chef paid homage to the show by preparing a special 80's themed menu for us.
For the first course, they brought out their interpretation of Lobster Nachos, featuring sweet Maine lobster, crispy Focaccia chips, Jersey tomato-sweet corn salad, chili aioli, "Togarashi Pop Rocks", and baby farm greens. Absolutely delicious!
Next up was a twist on Chili Mac & Cheese. The dish was made with Chianti braised beef short ribs, casareccia pasta, caciocavallo cheese, heirloom cherry tomatoes, Tuscan chilies, and a basil-fresh mozzarella crust with panko breadcrumbs. It was definitely interesting, but a little too spicy for my tastes. Still, I ate more than half the dish before stopping, it was that good.
For our main entree, they brought out a Roasted Stripe Bass (served on a plank) with a crab imperial stuffing, wild mushrooms, a creamy white wine sauce, and a side of bacon-brie "tater tots". I'm not a huge fan of fish, but this dish was to die for! The cream, the crab filling, the whole thing just worked. And those tater tots were rich and delicious, a real hit all around.
Here's a picture of the dish as it was served to us: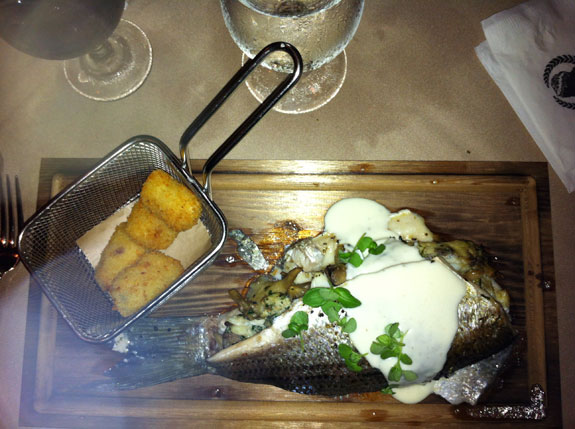 And lastly, it was time for dessert. "Little Debbie's Reunion" consisted of four small desserts that brought you back to the 80s – A chocolate mousse cup, oatmeal cream pie, warm crispy cherry pie, and a strawberry roll. Even though I was pretty full from the first three courses, I pushed through and ate everything on the plate. The oatmeal cream pie was amazing, and my wife loved the chocolate mousse cup.
After dinner, we made our way over to the Circus Maximus Showroom for Rock of Ages. The hit broadway show is currently working it's way across the US, and it's here at Caesars in Atlantic City through September 2nd. Show tickets are priced from $45-105.
Rock of Ages takes place at tail end of the big, bad 1980s in Hollywood, and the party has been raging hard. Aqua Net, Lycra, lace and liquor flow freely at one of the Sunset Strips last legendary venues, a place where sex machine Stacee Jaxx takes the stage and scantily clad groupies line up to turn their fantasies into reality. Amidst the madness, aspiring rock star Drew longs to take the stage as the next big thing. But the rock and roll fairy-tale is about to end when German developers sweep into town with plans to turn the fabled Strip into just another capitalist strip mall.
Can Drew, Sherri and the gang save the strip before it's too late? Only the music of hit bands Styx, Journey, Bon Jovi, Whitesnake and more hold the answer.
The show was a TON of fun, and even with the long running time (nearly 2.5 hours), there was never a dull moment. The super talented cast brought those iconic hair-band songs of the 80's back to life, and everyone around us was singing along and clapping throughout. There's also an interactive aspect to the show, with the performers frequently breaking the "fourth wall" and directly addressing the audience.
All in all, it was a tremendous night, and Rock of Ages is definitely one of the best shows to hit Atlantic City in a long time!