Schick And X-MEN Challenge Men To Chart Different, Bolder Paths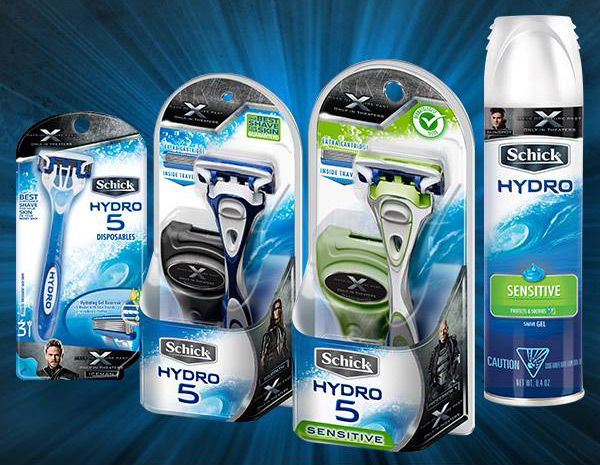 The X-MEN are famous for charting their own paths, and this summer Schick is challenging guys everywhere to do the same. As part of a partnership with the highly anticipated X-MEN: Days of Future Past movie that comes out next weekend, Schick is giving guys who take the Schick Hydro Challenge the chance to unlock unique X-MEN: Days of Future Past content and win prizes, all while experiencing an amazing shave.
The partnership is part of a broader initiative by Schick that challenges men everywhere to try something new in their morning routines and their lives. The Schick Hydro Challenge works like this: Try a Schick Hydro razor and if you don't prefer it to your current razor, get your money back.
"Guys are inspired by superheroes like the X-MEN because they are never afraid to take on challenges. In order to meet those challenges head-on, the X-MEN must transform themselves – just like almost every guy in this country does each morning through his daily grooming routine," explains Matt Rader, group marketing director for Men's Razors and Blades at Energizer Personal Care. "As the X-MEN tackle challenge after challenge in this film, we want men to do the same by rethinking their grooming routine and taking the Schick Hydro Challenge. Shaving with a Schick Hydro razor may not transform them into X-MEN, but we know it will make them feel like a superhero as they head out to face the day."
If you're courageous enough to X-Cept the Challenge, you can receive a free exclusive X-MEN t-shirt with the purchase of any two X-MEN branded Schick products. Simply look for specially-marked Schick razors or refill packs at your local retailer for access to the exclusive mail-in offer.
And for the brave crusaders willing to take the challenge to the next level, Schick has launched the X-MEN Challenge on Facebook, featuring tons of trivia for fans to compete against the clock and challenge friends to see who knows more about the blockbuster franchise. Here, you can enter into a sweepstakes to win various weekly prizes, including "X-MEN: Days of Future Past" movie merchandise and HD flat screen TVs. One lucky player will win an ultimate grand prize pack of X-MEN swag worth over $1,800.
So this summer, whether you're one of the X-MEN fighting for our future, or if you're just like the rest of us taking on the daily grind, Schick and the X-MEN challenge you to do it on your terms.