Shaker & Spoon Partners With Courvoisier For Latest Cocktail Box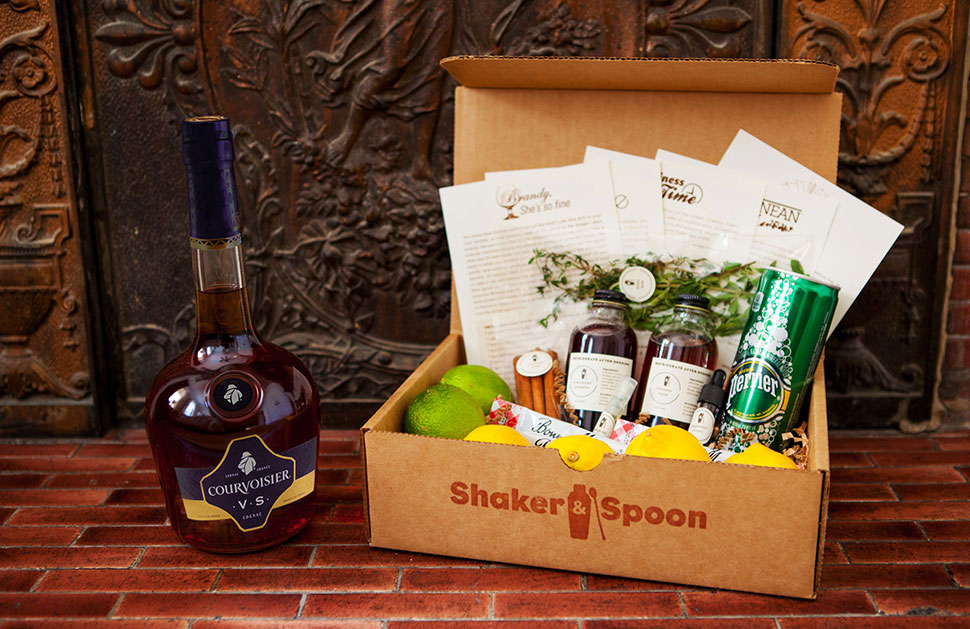 This holiday season, Courvoisier Cognac wants to give cocktail fans all the tools and ingredients you need to create sophisticated, cold-weather inspired cocktails at home with friends. So they teamed up with Shaker & Spoon to create an exclusive cocktail box for January, the aptly named Brandy, She's So Fine!
For those of you unfamiliar with Shaker & Spoon, they're a cocktail subscription service that delivers original recipes and everything you need to make them (syrups, bitters, garnishes, citrus, etc), except for the liquor. You'll be exposed to new flavors and combinations, and see your liquor cabinet in a whole new way.
The January box, which is available for purchase until January 2, 2017, contains all the materials needed to craft delicious, one-of-a-kind Courvoisier cocktails. All you'll need is a bottle of Courvoisier V.S., the ideal cognac to pair with these recipes because of the spirit's fruity, rich and delicate notes.
Mediterranean Toddy (Brian McCullough, Dallas, TX)
2 parts Courvoisier V.S.
4 packets of Bonne Mamman Orange Blossom Honey
1 bag of oregano and thyme sprigs
4 cinnamon sticks
Preparation: Bring 6 oz of filtered water to a boil. Place the oregano, thyme, and cinnamon into a narrow Irish coffee mug and pour the hot water over them. Allow to steep for 4 minutes. Add the honey and Courvoisier V.S. and stir to combine. To garnish, wring the lemon zest once above the glass to release the citrus oil, then place in the drink.
Business Time (Brice Hoffman, Nashville, TN)
2 parts Courvoisier V.S.
2 lemons
2 limes
4 parts cinnamon orgeat
Angostura Bitters
Egg white (not included in box)
Preparation: Check the egg white to ensure nothing looks or smells off, add it to a shaker, then add the rest of the liquid ingredients (except Angostura). (Eyeball the citrus combo, juicing both the lemon and lime into one ¾ oz jigger. It doesn't have to be exactly half and half). Dry shake (without ice) very vigorously for 5-10 seconds. Fill the shaker with ice cubes and wet shake vigorously for 10 more seconds. Double strain the shaker's contents into a chilled coupe (without ice). Let the cocktail settle for 15-20 seconds. Then to garnish, add 4 drops of Angostura bitters to the foamy head. Swirl the bitters on the surface (with a cocktail straw, coffee stirrer, or toothpick) into a design of your choice.
Cherchez La Femme (Kellie Thorn, Atlanta, GA)
2 parts Courvoisier V.S.
4 parts cranberry and juniper grenadine
2-3 lemons
Perrier Sparkling Water
Citrus oil atomizer
Preparation: Add the Courvoisier V.S., grenadine, and lemon juice to a shaker. Fill the shaker with ice cubes and shake vigorously until it is ice cold (15-30 seconds). Strain the shaker's contents into a collins glass over fresh cubes ice, then top with an ounce of sparkling water. Finish by adding a spritz of orange oil to the top of the drink.
Our friends at Courvoisier hooked us up with one of their "Brandy, She's So Fine" boxes, and let me tell you, these cocktails are really something else! So what are you waiting for? Order the January Shaker & Spoon x Courvoisier box before it's too late, and get ready for some amazing drinks!
Photo credit: Shaker & Spoon