If you're ready to experience spiced rum like never before, you've got to pick up a bottle of Don Q Oak Barrel Spiced Rum. Don Q enjoys a storied heritage that dates back to 1865 when Don Juan Serrallés expanded the family sugar cane business and produced his first casks of rum. The rest, as they say, is history.
Over the next 150 years, six generations of the Serrallés family have been working tirelessly to perfect the art of rum making, and we think they've nailed it. And we're clearly not alone in that sentiment, as Don Q is the top-selling rum in Puerto Rico, where over 70% of the rum consumed in the United States is produced.
But it's not just about producing exceptional aged rums. The company has invested significant resources into making their distillery one of the most environmentally responsible and greenest in the spirits industry. In fact, they're one of the few distilleries in the world that don't dump waste water in the ocean, doing what's best for the people and wildlife of their lovely island of Puerto Rico. I'll drink to that!
On their website, you can learn more about Don Q's legacy and the many milestones that they have reached since their humble beginnings over 150 years ago, like when Don Q re-launched in the US in 2006, and how they've gone on to win numerous awards at international spirits competitions since then.
While Don Q has a variety of rum offerings to choose from, one of my personal favorites is Don Q Oak Barrel Spiced Rum. This exceptional spirit is a blend of rums aged at least 3 years in American white oak barrels. Don Q Spiced has warm, rich, golden hues and a smooth, robust texture with noticeable legs. Warm kitchen spices like vanilla, cinnamon and caramel slowly give way to oaky notes and a touch of toasted coffee.
Let me tell you, this is a spiced rum unlike any other, and it's perfect whether served neat, over ice or in your favorite rum cocktail. Speaking of cocktails, our friends at Don Q shared this special spiced daiquiri recipe with us that you are definitely going to want to try, so check it out:
Don Q Spiced Daiquiri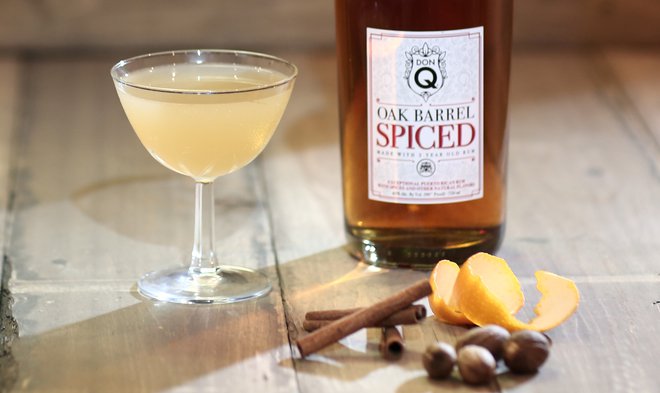 1½ oz. Don Q Spiced rum
1½ oz. Lime juice
¾ oz. Vanilla simple syrup
Two drops of Angostura bitters
Directions: Shake rum, juice, syrup, bitters and ice. Strain into a coupe glass.
In a word.. delicious! I'm pretty sure that I just found my new go-to drink to help take the edge off after a hard day at work. And if this cocktail doesn't tickle your fancy, not to worry, as Don Q has plenty of mouth-watering rum recipes posted on their website that you guys can try out, along with info on their other rum offerings.
Cheers!