Stop Embarrassing Underarm Sweat In Its Tracks With Thompson Tees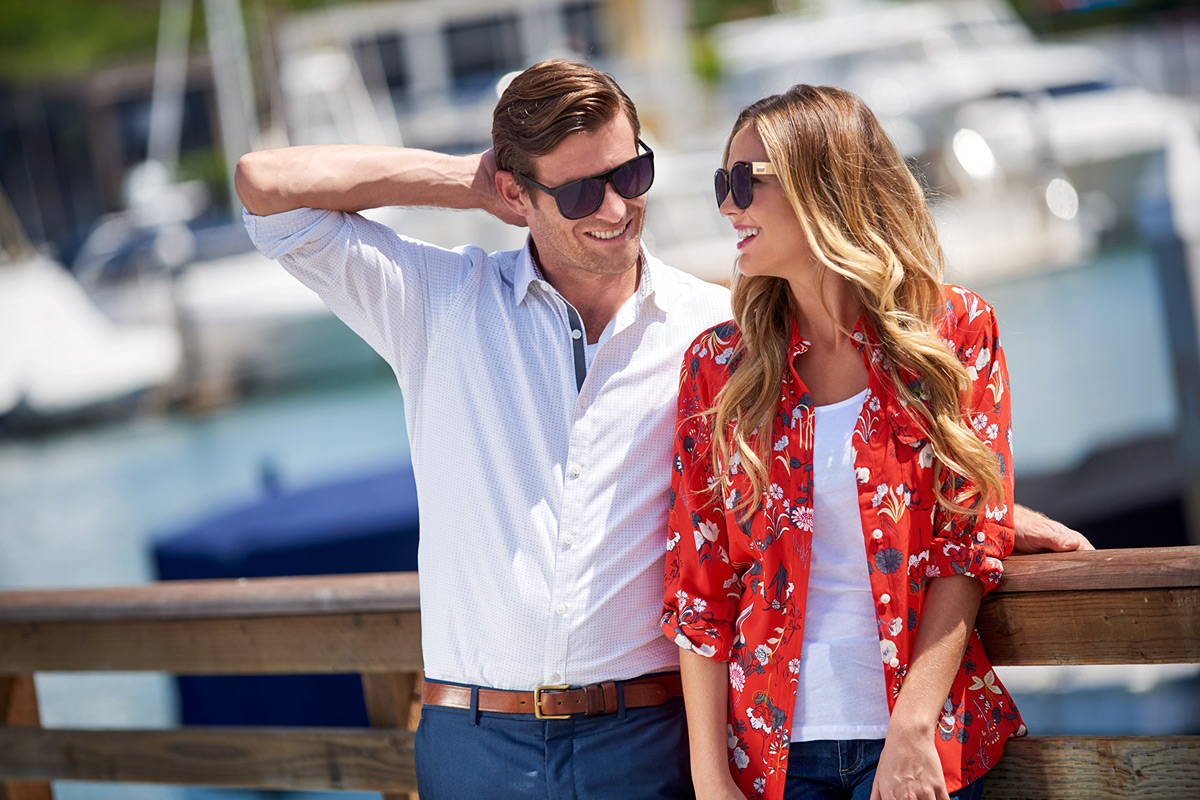 Are you someone who tends to sweat a lot, subconsciously keeping your arms down for fear of showing off those sweaty pit stains to the world? Join the club. Needless to say, whenever I am wearing a button-down shirt, wearing an undershirt is an absolute must, even if it's considered a fashion faux pas. But even wearing an undershirt doesn't solve the problem, it's just an extra layer of defense.. literally.
During the summer months, it's even worse, and nothing helps with the underarm sweat. I've tried various antiperspirants, but they all tend to have a weird chemical reaction with my skin and sweat, leaving behind this tacky residue that's just terrible to deal with. I mentioned this to my dermatologist, hoping that she might have some sort of magical solution. But she said that it's a quite common reaction, and that it happens to her as well.
She said that if I wanted to, I could have the sweat glands in my armpit lasered away, claiming that the armpits are only responsible for 2% of the body's sweat excretion and that it "wasn't a big deal". I just couldn't wrap my head around this idea (nor the $3,000 price tag), so I decided against the procedure, sweaty pits be damned.
With my options limited, I'm stuck using deodorant, which helps with odors, but does nothing to help with sweat. When I'm traveling or doing something high-intensity, I'll usually bring a change of clothes with me, or "freshen up" with deodorant wipes if I can't change beforehand, like if I'm stepping off the subway and heading right to a meeting.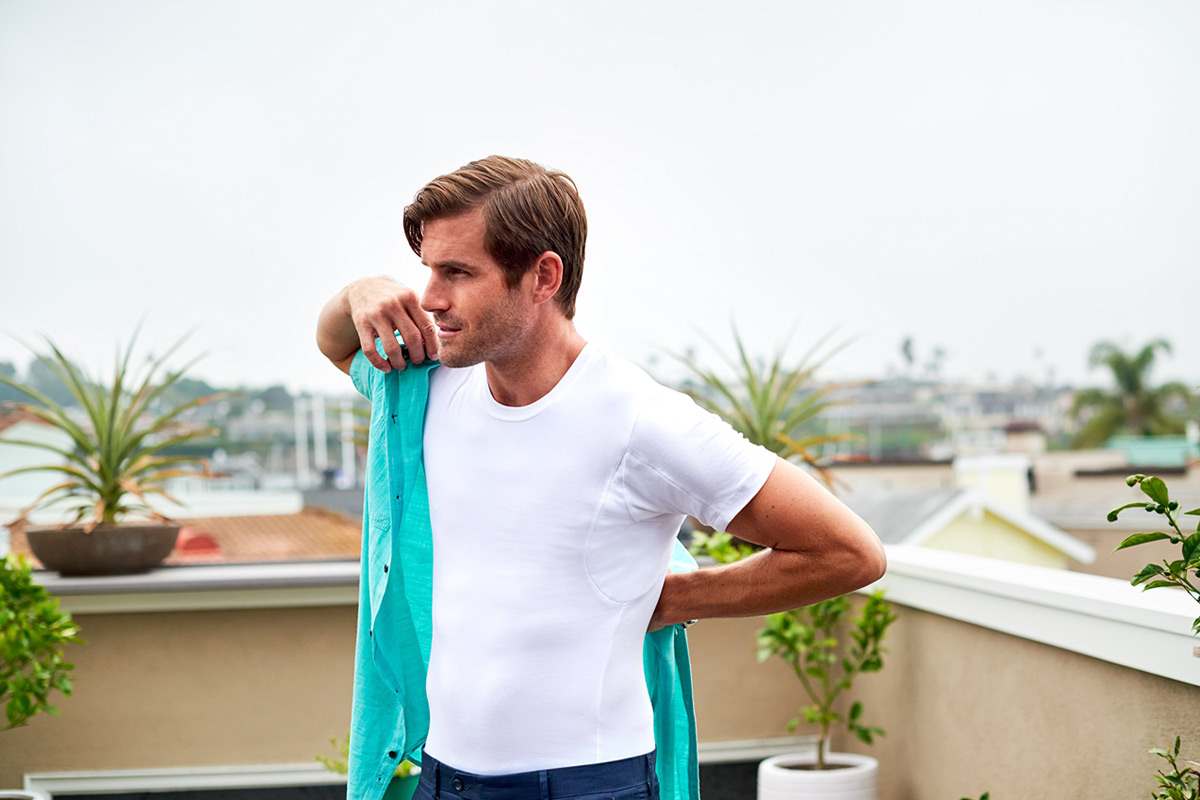 But then I heard about Thompson Tee's sweatproof undershirts, which somehow guarantee to stop underarm sweat, odor and those yellow stains though the use of their patented sweat-proof tech. As it turns out, they even appeared on Shark Tank a few years ago, getting a hefty deal with Robert Herjavec. Needless to say, I was pretty intrigued.
The good folks at Thompson Tee sent over a few of their undershirts for me to try out, and I was excited to put them to the test. Pulling them out of their packaging, I could instantly see how these would help with underarm sweat, as their undershirts have these thick pads sewn into the underarm area to capture any sweat and prevent it from spreading.
Want more details on how it works? Here's how Thompson Tee explains it:
Thompson Tee's Hydro-Shield technology is an ultra-thin, durable hydrophilic membrane within a fully integrated layering and stitching system. The patented sweat proof barrier is embedded in the underarms of all Thompson Tee undershirts to completely absorb sweat. Beyond locking in sweat, the Thompson Tee underarm barrier also facilitates evaporation to keep users feeling dry. Your natural arm movement initiates reverse osmosis to evaporate sweat — so moisture never penetrates the undershirt. Unlike other moisture-wicking fabrics, our tees are not treated with chemicals. In turn, the sweat blocking-effects will not wash off.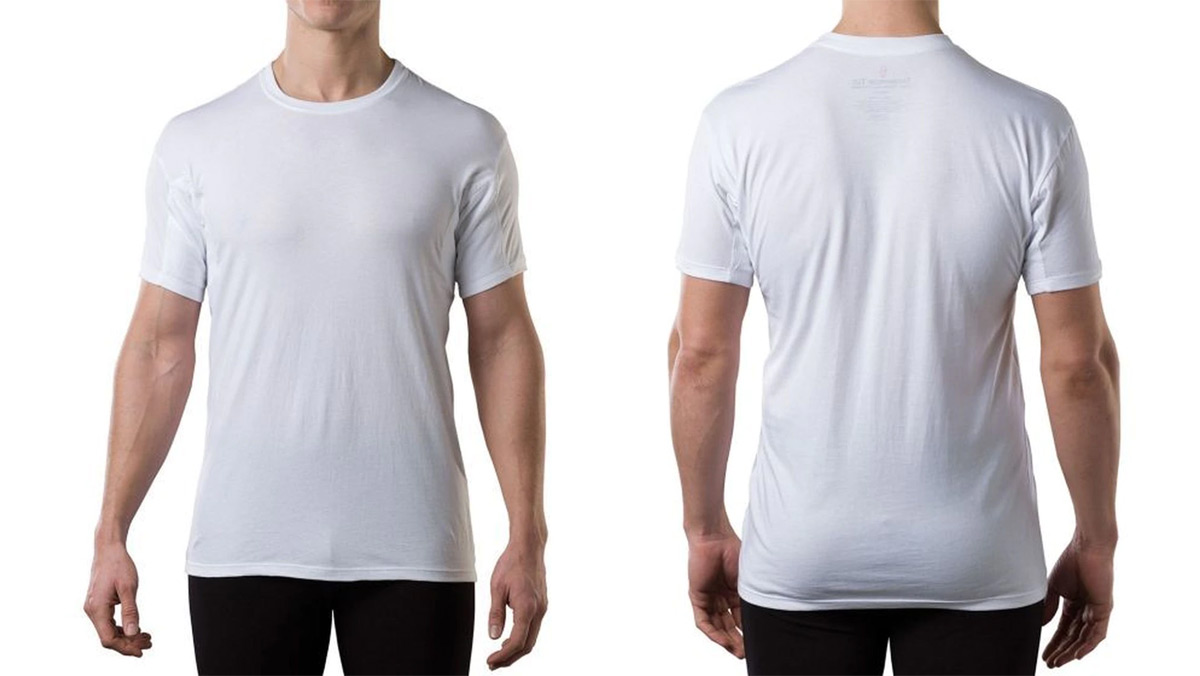 Now this makes sense in theory, but do Thompson Tees really work? To put it to the test, I put on one of the Thompson Tee undershirts and went on a 2-mile run. It was roughly 80 degrees outside, so it didn't take long for me to work up a sweat. But true to their claims, the armpits of the shirt were completely dry to the touch.
Since then, I've tested the shirts in a variety of other high-stress scenarios, and each time, they worked exactly as they should, keeping my sweat in check, and giving me a dose of confidence that I haven't experienced in a long time. And the concept behind the shirt is rather simple to understand, it's one of those "why didn't I think of that" deals..
You'll no longer have to worry about sweat-stained dress shirts, undershirts that are yellowed forever in your armpit area, and other stuff like that. And guess what, Thompson Tee's don't need to be dry-cleaned or require any special care, they can simply be machine washed in cold or warm water and dried on medium (or lower) heat.
Thompson Tee's come in two styles – Original Fit and Slim Fit. The Original Fit shirts are made from 100% premium combed cotton, and it fits and feels like a traditional undershirt. The Slim Fit shirts are made from 95% rayon from bamboo and 5% spandex blend, and it fits close to the skin for a sleek, subtle look. Both can be had in crewneck or V-neck.
For me, the choice was easy, I much preferred the Thompson Tee Slim Fit V-neck. The material just feels amazing, it looks good on me without any excess fabric, and it was hidden from view when I was wearing a button-down shirt. But if you prefer a looser fit, the Original Fit gets the job done, it really comes down to personal preference.
Pricing for the Thompson Tees are $28.99 for the Original Fit and $34.99 for the Slim Fit, and they're available in a variety of colors. Now while that's a bit more than the 5-pack of generic undershirts you might be used to, Thompson Tees are totally worth it, as they essentially hide your sweaty armpits from the outside world, and keep your outer shirts looking their best.
Needless to say, Thompson Tees are a must-have for sweaty dudes evertwhere who want to say goodbye to embarrassing pit stains once and for all! Visit Thompson Tee to order yours today.