Terrell Owens Suits Up For Season Finale Of Necessary Roughness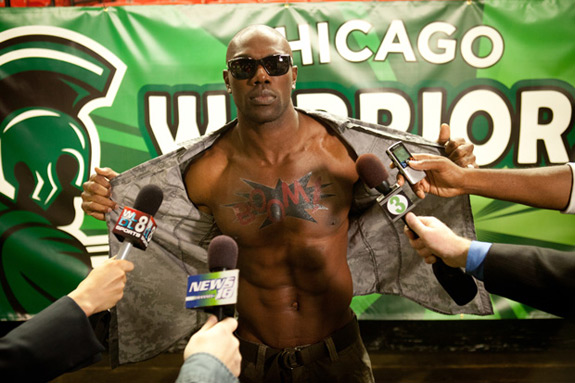 It's T.O. vs. T.K. on Necessary Roughness. Terrell Owens is heading back to the football field, but not as himself.
Owens, one of the top pro football players in recent history and probably the most electrifying personality in the sport, will guest star in the season finale of USA Network's hit series Necessary Roughness on Wednesday, September 14th at 10/9c. Owens will be putting the pads back on for his role as All-Pro Safety/Cornerback Kevin "The Mine-field" Minnifield, star of the football team that the NY Hawks face in the play-offs and TK's (Mehcad Brooks) lifelong rival on the show.
The series, centered on Long Island psychotherapist Dr. Dani Santino (Callie Thorne), has been a strong performer for the No. 1 cable network averaging 4.5 million total viewers since its series opener. Marc Blucas, Scott Cohen and Amanda Detmer also star in the hour-long drama.
---
UPDATE: We did a phone interview with T.O., and the following question came up:
Caller: How true to life do you find the show from what you know of it so far, as far as the football aspect; training, player interactions, and stuff like that? Do you think viewers are getting a more or less accurate glance of what pro football is behind the scenes?
Terrell Owens: Well, yeah, definitely. I think there's some definite parallels to what's goes on in the football world and what you see on the show. And I think that's what's so refreshing about the show, because these are the type of things that players go through on an everyday basis that really that the outside world and the fans really don't get to see.
So again, I like shows like this because it definitely gives an insight as to some of the things, the particulars that goes on, you know, with players, and with the business of football. And so, I think some of that is – you know gets taken away by all the glitz and glamour of actually the actual games days, and what goes along with that.
So, like I – again, I can't be, you know, more pleased with being – with, you know, being a part of something that has been so great.