The 2013 Volkswagen Passat S Is A Base Model Promotion For The TDI Option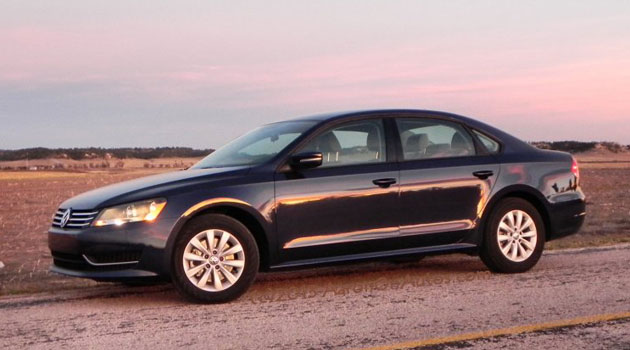 For a week, I drove the 2013 Volkswagen Passat in its base trim level, S, with the only addition being the Appearance Package, which adds just a handful of things to make the car look a little better inside. Normally, we automotive journalists receive test vehicles in their uppermost, best-of-the-best, all the frills trim packages. So it's refreshing to occasionally get the "Regular Joe" version of a car for comparison. It keeps us humble.
With the 2013 Passat S, you're getting a solid, though not remarkable, entry into the midsized sedan market. It competes well against the best-selling Toyota Camry, but has little bling or notes of specialness to set it apart from the stronger rivals to the Camry like the Accord and Altima. In fact, the base-level five-cylinder 2.5-liter engine delivers fuel economy lower than expected, at about 25 mpg combined, while offering only a smidgen of sportiness with its 170 horsepower output. It does qualify as a California Partial Zero Emissions Vehicle (PZEV), though.
On the road, the 2013 VW Passat S is a good driver, but not outstanding, but as an everyday commuter or daily driver, it is definitely on par with most of the competition for comfort and drive appeal. Its six-speed automatic transmission is smooth and its ride and handling are nicely balanced. Most of all, though, Volkswagen tops in its interior fit and finish. While not luxurious or even breathtaking, by any means, the interior of the VW Passat, even at this base level, smacks of quality and craftsmanship. No cheap plastic, no cut-rate fabrics, and no dysfunctional layout schemes. At the center of the dashboard is a nicely-set analog clock as well, something rarely seen in a base model these days. Especially one selling below the $24,000 mark in the midsize category.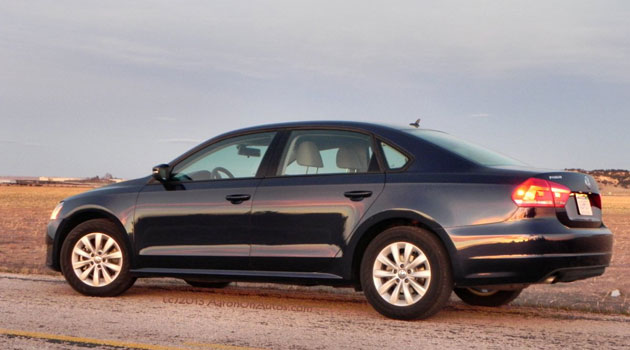 Yet for all of this, the VW Passat S seemed a little empty. The base level stereo system is OK, but its Bluetooth and other services are dated and clunky to use. The car itself, while driving, offers nothing in the way of "wow" and that fuel economy is low, even by German standards.
In comparison, my test drive of the 2012 Volkswagen Passat TDI last year (read that here) was far superior. Little has changed for the TDI in the last year and with a price point within $2,000 of the base S model, there are few reasons not to go there.
The diesel option offers a sportier drive, better performance, and far higher fuel economy. Even when you drive it like a sprint car like I did.
No matter what kind of Passat you get, though, you'll always get that German refinement that is hard to match. It rides well at speeds, is quiet, and has a sporty touch that makes city driving more interesting. With the encroachment of these qualities from other makers, however, Volkswagen needs to step up its game when the Passat goes in for a redesign in the next year or two if they want to stay competitive.
The 2013 VW Passat S is a good base model beginning for a line of Passats that are all solid performers for the segment. If you spend a lot of time on the highway, the TDI is your better option, but the base-level five-cylinder gasoline version here is a good goer for the city dweller looking for a comfortable and honest presence in town.