2015 Subaru Legacy Concept Will Debut At LA Auto Show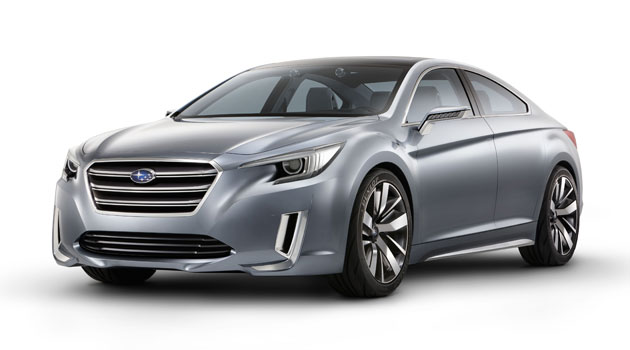 Subaru will be debuting their 2015 Subaru Legacy Concept later this week at the 2013 Los Angeles Auto Show. The new Legacy Concept celebrates the 25th anniversary of the Subaru Legacy and will supposedly provide a look at the styling cues for future Legacy models.
Adorned with a custom Ocean Silver Metallic paint scheme, the Legacy Concept features a more coupe-like silhouette. While Subaru calls the Legacy Concept "a modern interpretation of the Legacy" that features a more distinguished front design with a new hexagonal grille and a sharper hawk-eye headlamp design, the public's reaction so far has been mixed at best.
Many have complained that the Legacy Concept looks more like a Ford Taurus and less like a Subaru. Of course, purists shouldn't worry just yet, as the 2015 WRX Concept looks COMPLETELY different than the production version WRX (which is also debuting at the Los Angeles Auto Show).
I've got mixed feelings regarding the new Legacy Concept. I love what they've done with the rear of the car, but I can also see the Taurus similarities up front that everyone is referring to. I guess we'll have to wait and see what the production model ends up looking like.