2020 Alfa Romeo Giulia Quadrifolgio Is The Ultimate Jekyll and Hyde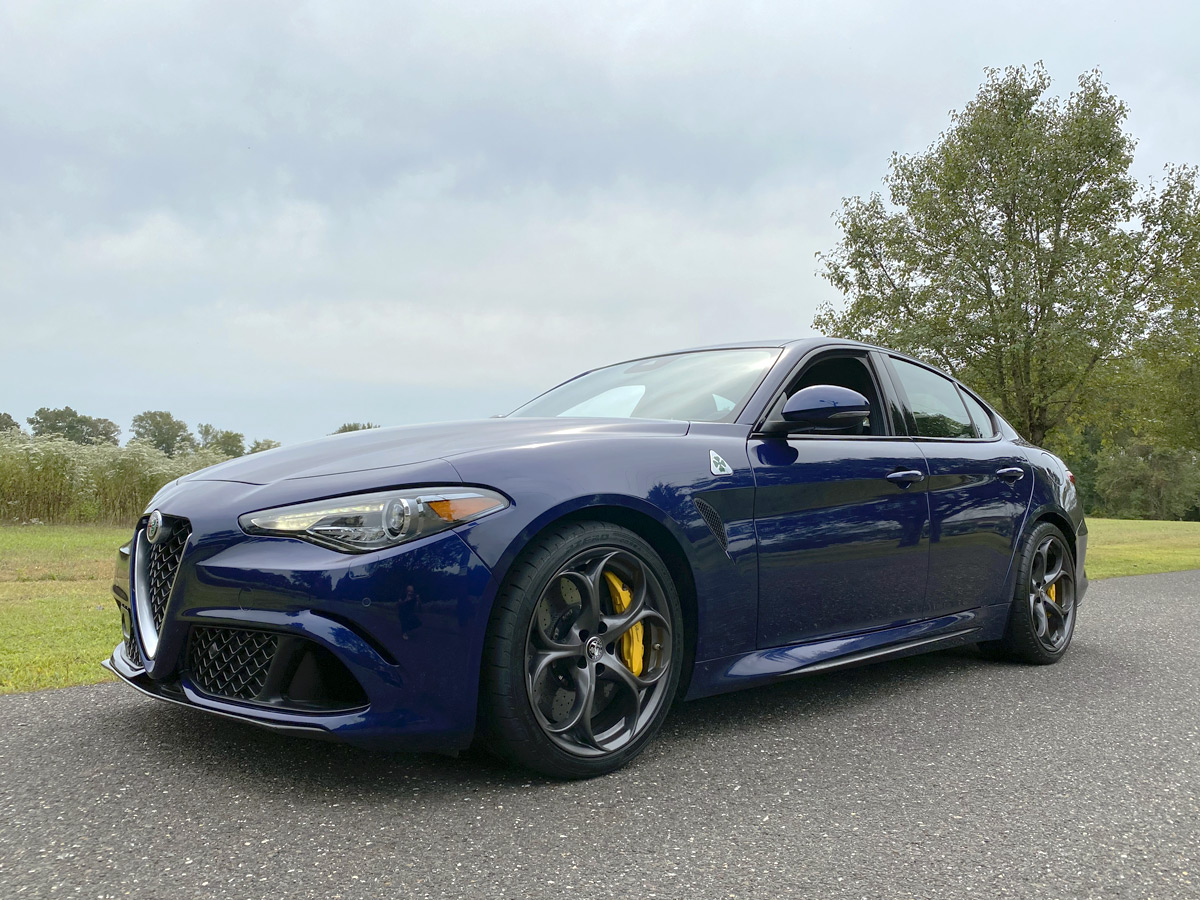 Last year, I spent a week with the "regular" Alfa Romeo Giulia, and I was immediately taken by it, as it was a ton of fun to drive, delivering a great mix of performance, handling and style, all for a pretty reasonable price. I thought the Giulia delivered worthy competition for the BMW 3 Series, Mercedes C-Class, Audi A4, and other sports sedans in the segment, and wondered why I didn't see more people driving them.
But did you know that just like BMW's M, Mercedes-Benz's AMG and Audi's S, Alfa Romeo has a high-performance Quadrifoglio line of their own, offered on the Giulia and Stelvio models? It's signified by a hand-painted clover badge on the car's fenders, and the Quadrifolgio models dial up the excitement level to 11.
In the case of the 2020 Alfa Romeo Giulia Quadrifolgio, we're talking about 505 horsepower, 443 lb-ft of torque, a 0-60 time of 3.8 seconds, and a top speed of 191 mph. In fact, the Giulia Quadrifoglio set a record-breaking lap time of 7:32 at the infamously demanding Nürburgring racing circuit in Germany, making it the fastest five-passenger vehicle in the world. Yeah, it's one seriously fast sports sedan.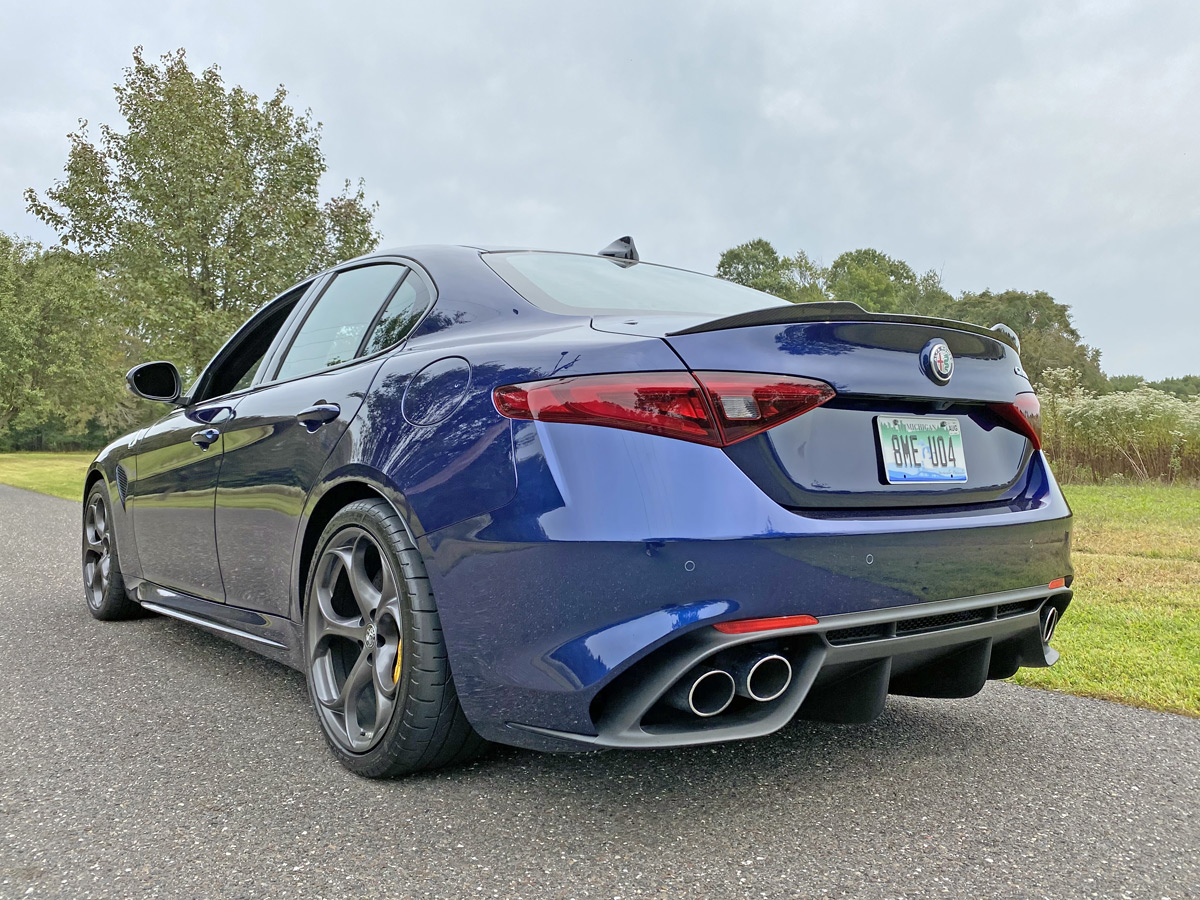 The Giulia Quadrifoglio was everything I hoped for, with just insane straight-line performance, incredible handling, a snarling exhaust note that just begged you to drive it harder, a gorgeous interior with the perfect blend of leather, Alcantara, and carbon fiber, and seductive Italian exterior styling that turned heads everywhere I went.
Performance.. well that goes without saying. The Giula just screams off the line, the 2.9-liter twin-turbocharged V-6 engine delivering brutal acceleration and pinning you to the back of your seats as the speedometer quickly dips into the triple digits. I was surprised by the lack of Launch Control, but a little brake boosting gets the job done regardless, the car squatting down as it takes off with just a hint of wheel spin.
On the handling front, the Giulia Quadrigolio has a near-perfect 50/50 weight distribution, a lightweight RWD platform with a low center of gravity, and the most direct steering available. Add in torque vectoring technology that delivers power to each rear wheel individually, and you've got one seriously capable vehicle in the twisties. The base Giulia was a real gem in the handling department, but this is on a whole other level.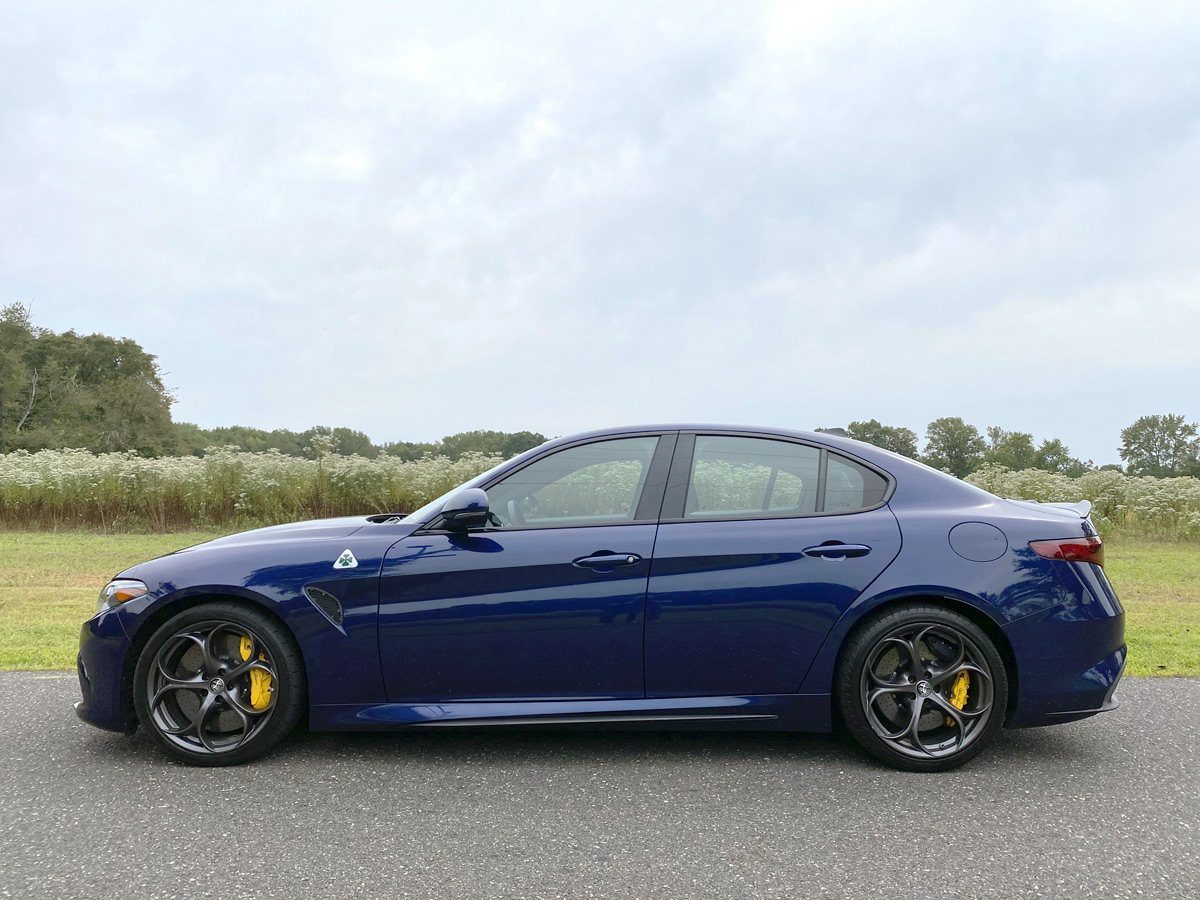 Our car also had the $8,000 Brembo carbon ceramic brakes, which stopped the car so hard that I thought my eyes were going to pop out of their sockets. While I'm sure these are great on the track, they're honestly overkill for daily use. The stock brakes on the Quadrifoglio are Brembos, and the yellow calipers are a $500 option. So you can get that race-y look while saving $8K for other things (like gas money, since this car is seriously thirsty when you get on it).
Visually, this car is just a work of art, and I couldn't believe the number of people who came up to the car to take pictures and such. It's unmistakably Italian, with the subtle aero treatment and carbon fiber giving it even more flair. The stunning Montecarlo Blue metallic paint is the cherry on top, making the car pop like you wouldn't believe (these photos don't do it justice).
Inside, it's more of the same, with a driver-focused, bespoke looking cockpit with a beautiful mix of leather, Alcantara, and carbon fiber throughout, supportive seats that keep you in place without being uncomfortable, a flat-bottom Formula One-inspired steering wheel, DNA Drive Mode selector dial, and red stitching. There's also a new standard 8.8-inch center touchscreen display with improved graphics and state-of-the-art connectivity and more standard content.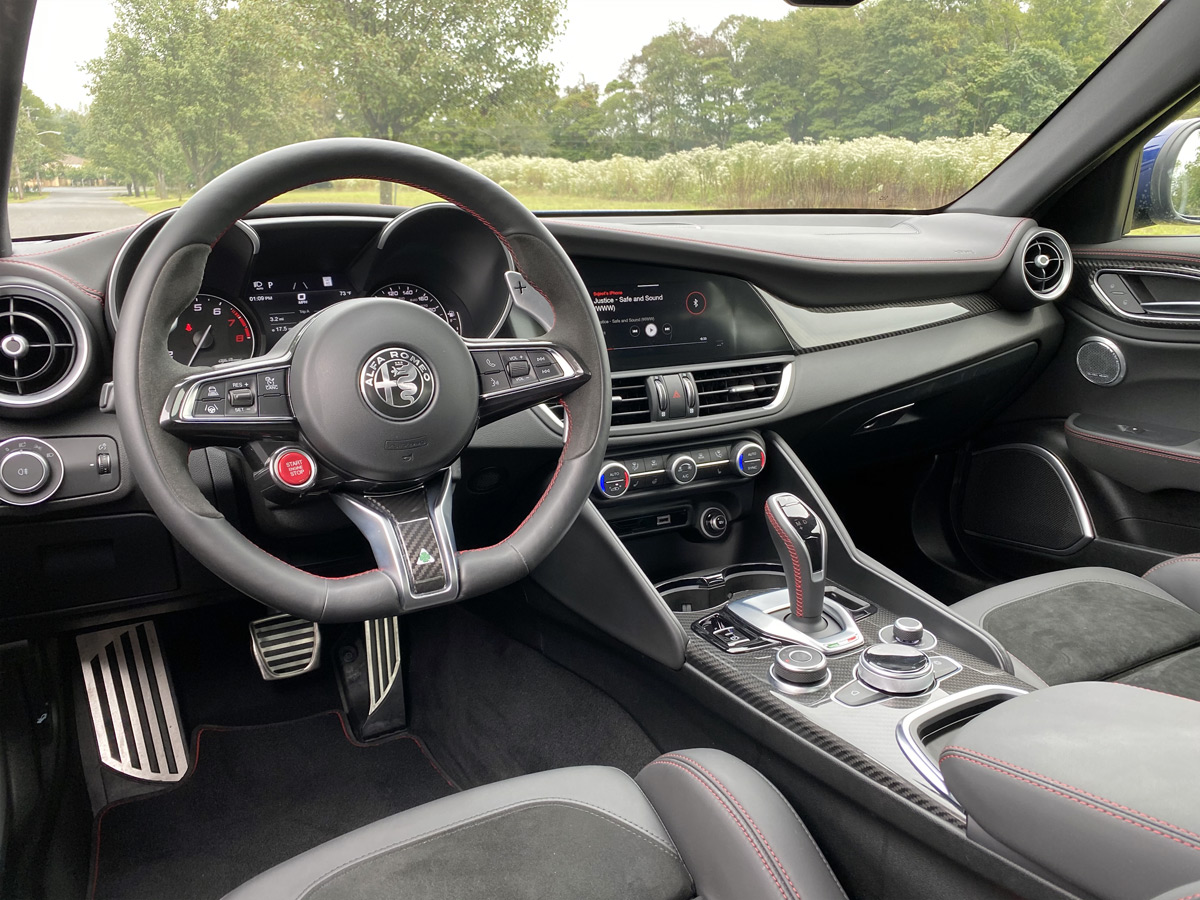 If you read my review from last year, you know that the infotainment system was the bane of my existence, as it was just a hot mess. Thankfully, someone at FCA must have been listening, as the system got a complete overhaul, as you can see in the photo below. You can navigate the various screens via touchscreen, rather than relying on the rotary knob, making the system so much easier to use now.
Now if you've been reading this long, you may be wondering what I meant by that whole Jekyll and Hyde business. So here's the deal. As I just spent the past few paragraphs talking about, this car is one serious performance car, ready to do battle with the best of them. Hell, it set a freaking Nürburgring record. But that's not all this car can do.
The 2020 Alfa Romeo Giulia Quadrifolgio is also an amazing daily driver, with seating for five comfortably. I drove the car to Brooklyn, about 85 miles of highway driving, just cruising along at 65-75mph, and it soaked up the miles effortlessly, while returning an impressive 25.4 mpg. But if I needed to pass someone quickly, a quick flick into D (or Track) mode, a stab of the gas, and the car would be in triple digit in seconds.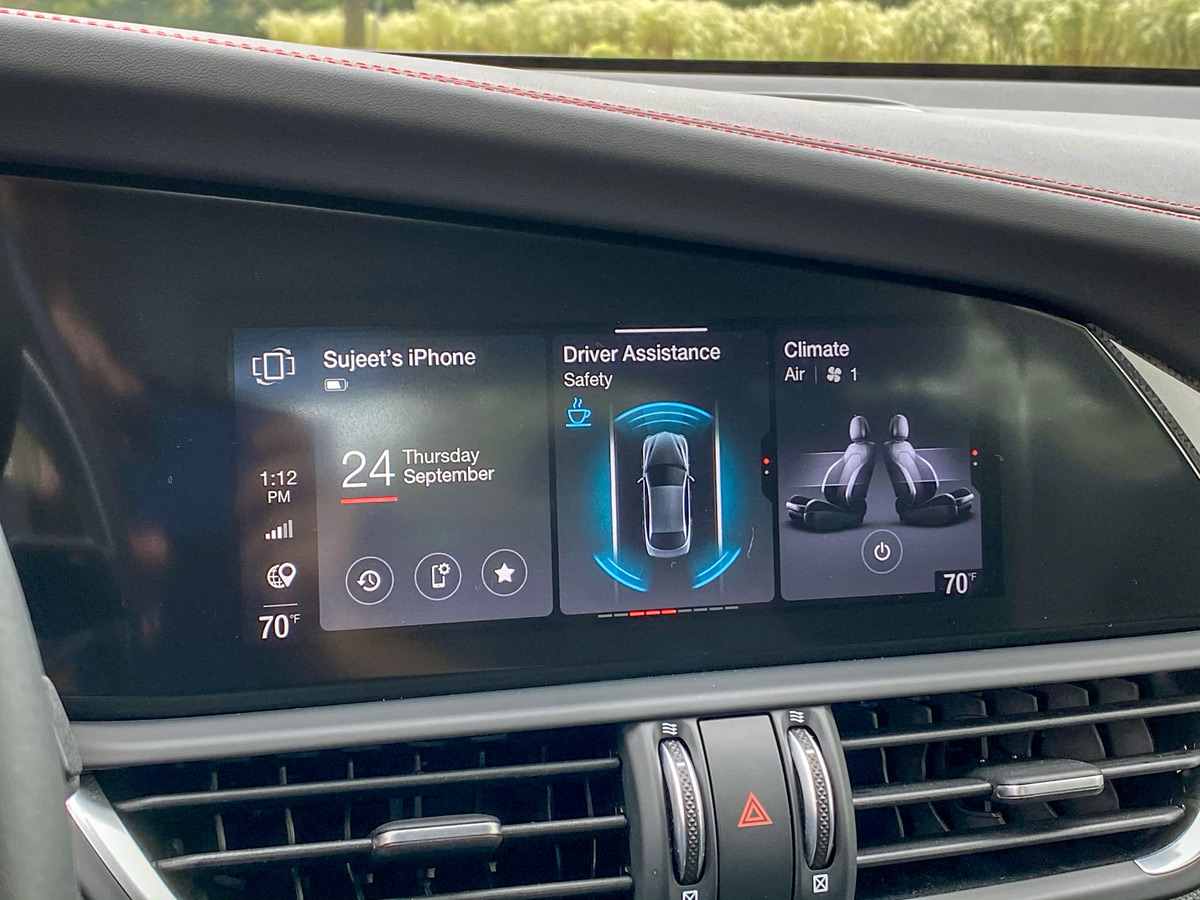 To me, that's the best thing about the Giulia Quadrifolgio, the fact that it can be whatever you need it to be without compromise. You can take the wife and kids out to dinner (try doing that in a 2-seat Corvette). You can commute to work in gridlock traffic. You can go to Home Depot and pick up 10 bags of mulch. But you can also take it to the track on the weekend and raise a little hell… and then drive it home afterwards.
If there's but one complaint I have with this car, it's that it's seriously expensive. The 2020 Alfa Romeo Giulia Quadrifolgio has a base price of $74,500, and our fairly loaded tester came in at a whopping $91,245! That said, if you drop the ceramic brakes and active driver assist package, you can knock $10K off the price right there. Add in a little wheeling and dealing, and you can hopefully walk out the door with one in the high $70's. That's more reasonable..
Overall, the Giulia Quadrifolgio might just be my favorite car in the segment, and the fact that you don't see a lot of them on the road makes them even more special. Though with the new 2021 BMW M3 looking as bad as it does, maybe more people will start cross shopping the Alfa now. I guess we'll just have to wait and see.

2020 Alfa Romeo Giulia Quadrifolgio RWD:
Base Price: $74,500
As-Tested Price: $91,245
For more information: https://www.alfaromeousa.com/giulia/quadrifoglio