The 2021 Cadillac Escalade Sport Platinum Delivers Luxury And Tech In Spades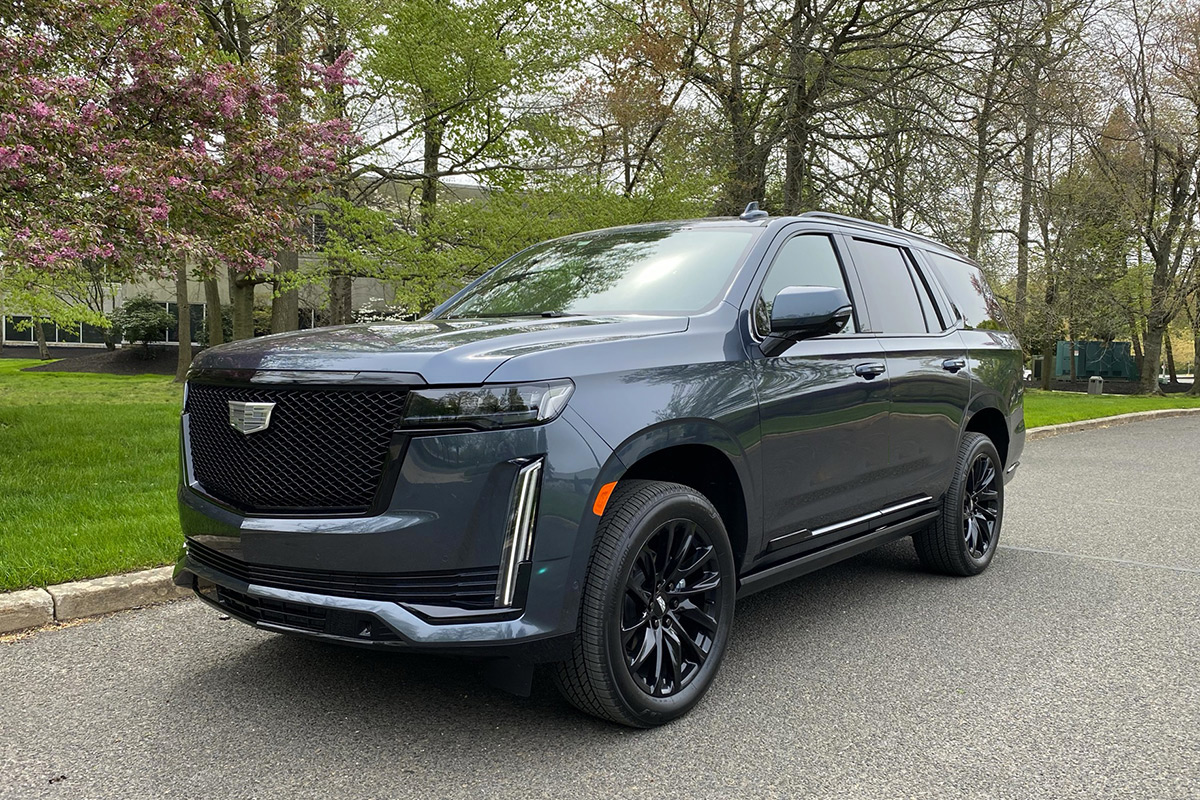 Back in 1999, the Cadillac Escalade was introduced to compete against the likes of the Lincoln Navigator and Range Rover, among others in this growing space. And while it was essentially nothing more than a rebadged GMC Yukon Denali, something about it just clicked with people, singlehandedly bringing the once-mighty brand back from the brink of extinction.
While the first-generation Escalade was admittedly rushed to market, subsequent models have evolved from a dressed-up Yukon into a distinctively styled flagship all its own. And nowhere is that more apparent than in the all-new 2021 Cadillac Escalade, which breaks the mold and reimagines itself like never before, completely redesigned with pioneering technologies that add new dimension to the iconic luxury SUV.
Visually, the new Escalade makes quite a statement with not only its bold styling, but just it's sheer size, as this sucker is freaking MASSIVE, getting longer on the outside and bigger on the inside. Despite our car coming equipped with the Onxy package (which blacks out the chrome grille/wheels/trim) for a stealthier look, it still managed to turn heads everywhere we went.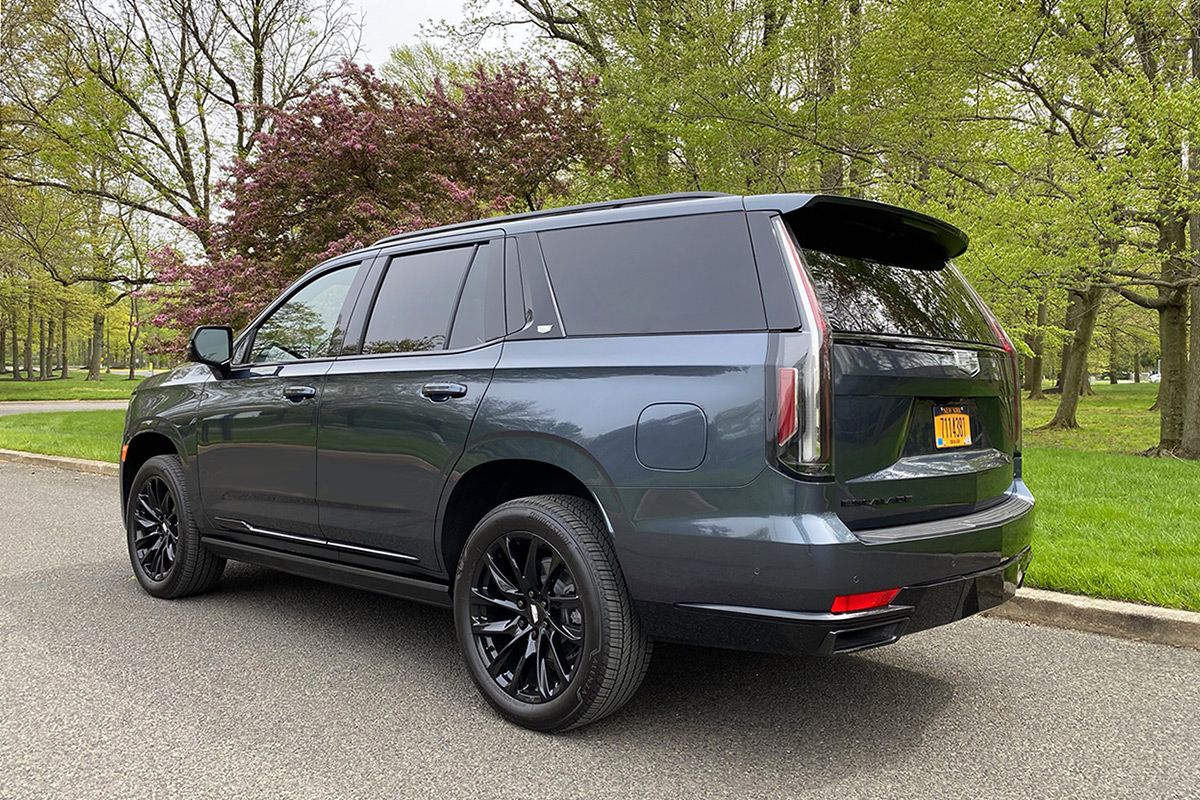 While previous generation Escalades really catered to the bling-bling crowd, the new Escalade can be equipped in a variety of different ways, with five different trims to choose from, three distinct grilles, a number of wheel options, the aforementioned blacked-out package, and of course paint color. Personally, if I'm dropping six-figures on a vehicle, I want it to stand out in a crowd, but different strokes for different folks.
Aesthetics are one thing, but the real magic happens when you step inside the 2021 Escalade, as it's unlike anything you've ever seen before. The star of the show is a 38-inch curved OLED display that's made up of a 7.2-inch-diagonal touch control panel driver information center to the driver's left, a 14.2-inch-diagonal cluster display behind the steering wheel and a 16.9-inch-diagonal Infotainment screen to the driver's right.
The display offers twice the pixel density of a 4K television, and the technology delivers bold imagery, perfect blacks and the largest color range of any automotive display in production today. The vivid color and visual quality of OLED technology also eliminates the need for the common "hood" shrouding many typical in-vehicle screens, creating a brighter and less cluttered environment.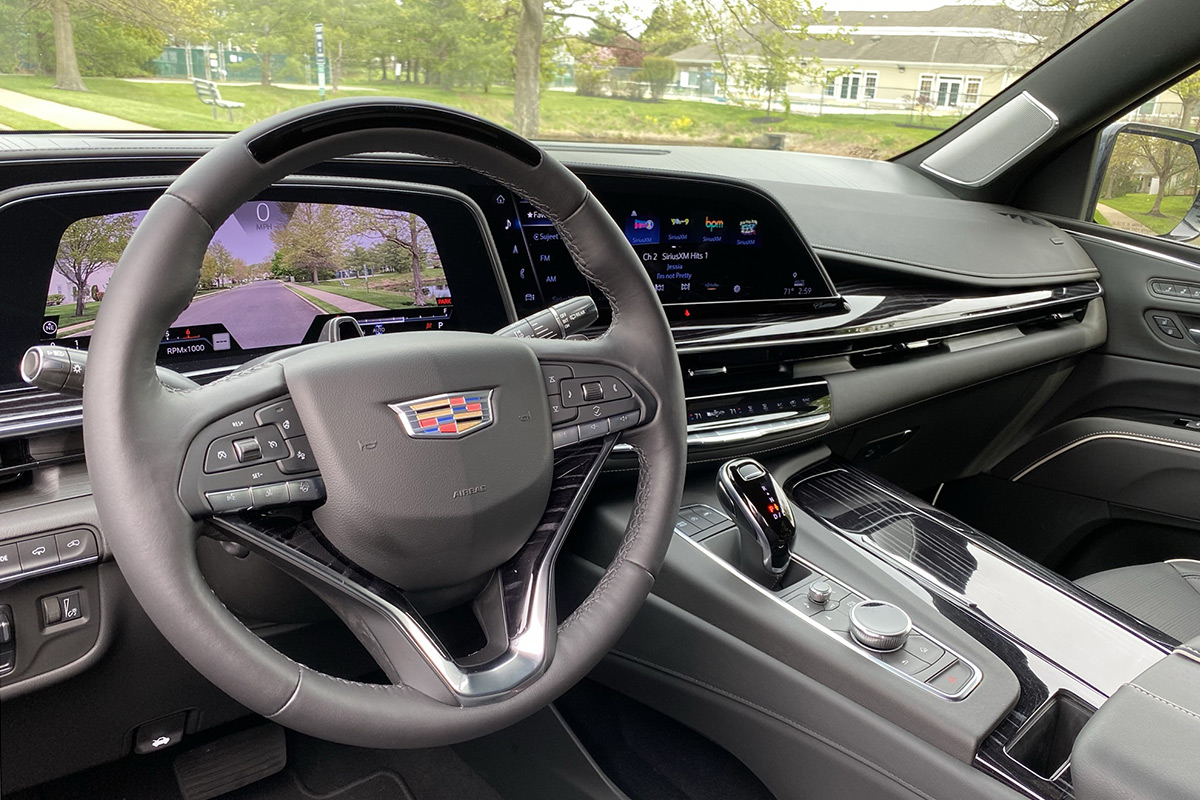 But that's not all. Available Augmented Reality-enabled navigation uses live street views with directional overlays and more to enhance driving directions. The optional Night Vision feature uses infrared technology to enhance forward visibility, including detection of pedestrians and large animals, projected on the center cluster display. And Surround Vision employs 4 exterior cameras to provide a 2MP bird's-eye view of the scene around the vehicle (a must-have when parking a vehicle this big).
For the music lovers out there, an available 36-speaker AKG Studio Reference system powered by three amplifiers that deliver 28 channels offers a listening experience that is astonishingly crisp and immersive. The Studio 3D Surround feature creates professional-level sound through the multichannel audio system, with strategically placed speakers finely tuned to deliver sound like being with the artist in the recording studio. Additional speakers in the headliner, along with speakers in the headrest, help create a 360-degree immersive listening experience.
The 2021 Cadillac Escalade features an enhanced Super Cruise system that uses a mixture of adaptive cruise control, lane keep assist, and precision LiDAR map data to have the car drive itself on the more than 200,000 miles of enabled roads in the U.S. and Canada. You don't have to touch the steering wheel with Super Cruise, but you need to be looking at the road ahead, with a camera watching you to make sure of this.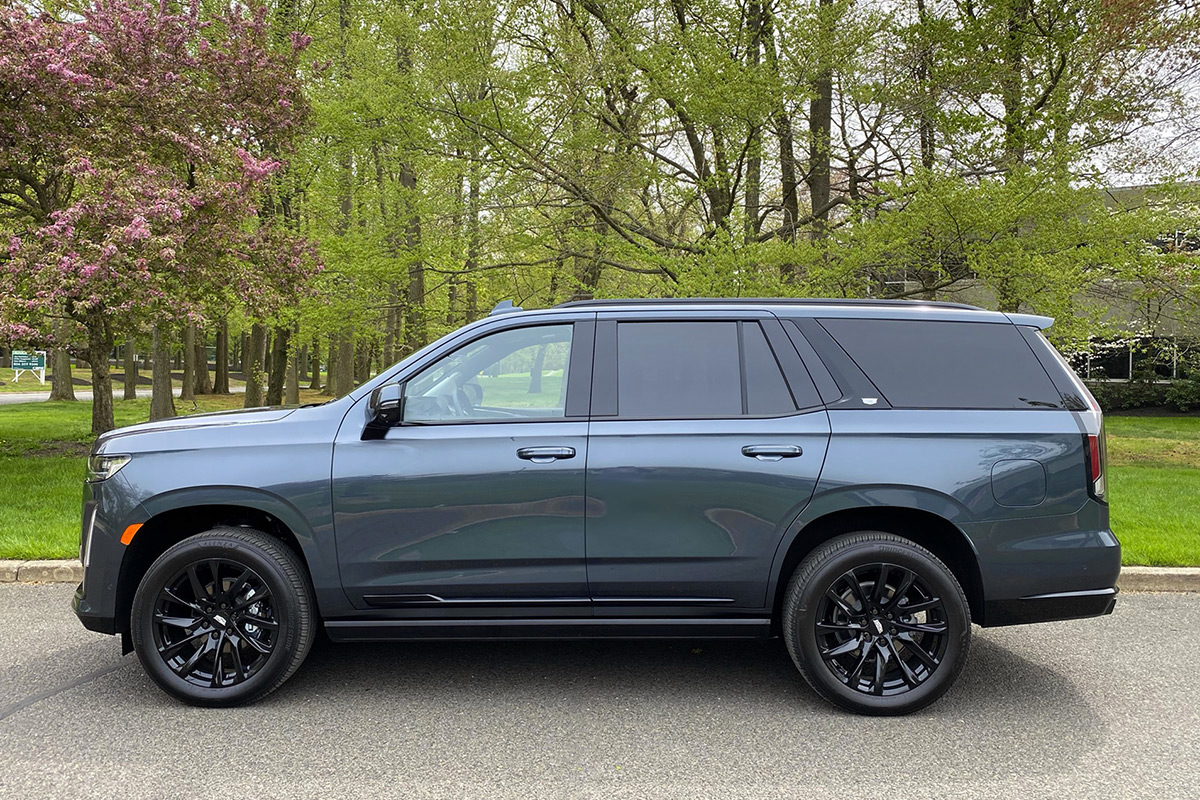 We first tried out Super Cruise in the Chevy Bolt EUV, but the Escalade's version is even more robust, with additional cameras to allow for automated lane changes. To initiate a lane change, simply use the turn signal to indicate which direction you want to go. Once it finds an opening, it'll make the lane change automatically. I tried this out on a 20-mile stretch of highway, and it was seriously cool, doing all of the heavy lifting while I just sat back and enjoyed the ride.
While the lane changing feature does work, it's very cautious when trying to find an opening, waiting for large gaps before attempting to do so. With New Jersey traffic and the way people here tailgate one another, that made for some rather long waits to change lane at times. It's just easier to grab the wheel, switch lanes yourself, and then let the car resume self driving.
Super Cruise is beyond impressive, and if I was doing a long trip, I'd totally want this feature to take the burden off of me. That said, Super Cruise is a $2,500 option, and that only includes the first three years of service, after which a Super Cruise connectivity plan must be purchased for $25 per month to keep it active. If you have select OnStar and Connected Services bundles, you can add Super Cruise for an additional $15 per month.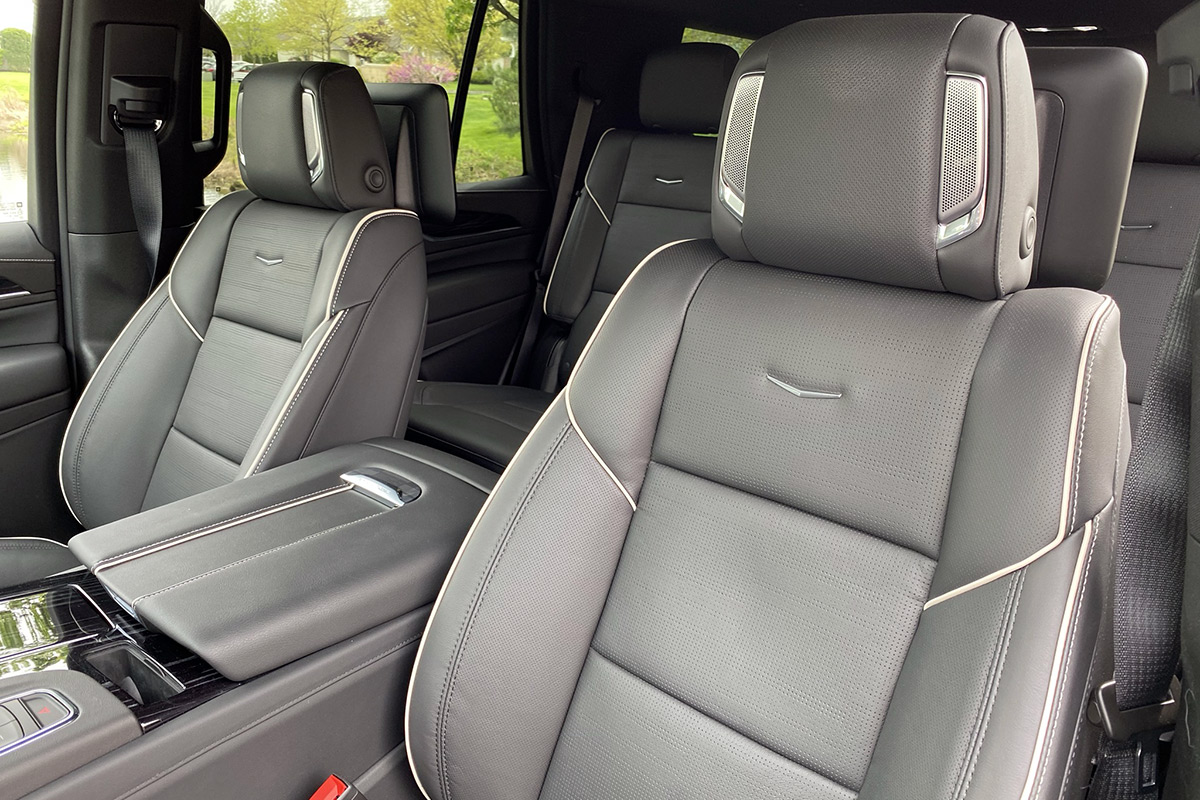 Under the hood is a new 6.2L V-8 engine that delivers 420 horsepower and 460 lb-ft of torque, and it's mated with a 10-speed automatic transmission. Acceleration is surprisingly good for a car of this size, with it sprinting from 0-60mph in about 6.1 seconds. Power delivery is smooth and effortless, and shifts are seamless. Fuel efficiency is about what you would expect, coming in at 14mpg city / 19mpg highway. Surprisingly, the SUV takes premium fuel, so those fill-ups are going to hit the wallet even a little harder.
On the road, the 2021 Cadillac Escalade delivers a responsive, precise driving experience that offers exceptional isolation from the road, thanks in part to its Air Ride Adaptive Suspension and Magnetic Ride Control. The Air Suspension delivers automatic load-leveling and ride-height adjustments continuously at all four wheels, while Magnetic Ride Control uses sensors to continually "read" the road and alter the damping rate of the shocks almost instantly to reduce vertical body motion, body roll and vibrations.
Not that most people are really going to push this truck, but if you do, its independent rear suspension and electronic limited-slip differential really work well with the aforementioned systems to offer exceptional body control and remarkable agility for a vehicle of its size.
The 2021 Cadillac Escalade offers a lot more interior space than the outgoing model, thanks to stretches in overall length and wheelbase, as well as moving to a new independent rear suspension. There's 40% more third-row legroom and a 68% increase in maximum cargo space behind the third row. And if that's somehow not enough space for your needs, there's a long-wheelbase ESV version for an extra $3,000 that delivers 142.8 cubic feet of cargo space.
As you can see from these photos, Cadillac really stepped up their interior design game as well. Buyers can variously choose from nine interior colorways, four seat stitch patterns, seven real woods finishes, and more. The difference between the last-generation Escalade and this one are night and day, and the 2021 Escalade's interior can hold its own against any luxury brand out there. That's a huge statement for a company like GM.
Overall, I think Cadillac really knocked it out of the park with the new Escalade, delivering a truly upscale luxury SUV like never before. But with this upscale move comes an equally high price tag to match. The new Escalade starts price at $76,195, while our Sport Platinum model clocked in at $109,005 with options and delivery. That's some strong money for sure, but you definitely get a lot of car for the money.
What do you think of the 2021 Cadillac Escalade?