The Baddest Pontiac Trans Am In The Land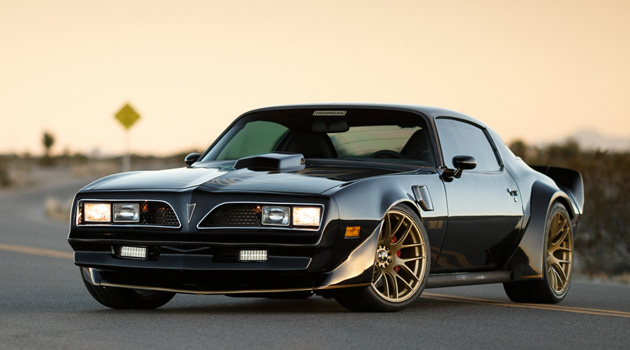 When it comes to American cars built in the 1970s, there's really no car more iconic than the Pontiac Trans Am. It was a tough-looking car, and it was became even more badass when Burt Reynolds slipped behind the wheel of one in Smokey & The Bandit. The Trans Am became the car to have in the late '70s, in black and gold of course.
That era Trans Am noted the pinnacle of Pontiac (sorry Knight Rider fans), and it all went downhill from there. Thankfully, master mechanic and drifting-extraordinaire Gregg Hamilton has revived the old Phoenix from its ashes and brought it back to its original glory—and then some.
See, Gregg Hamilton isn't just another wrench-turner, he's the lead mechanic for Gymkhana superstar, and master Hoonigan—Ken Block, and after relocating from New Zealand, he bought himself a Trans Am and turned it into something completely outrageous. Because race car.
Open the hood of Hamilton's Pontiac, and you'll find a twin-turbocharged 5.3 liter V8, paired to an old-school six-speed manual transmission. The transmission is ZF 6-speed from a Corvette, while both the clutch and flywheel have been upgraded and the rear end houses a set of 4.56 gears. There are a slew of other mods, which are all finely-tuned to squeeze every ounce of performance it can produce. Sadly, Hamilton doesn't have any documented figures, but he says it's hella fast.
In fact, Hamilton says his Fire Chicken is as fast as a modern Corvette Z06. And he should know, considering his daily driver is a C6 Corvette Z06. There's no question that this car is pretty impressive as-is, but Gregg's not done with the project. Next up is an IRS conversion, which he plans to tackle when time permits, as traveling with Ken Block leaves little free time.
Check out the video above and let us know what you think!