The Buick Envision's Active Twin-Clutch AWD System Helps You Stay In Control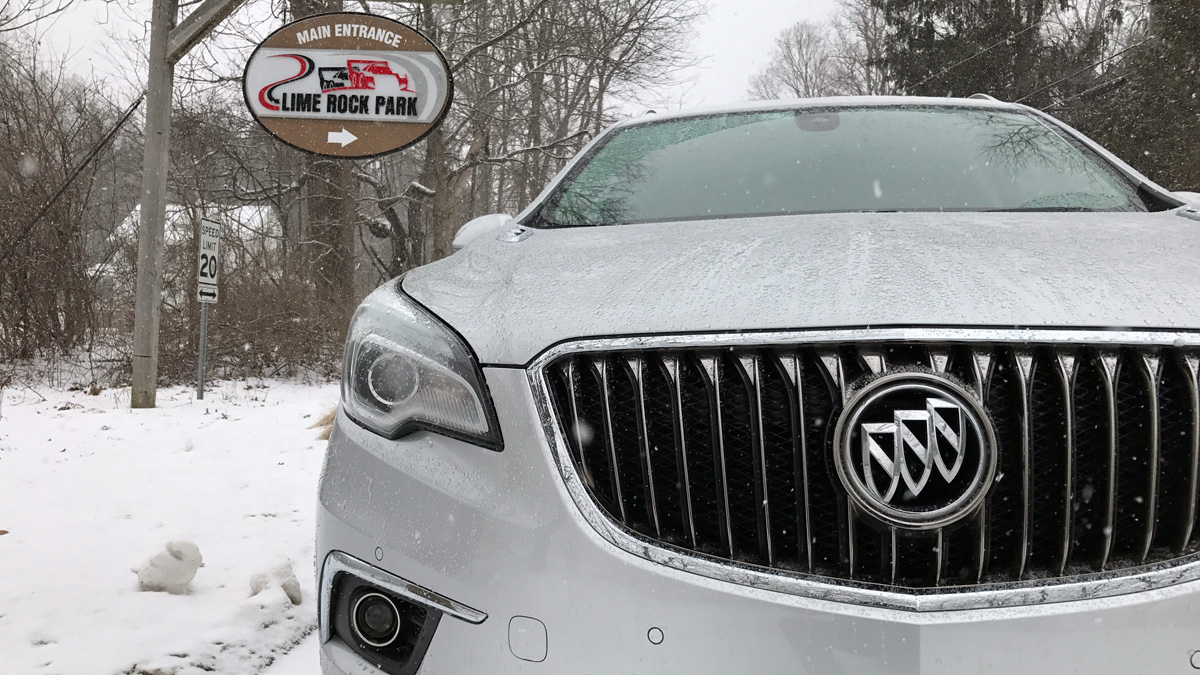 While winter is beautiful, it can bring potentially dangerous driving conditions that make travel difficult. Such was the case with this last winter storm, which blasted up the East Coast and left a snowy mess in its wake, with many areas getting upwards of two feet of snow!
Needless to say, the only people getting around afterwards were trucks and SUVs equipped with AWD. And even then, I saw plenty of those folks stuck on the side of the road, their wheels spinning helplessly as they struggled to get traction on the slippery surface.
The problem? 1) Most of them weren't using winter tires, and 2) not all AWD systems are created equally.
Now, we've talked about the importance of winter tires before, so I'm not going to rehash that. But suffice to say, if you live in an area that gets a lot of snow, winter tires are WELL worth the investment!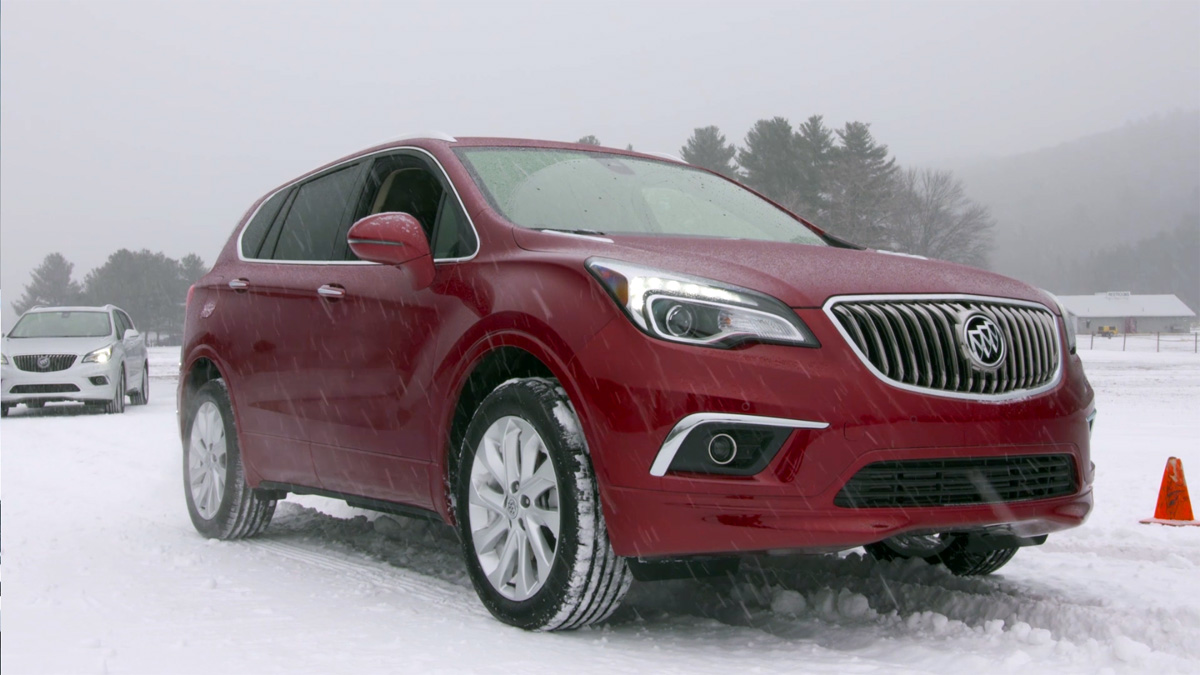 As for all-wheel drive, many people see the AWD badge on the back of their vehicle and thinks it means they can drive through anything. But as we learned at Buick's Winter Driving Experience at Lime Rock Park in Connecticut, that's not the case at all, and not all AWD systems operate in the same manner.
Buick's Active Twin Clutch AWD system (available on the Envision and Lacrosse) constantly monitors all four of the vehicle's wheels and makes adjustments for maximum traction in a wide range of challenging driving conditions, like rain, sleet and snow. Using a pair of electronically controlled clutch packs in the rear driveline module, it allows for power to be sent between the front and rear wheels, but also between both rear wheels, too, replacing the traditional differential and single clutch system.
To demonstrate the benefits of this, Buick set up a little comparison test, using rollers to simulate a situation where three wheels had zero traction, and the front left wheel had traction. The Envision was able to deliver torque to the left front wheel and drive off in mere seconds. But the Acura MDX SH-AWD (which has a more traditional AWD setup) didn't fare as well and had to be physically pushed off. Doh!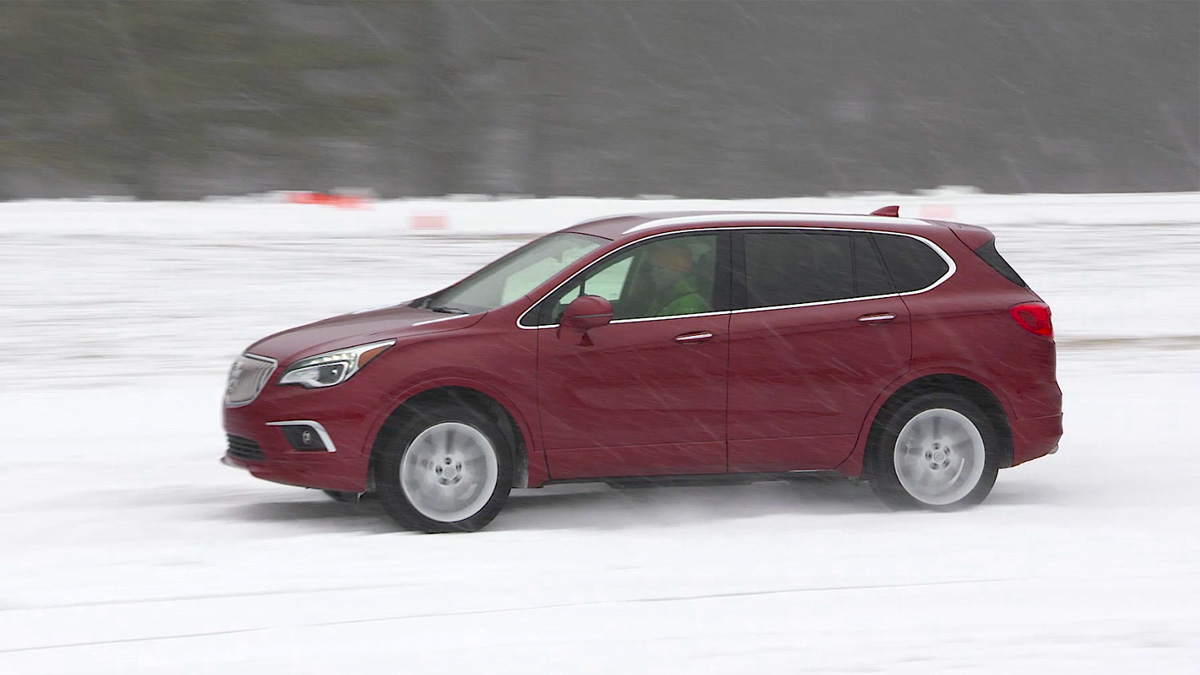 Afterwards, we headed over to a little snow-covered handling course where we could drive both cars back-to-back and see how well they could accelerate, turn, and brake in the snow. Again, both cars were able to hold their own throughout the course, but the Envision just felt more planted and in control. It's a game of inches, but that could be the difference between an accident and driving away without incident.
Overall, the Buick Envision proved to be a capable, all-weather, luxury SUV, one that honestly surprised me in a good way. The car has the goods to take on the usual suspects (BMW, Mercedes, Lexus, Acura, etc), at a price point that is really competitive. This was my first run-in with the Buick Envision, and it gave me a new perspective on the brand and what they're doing these days.
So if you're in the market for a new SUV, make sure you do your research.. Because as we learned firsthand, not all AWD systems are created equally.