The Mission Belt – Look Ma, No Holes!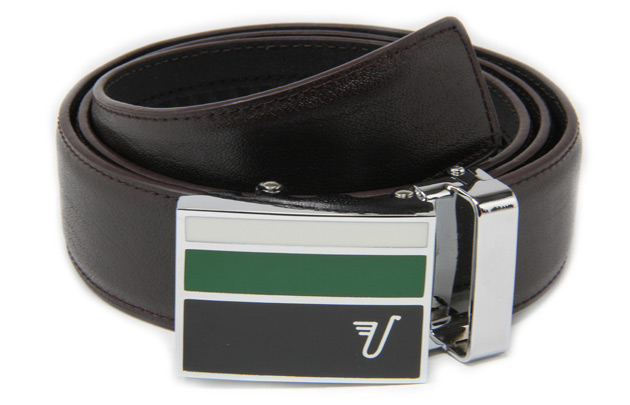 The Mission Belt is a no holes belt that received national attention after being featured on ABC's Shark Tank back in April. It's a genius design, one that fixes an inherent design flaw with belts. Think about it, the point of failure of most belts is the belt hole. Get rid of that weak point, and your belt will last ten times as long.
But that's not all. How many times have you put on a belt, only to find that it doesn't fit you quite right? You put it through one hole and it's too loose, yet if you go to the next hole, now it's too tight.
These two problems have plagued me for years, so when I saw the belt pitched on Shark Tank, I was rooting for them to get a deal. Thankfully, they were able to close a deal with Daymond John, and a few months later I finally got a Mission Belt of my very own! (The "Money" in Brown leather as seen above)
The Mission Belt solves both of these common problems by utilizing a special buckle mechanism. On the inside of the belt tip is a six inch row of plastic teeth that are caught by the retention lever in the buckle. Since there are six inches of retention teeth, you have exactly six inches of variation in your belt, and you can micro adjust down to the desired millimeter. Just shed 5 lbs? No problem. Just slide the belt tip in another few millimeters and presto the belt is a perfect fit again. To remove the belt, simply lift a retention lever that's located on the bottom of the buckle and pull the belt out.
This video illustrates how the Mission Belt works:

Once you try the Mission Belt, you'll never go back to a traditional belt with holes. I've shown off my Mission Belt to quite a few people already, and the reaction is always one of shock and awe. A number of friends have since ordered a belt (or two) of their own. It's that impressive!
One thing they didn't touch on during the show was the charitable mission of the Mission Belt. For each belt sold, they contribute a dollar into a Kiva fund that then gets lent out to borrowers in developing countries who are seeking money to support their small business operations. In this way, they're not just satisfying people's immediate needs, but giving them the means for an improved standard of living that will last the rest of their life. It's a hand up, not a hand out.
I love supporting companies like this. They've managed to put out a high-quality product at a reasonable price (belts range from $35-40), all while giving back to those less fortunate. It's a win-win-win.
The hardest part is deciding which Mission Belt to get. The Vader is their top seller, but I wanted something a little flashier so I went with the Money. Check out their belt collection, and prepare to be overwhelmed!