Treat Your Boys To The Ultimate In Comfort With SAXX Underwear
Awhile back, I was undressing in front of a girlfriend and she a smart remark about my boxers, how I need to ditch them for some boxer briefs instead. Personally, I always liked the freedom that boxers gave me, but it was clear that I was a bit behind-the-times. In fact, GQ put boxer shorts on blast years ago, and honestly what they were saying made a lot of sense.
So I did just that, picking up a couple of pairs of boxer briefs.. and truth be told, I hated them. Yeah, I looked pretty sexy in them (so said the girl), but I felt like I was wearing a girdle, the waistbands kept rolling down throughout the day, and my nuts were beyond uncomfortable. I suddenly felt sympathy for the women out there wearing thongs..
But it turns out, not all boxer briefs are created equal. Recently, the folks at SAXX Underwear sent over a few pairs of their high-end luxury underwear for us to try out, with the promise that I was in for something pretty special. And after slipping them on, I was just blown away. This was about to become an expensive discovery.
The SAXX Platinum is their softest style to date, made from premium Modal® (AKA the Rolls Royce of underwear fabric). It's hard to describe the material, but trust me when I tell you that it feels like pure luxury, super soft, silky and breathable, only the best for your precious jewels. I also appreciate the relaxed fit of the Platinum style, not to mention the fact that it's got a fly.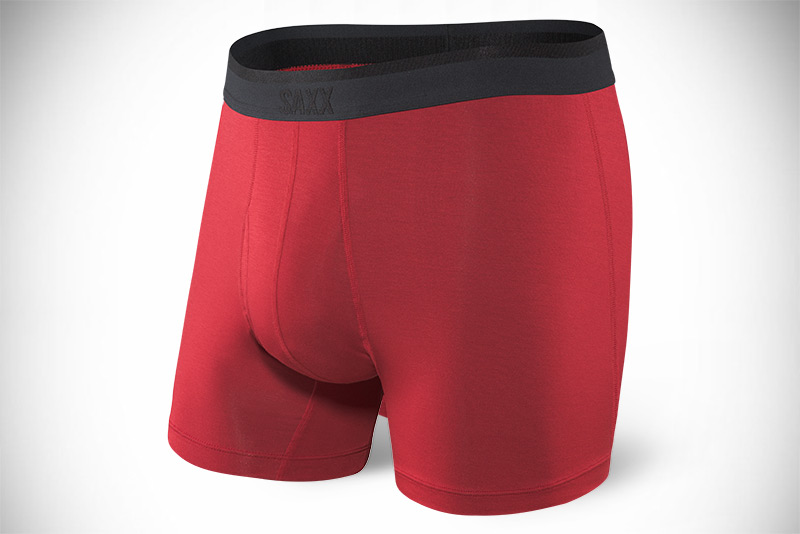 While that last bit might sound strange, none of my previous boxer brief had a fly (to keep the silhouette smooth, so they claim), and it was always annoying to me. You know, because who wants to pull their junk over the waistband at a urinal? Not this guy! Better still, they've got something called a BallPark Pouch, a 3D hammock-shaped pouch designed to keep everything in place. It prevents skin-against-skin friction and ensures chafe-free support.
It's no wonder why Men's Health voted SAXX the World's Best Underwear. They really are the gold standard, and you just feel better walking around all day in these bad boys. And the fact that my girl absolutely LOVED how they looked on me? Talk about a win-win. That's right, just like JT, I'm bringing sexy back!
While the price might seem a little on the high side (prices range from $25-45 – the Platinum ones we tested were $35), but it's one of those cases where you get what you pay for. And it's important to realize that girls dig a nice pair of undies on a guy much like how we like sexy lingerie on them. So toss those ratty old boxers of yours (or worse, those tighty whiteys) and get with the program.
Overall, I think SAXX absolutely knocked it out of the park, succeeding in creating one of the most comfortable underwear that I've ever worn. So if you're looking to up your undies game, you definitely need to try out a pair of SAXX Underwear for yourself.
For more information, check out the SAXX Underwear website. You'll be glad you did.
Disclosure: We were provided with complimentary product for the purpose of this review, but all opinions are my own.