3 Best Filippo Loreti Leather Watches For Men
As the summer months are rapidly approaching, it's an excellent time to discuss the one of the best watch straps for the season – leather straps.
The versatility of leather straps
Comfort is one of the quintessential attributes of leather watches. Beyond this, you might also examine the versatile and timeless quality that has, for a long time, fueled the fame of leather watches among their peers. Too lush and stylish for fashionable men, leather bracelets profess endless benefits for wearers. Like women, men find it hard to make fierce fashion statements when the occasion calls for it. This so-called 'gridlock' can be solved with a beautiful black leather watch like the Venice Moonphase Black Gold. But if you're the type that knows how to mix his colors brilliantly, you can find a curation of leather watches at Filippo Loreti official website.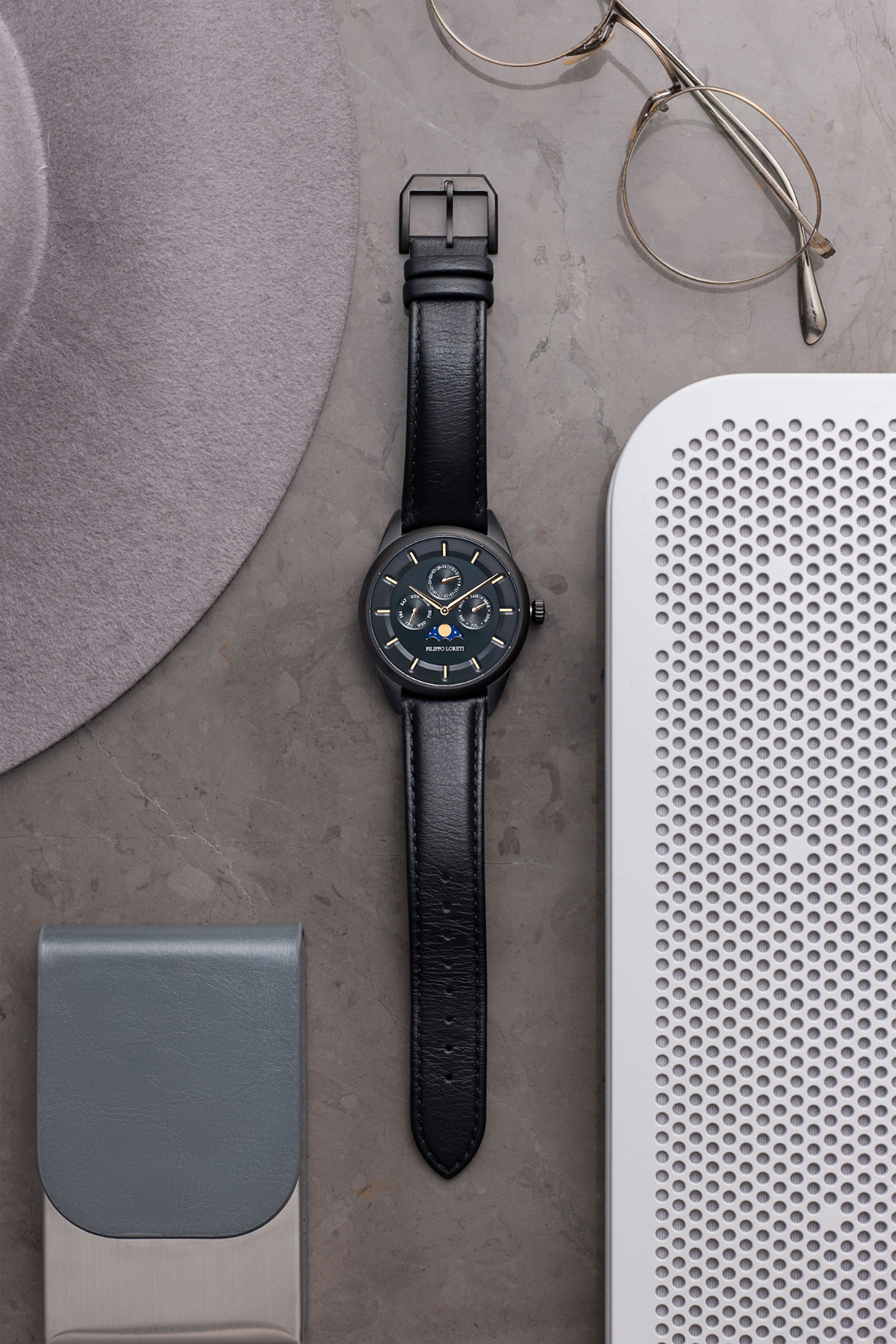 Leather watches are also great for sensitive skin. No matter how long a leather watch sits on your wrist, you will not experience any form of skin irritation. Like stainless steel, leather bracelets are inert and do not irritate the wearer. Perhaps it is the reason why they are more preferred on days involving a stretch of activities — truly convenient choice for summer and winter seasons.
Benefits of leather straps
The skin-friendly nature of leather straps is often hailed as their impressive quality. As seen in the Filippo Loreti men's leather strap watches range, they are ideal for casual and professional uses. When worn in combination with matching accessories such as leather belts and shoes, the result is always breathtakingly cohesive. Shop in a range of colors to switch your style.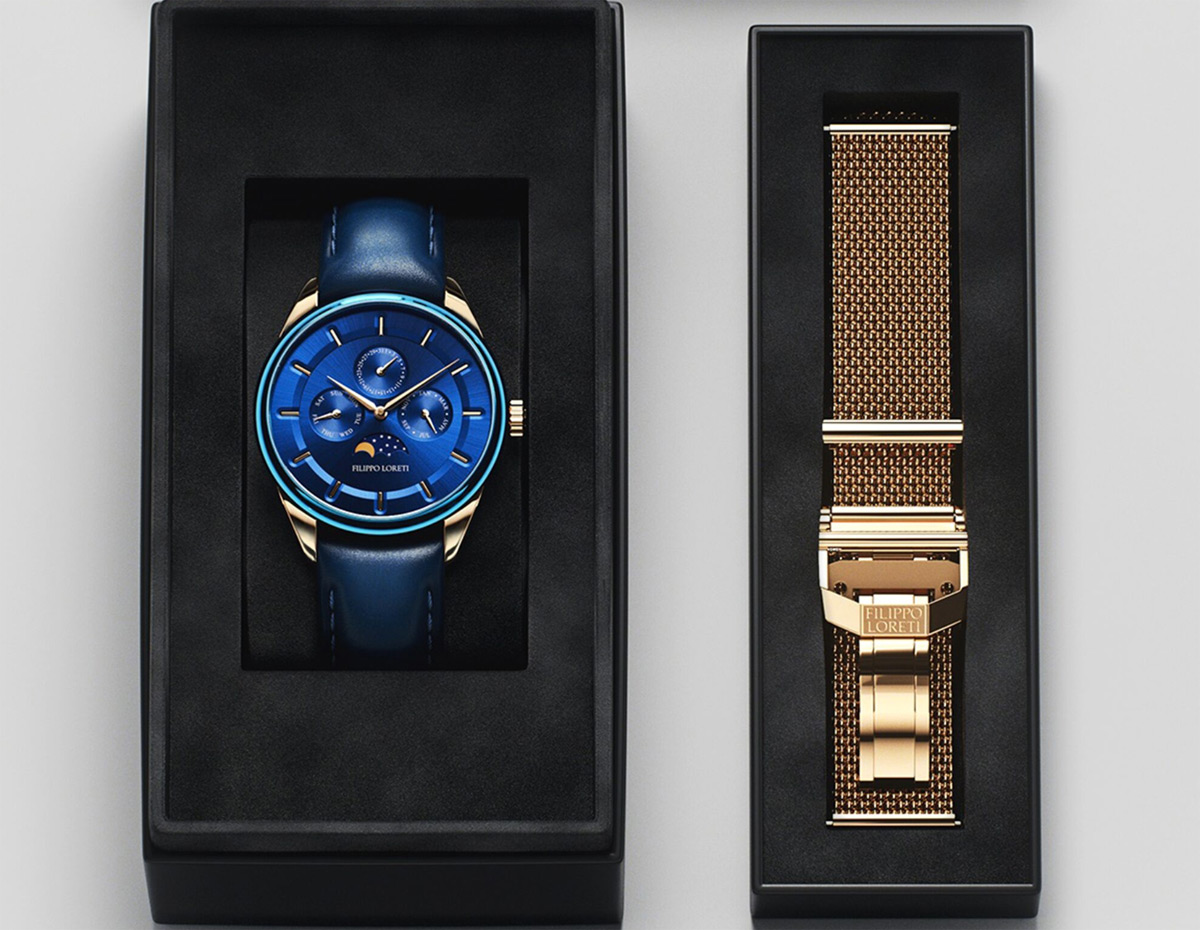 The Filippo Loreti leather watches
Comprising a bulk of the Venice timepieces, our leather watches are characterized by extra complications, bold colors, and intricate designs. Each a masterpiece, they have been made with precise attention to details and astute craftsmanship. Form-fitting and stylish, our leather watches are easy to maintain, weather-resistant, and with minimal patterns to suit every taste. However, we have chosen our best three leather watches and will describe them in detail as a representative of our leather collection.
1. Venice Moonphase Emerald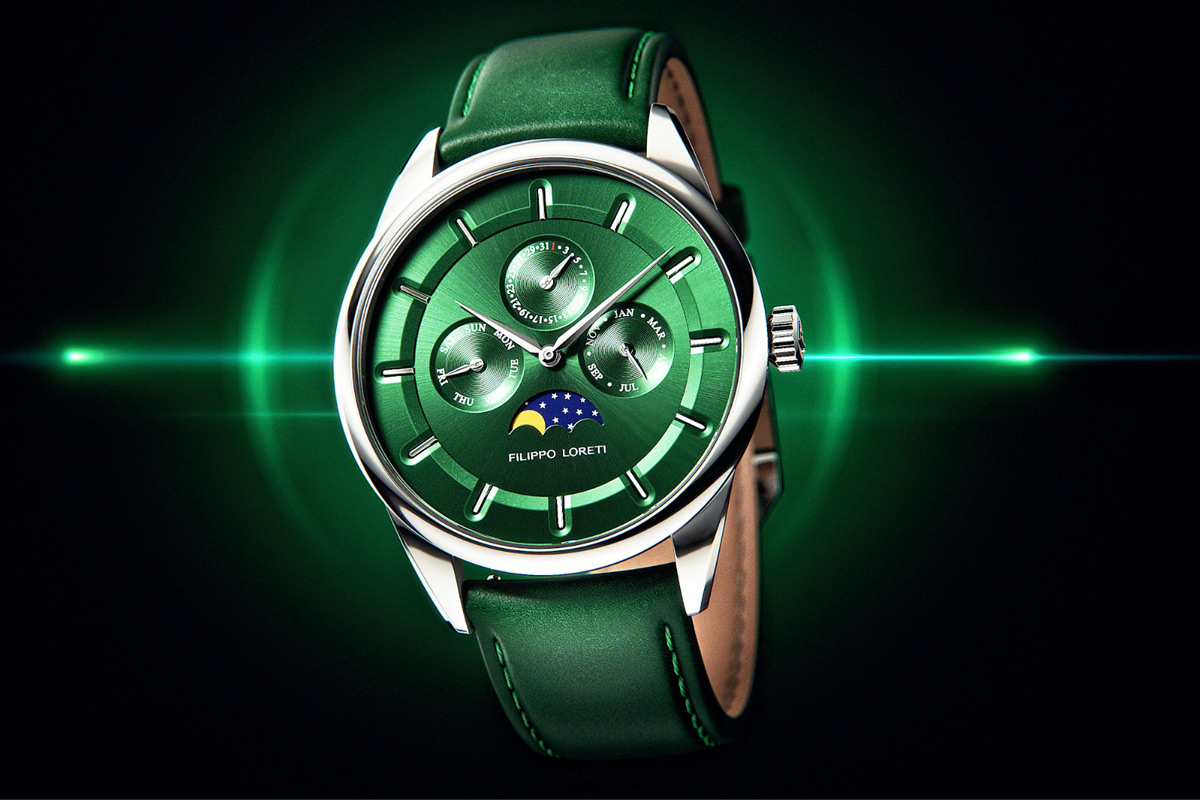 This watch flaunts a Green Italian Leather Strap whose snug fit is mostly praiseworthy. Expertly crafted with high-precision Japanese movement, 316L stainless steel, and the Sapphire Crystal, this green timepiece is what leather wristwatches are all about. 50m water-resistant, the product is functional and durable. The extra 'Moonphase' complication is the icing on the cake.
2. Venice Moonphase Blue Gold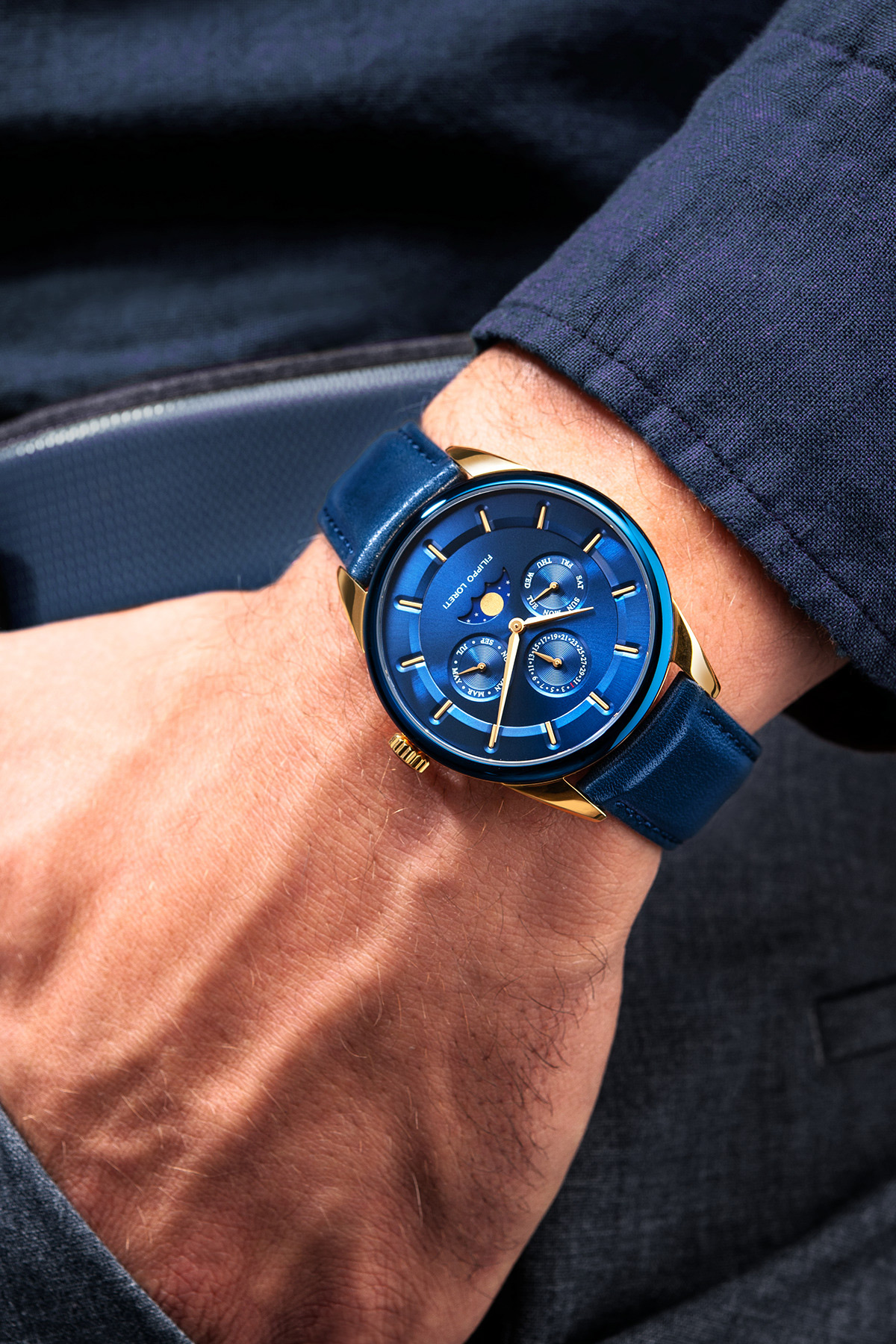 A perfect work of art, the Venice Series member, is crafted with brilliant blue Italian Leather Strap. The breathable strap has a snug fit around the wrist, its soft and supple nature responsible for the comfortable wear described by buyers. It's scratch-resistant, and water-resistant properties are due to the Sapphire coating, which is also partly responsible for its longevity. With a strap width of 20mm and a case diameter of 40mm, this blue leather timepiece is perfect for wrists measuring between 14 and 23 cm.
3. Venice Moonphase Silver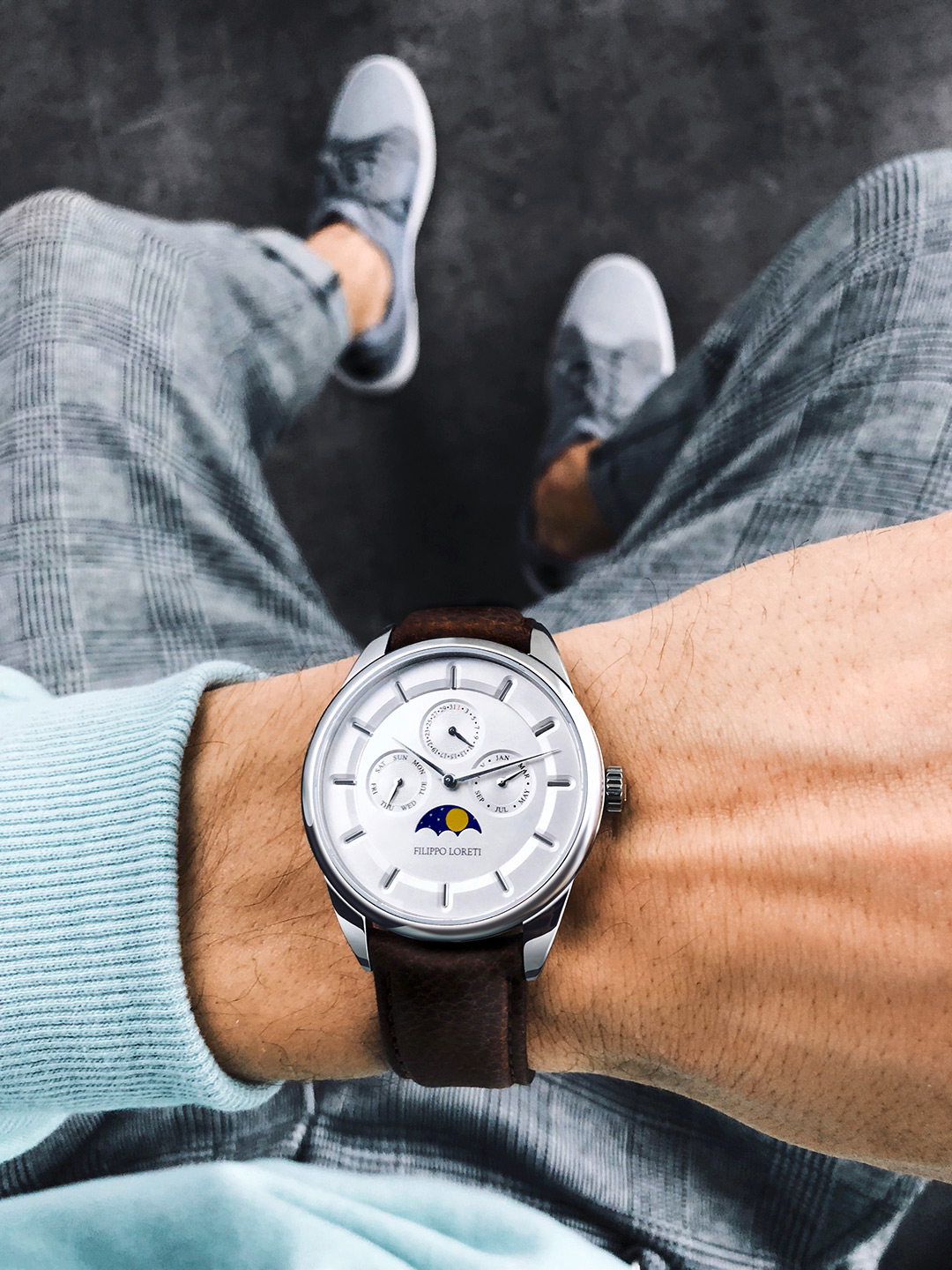 Another of the Filippo Loreti Venice Series, this Silver Star is made with brown Italian Leather – which makes an impressive combo with brown belts and shoes. Imagine it! This variant is no different from its predecessors except the different color and alternative mesh accessory. The Moonphase Leather watch is a classic piece of art, the type that must be present in every trendy man's wardrobe. Add that to the ten years warranty and several other desirable properties; the Moonphase Silver is as fascinating as can be.
At Filippo Loreti, we have a unique range of leather watches for men – businessmen, hippies, nerds, the runway addict, you name it. To meet your many demands, we have stocked leather watches in different colors and with peculiar functions to optimize their end-use. Feast your eyes with our leather watch collection now!