UGG For Men Unveils New Tom Brady Commercial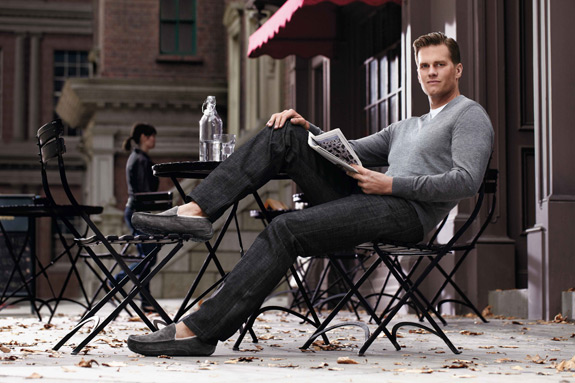 UGG for Men premiered a new television commercial and marketing campaign yesterday that featured New England Patriots quarterback Tom Brady.
The Pink Slip holiday campaign was inspired from one of Brady's personal anecdotes. Even before he partnered with UGG Australia, Brady had a tradition of giving fellow team members the UGG for Men "Ascot" slipper as a way to say thanks, according to the company.
The spot features a rookie player anxiously walking to his locker, worried if he made the team or not. Instead of finding the dreaded pink slip, he finds a pair of Ascot slippers in his locker. Tom shows up to congratulate him, giving the rookie the answer he had hoped for.
The TV commercial premiered last night on ESPN, ESPN2 and NFL Network:

There seems to be a lot of confusion over this commercial, with many people comparing Tom Brady's acting to Brad Pitt's in that infamous Chanel No 5 ad. But with the proper backstory, it all makes perfect sense!
The Ascot is famous for its supple feel and stylish indoor/outdoor silhouette. An icon of casual elegance, cozy suede with a moisture-wicking sheepskin lining and lightweight, molded rubber outsole. The slipper retails for $110 and is available at www.uggaustralia.com, at flagship locations, and at select retailers worldwide.