Meet The 2014 BMW 4 Series Convertible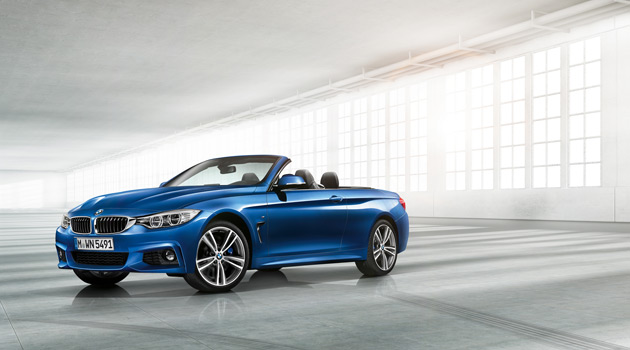 BMW has unveiled their newest top-down Ultimate Driving Machine, the 2014 BMW 4 Series Convertible. Since all BMW 3-series convertibles have been 2-door models, it only makes sense that BMW call the new convertible a 4 Series, in keeping with their new naming convention first introduced on the 4 Series Coupe.
As you'd expect, the BMW 4 Series Convertible offers a multitude of other features and changes from the outgoing model, which are highlighted in the official press release. Warning – It's a long read!
If you don't feel like reading all of that, here's the nitty gritty:
The new BMW 4 Series Convertible will be offered in the US as both a 428i (240 hp / 255 lb-ft of torque) and as a 435i (300 hp / 300 lb-ft of torque). Both will feature a standard 8-speed sport automatic transmission. The 428i Convertible will be offered with a choice of rear-wheel drive or with optional xDrive, while the 435i Convertible will be available at launch with rear wheel drive.
The 2014 BMW 4 Series Convertible will again feature a three-piece retractable hardtop, as the outgoing 3 Series Convertibles did. But an improved sound-absorbing headliner reportedly reduces wind noise by up to 2dB in comparison to its predecessor. An optional neck warmer helps keeps the driver and passenger warm during chilly top-down drives, much like MB's Airscarf does.
The 2014 BMW 428i Convertible will have a base MSRP of $49,675, and the 2014 BMW 435i Convertible will have a starting price of $55,825. Look for the 2014 BMW 4 Series Convertible to hit showroom floors in the first quarter of 2014.
Here are some photos of the new 4 Series Convertible.. What do you think of it?