We Put BFGoodrich's All-Terrain T/A KO2 Tires To The Ultimate Test In Baja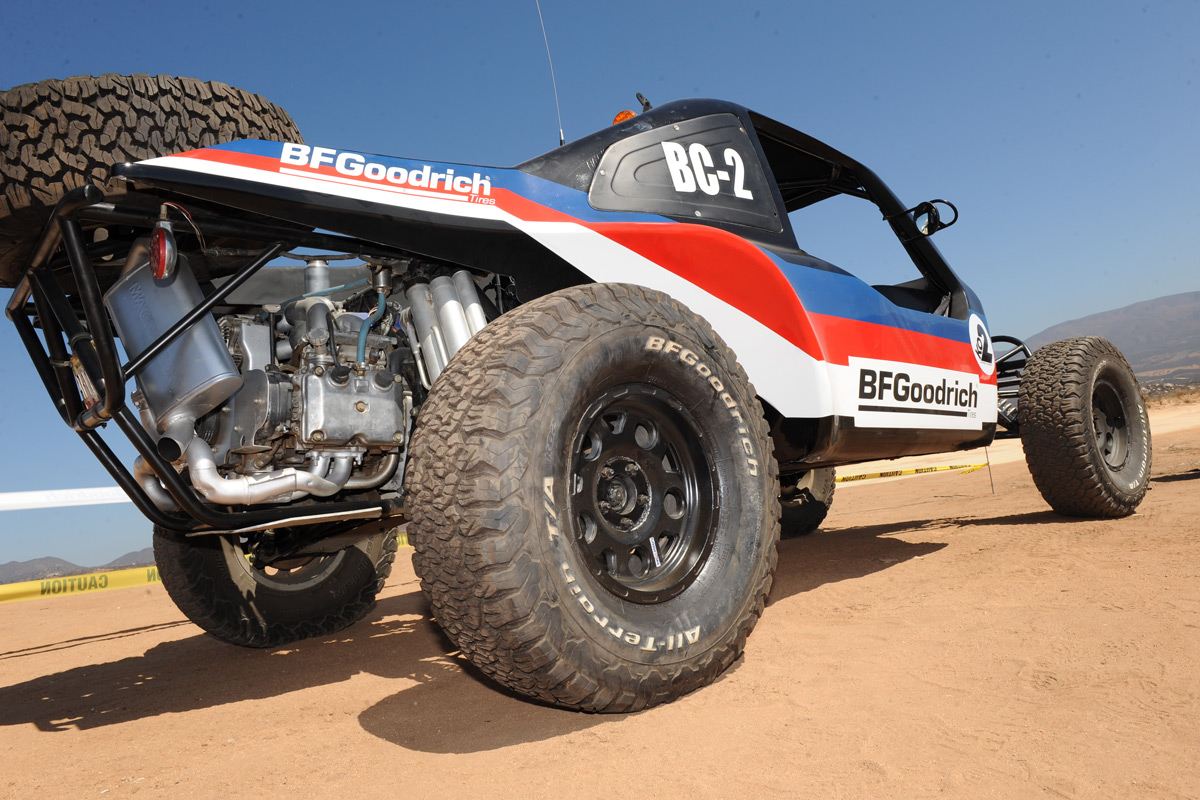 BFGoodrich Tires, the company that created the first all-terrain tire back in 1976, is about to launch its most capable light truck tire ever this fall – The all-new BFGoodrich Tires All-Terrain T/A KO2. Engineered from BFGoodrich's championship off-road motorsports racing technology, the KO2 promises to deliver exceptional toughness, durability and traction for traversing harsh conditions, including gravel, dirt, rock, mud and snow.
To prove just how capable these new tires are, BFGoodrich could have invited us out to Moab or another off-road destination. But no, instead they brought us down to Northern Baja, where over the course of two days we tackled everything from rocks, dirt, sand and mud as we drove on parts of previous and current SCORE Baja 500 and 1000 courses. Talk about an epic (and slightly terrifying) experience!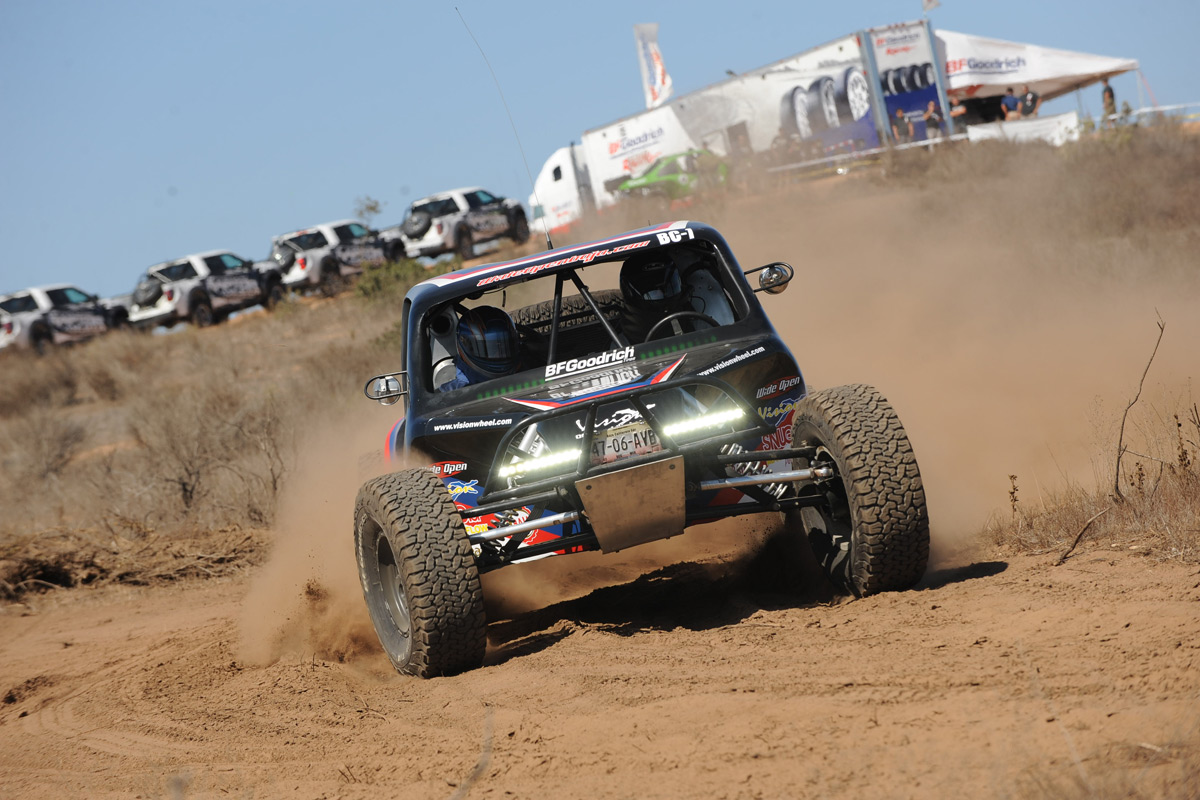 Now if you follow Baja racing, you know that BFGoodrich's got a rich history with this area, one that started nearly 40 years ago, back in 1975 when their engineers first descended on Baja to test out their new "radial light truck tire", a concept that was initially laughed at by die-hard off roaders. The guys from BFG learned a lot during their time in Baja (like that there was a difference between "laboratory tough" and "Baja tough"), so when they debuted the Radial All-Terrain T/A tire the following year, it only made sense to come back down to Baja to prove the durability of this new tire by competing in their first race. The rest is history.
So 38 years and 80 Baja wins later, BFGoodrich decided to come full circle by bringing a group of journalists down to Baja to experience the All-Terrain T/A KO2 in it's natural habitat. And it makes sense when you think about it.. After all, if the KO2's could handle the grueling landscape of Baja, truly some of the toughest terrain on the planet, they should be able to handle anything you throw it's way!
How Does The KO2 Differ From The KO?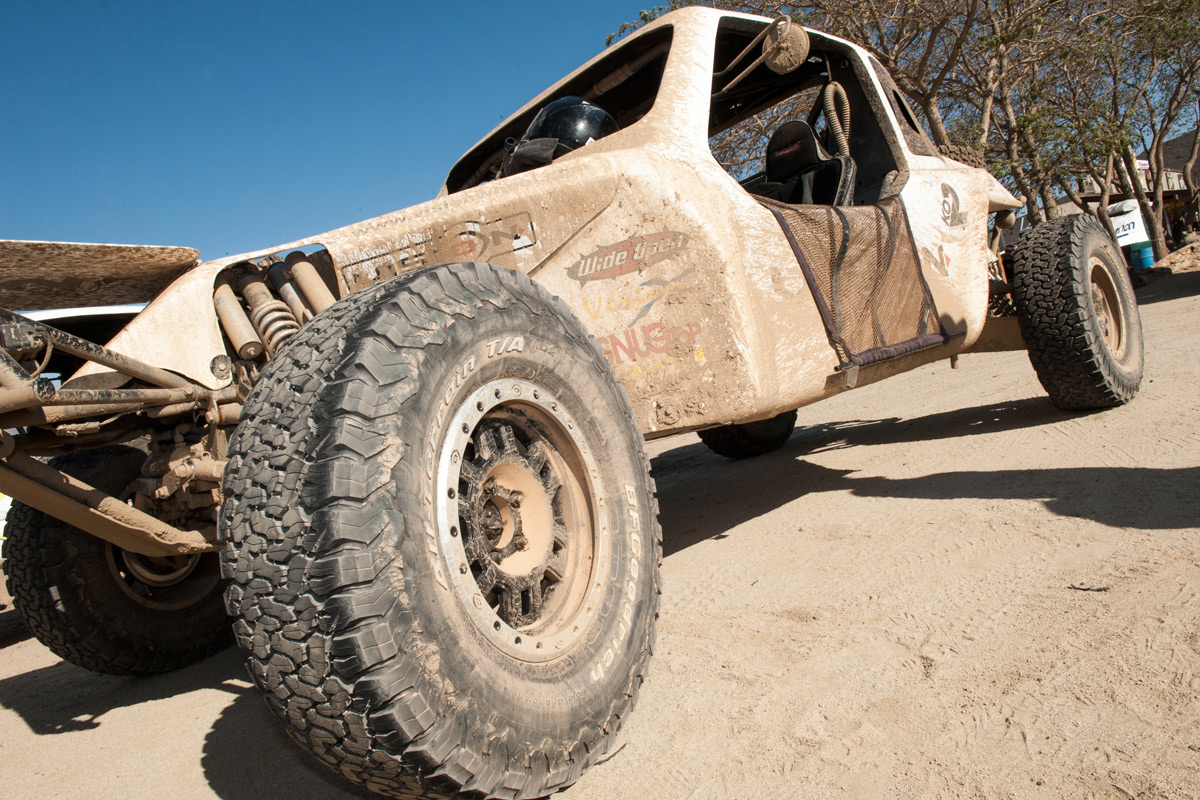 Now before we get into the nitty-gritty of this amazing trip to Baja, let's talk a little about the tire that we came down here to test. The BFGoodrich All-Terrain T/A KO has defined the all-terrain tire category for decades, so clearly BFG has some pretty big shoes to fill. The KO2's give you what you've come to expect from the KO's, along with better grip on mud and snow, and longer lasting tread life on gravel and asphalt.
In developing the KO2, BFG engineers leveraged the latest off-road racing technology to provide consumers with an advanced tire to meet a range of conditions. KO2 borrows heavily from the BFGoodrich Baja T/A KR2 tire, which was equipped on nine of the top 10 finishers in the 2014 Tecate SCORE Baja 500.
Key features of the KO2 include:
20% Tougher Sidewalls: The KO2 uses CoreGard technology developed in the Baja T/A KR2 for split and bruise-resistant sidewall rubber and a thicker, extended shoulder to prevent sidewall failures. Computer modeling was used to predict object paths and create a sidewall design most likely to deflect protruding objects, reducing the chances of splits and snags. The result is a tougher tire as consumers take on trails of various conditions.
Longer Treadlife: The KO2 has a new tread design and rubber formulation that helps it last twice as long on gravel and 15% longer on asphalt than the previous tire. The tread rubber has been optimally blended to reduce chips and tears on gravel. A new footprint shape and interlocking tread design provide more uniform wear over the long haul. Special stone ejectors push objects out of the tread to reduce drilling into the tire.
Aggressive Traction: The KO2 also has a range of tread features for better mud and snow traction. Side-Biter lugs in the sidewall improve traction in mud, snow and rocks. Raised bars in the shoulder help release compacted mud for better traction in soft soil. 3-D sipes create biting edges for better snow traction.
Putting The KO2's To The Test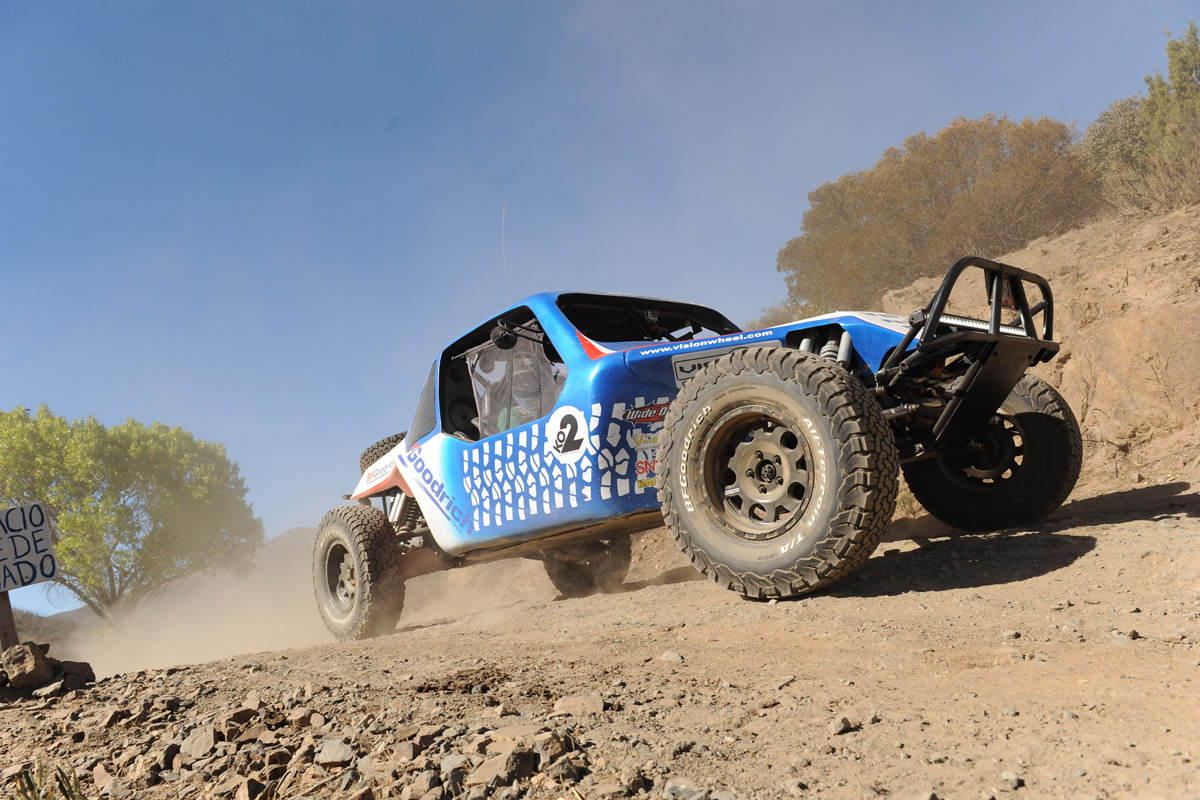 When we landed in San Diego, we were greeted by some BFGoodrich reps who checked us in and gave us some paperwork to go over. Of particular note was the Binational Emergency Life Saver Card, which would provide an airlift back to the States should we need medical treatment. OMG, what did I get myself into?!
Once everyone had arrived, we boarded a bus and made our way towards Mexico. Two hours later, we finally arrived at Horsepower Ranch in Ensenada, where we had a vehicle intro and safety session. For the next 2 days, we'd be driving BC cars from Wide Open Baja and Ford Raptors from Ford Racing/Miller Motorsports Park, and they wanted to make sure we knew what we were doing before heading out into the desert. Afterwards, we headed inside for a technical presentation on the KO2's, followed by an authentic Mexican dinner.
The following morning, we got our vehicle assignments, donned our helmets (complete with dust skirts and an air filtration system, since these are open air buggies), secured our 5-point harnesses, adjusted our seats and mirrors, and got ready to leave Horsepower Ranch.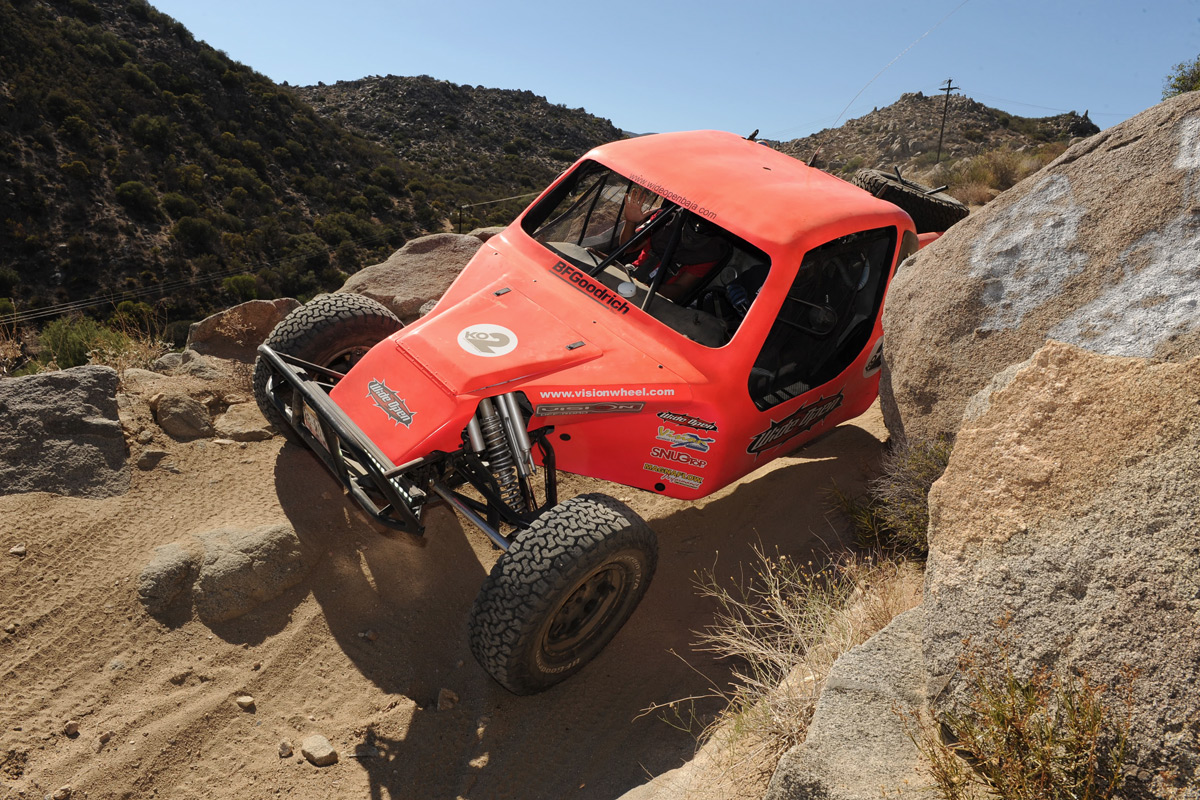 Leaving in groups of five, we headed out of town and onto sections of the course used in the Baja 500 and 1000, which was a truly exhilarating experience. We covered roughly 200 miles on the first day, experiencing quite a variety of Baja terrain that would have lesser tires begging for mercy. But everyone arrived at Mike's Sky Ranch (an iconic pit-stop for Baja racers out in the middle of nowhere) in one piece, though most of us were covered in LOTS of dirt and mud.
The following morning, we jumped into our BC cars after breakfast and left Mike's Sky Ranch by way of Simpson Hill. This was easily one of the toughest trails I've ever experienced, and it took us nearly an hour to traverse about 10 miles of "road", if you could call it that. That was honestly pretty gnarly, and I don't think I'll ever forget the moment where one of our tires went off the side of a cliff and left us dangling precariously!
Next, we started making our way up to the summit. Now this is the Baja that I was expecting, narrow gravel roads with huge drop-offs, and no guard rails to save you if you make a wrong move. Having gotten spooked earlier when I nearly lost control of my buggy (my rear-end got loose at 60mph, I overcorrected, and it was seriously touch and go for a few seconds), I dialed it WAY down for this part of the course, as a mistake here could have been fatal, and I wasn't about to end up in the hospital.. or worse!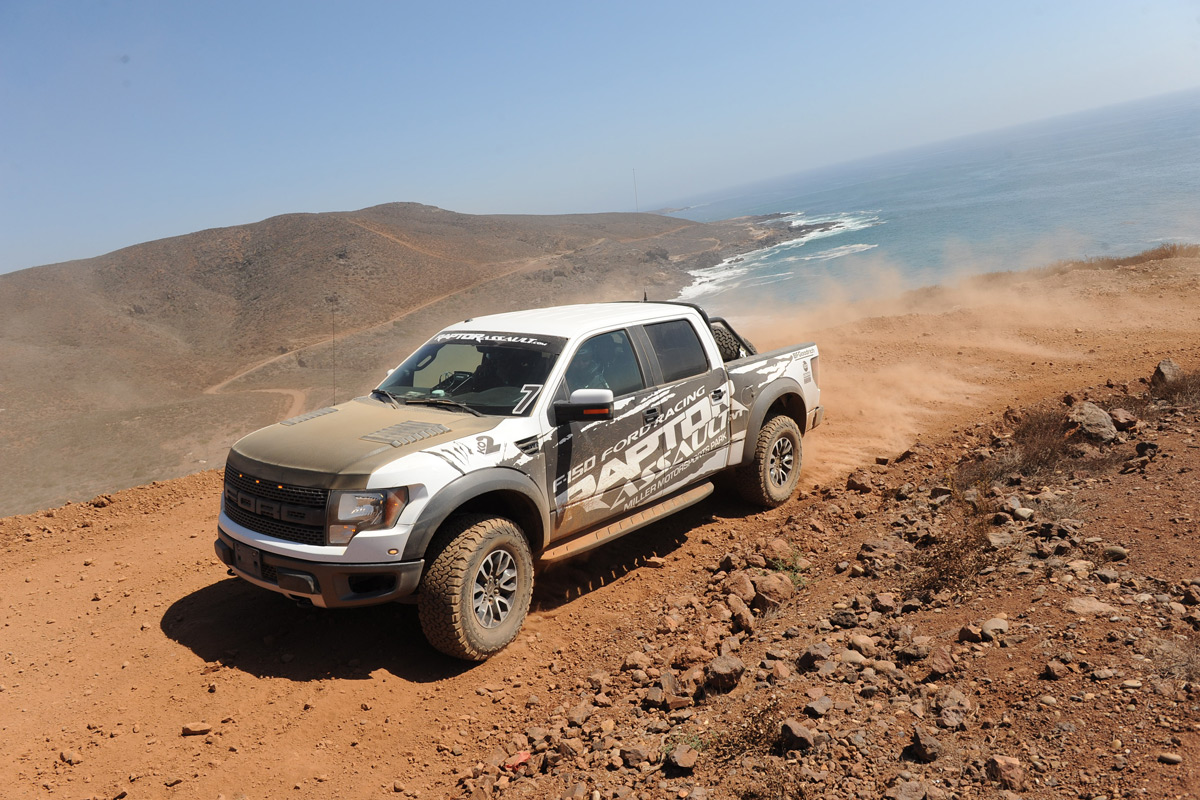 After a pulse-pounding morning like that, the rest of the day was pretty chill by comparison. In the afternoon, we finally got behind the wheels of the Raptors, where we drove along a length of sandy beach, made our way through some local towns, and took on some gravel roads until we reached our final pit stop. While the Raptors were fun, they couldn't compare to the BC cars that we had been driving for the past 36 hours, it's just a night and day difference.
What was nice about the Raptor was having a windshield, windows that close, and cold A/C, something I'll never take for granted again. But even with these modern amenities, we were still itching to get back into the BC cars.
Overall, we were beyond impressed with the performance of the BFGoodrich All-Terrain T/A KO2's, as they handled everything Baja could throw at them with ease. It's clear to see why BFG's motto for the KO2 is "Our Toughest All-Terrain Tire Ever.'
Pricing / Availability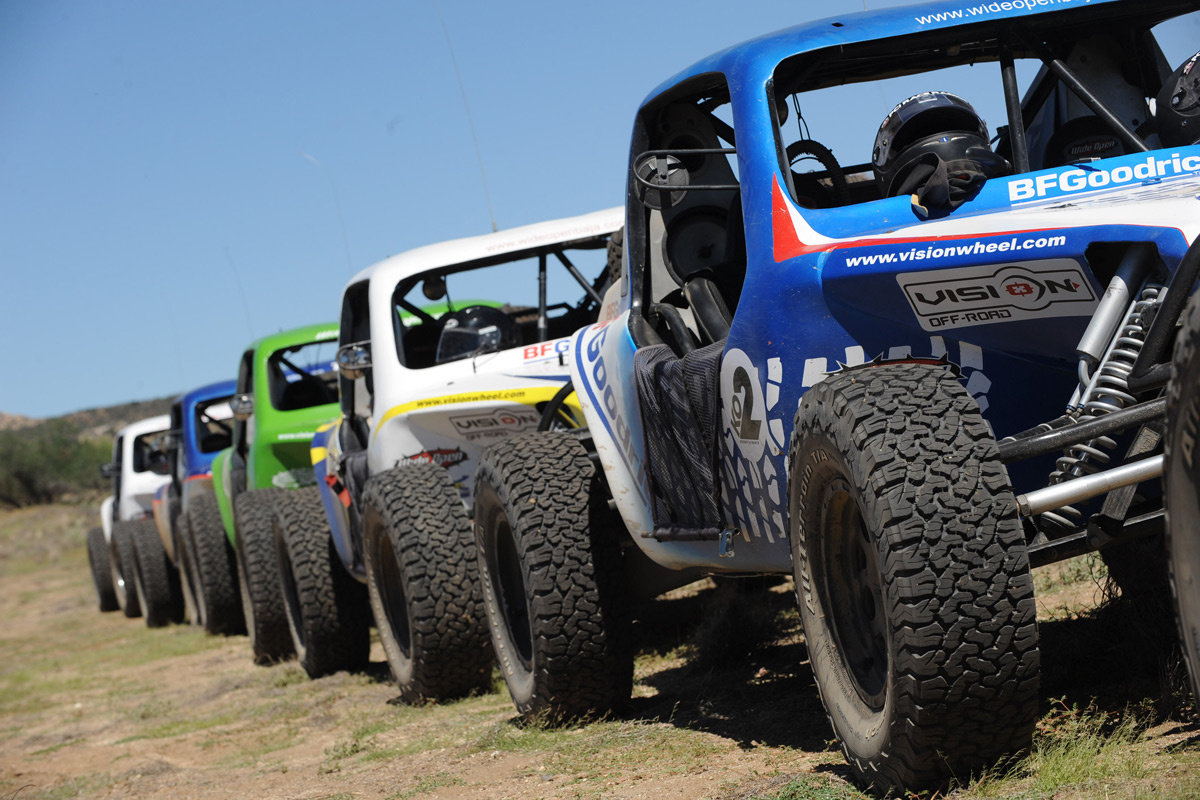 The BFGoodrich All-Terrain T/A KO2 will be released on November 1st, initially in 12 sizes fitting a range of vehicles, including Ford, Chevrolet, GMC, Dodge, Toyota and Nissan pick-up trucks and SUV's, as well as Plus Fitments for a wide variety of vehicles.
The MSRP for the tire starts at $222. Additional sizes will be released in 2015. You can find more information on the KO2's at www.bfgoodrichtires.com.
Thanks again to BFGoodrich for bringing us out to Baja for the adventure of a lifetime. This is one experience I won't soon forget it!