Webroot: Smarter Cybersecurity To Keep You Safe And Secure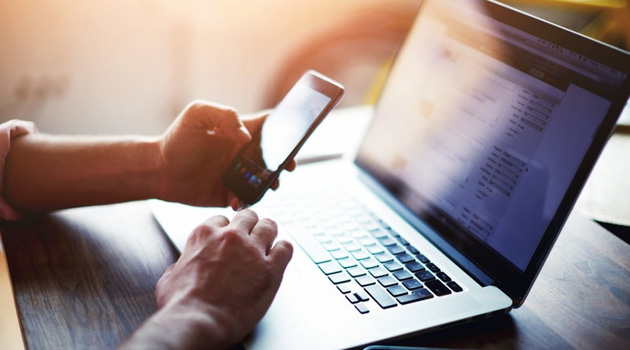 As the resident tech guy, my friends and family are always asking me to look at their computers when things go wrong. The majority of the time, the culprit is some nasty malware that unknowingly got installed on their system when they were surfing the web.
There's no doubt about it, the Internet is a dangerous place, with all kinds of threats just a wrong click away. Viruses, spyware, ransomware, phishing attacks, identity theft, and more can threaten to ruin your day, so you need to make sure that you're protected at all times.
Sure, most computers come with some sort of anti-virus software pre-installed, and that can lull people into a false sense of security. But as you'll soon see, not all software is created equally.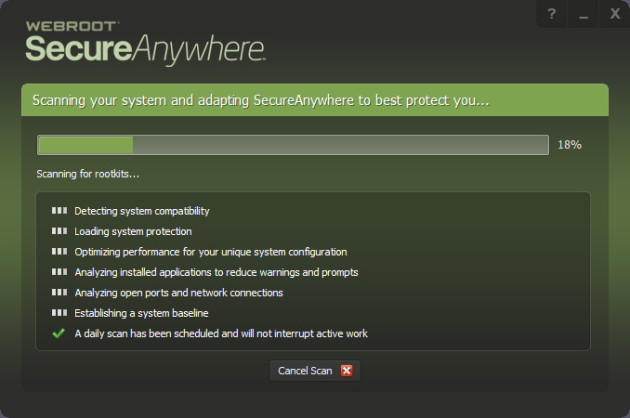 Webroot SecureAnywhere is a comprehensive security suite that provides fast, lightweight, non-disruptive protection. Webroot's average scheduled scan takes a scant 1 minute 12 seconds, which is 16x faster than the competitor average. As you can see below, my scan took just over 2 minutes!
Even better, Webroot doesn't load your computer with large amounts of threat definitions files like traditional security solutions, but instead leverages the cloud to perform threat detection and management. My previous software ate up over 500MB of valuable hard drive space. Webroot uses a meager 2.1MB.
And Webroot only uses 5MB of memory during system idle, which is 9x less than the closest competitor. No more having your computer performance suffer because of your anti-virus software. (Which is actually the #1 reason people uninstall their A/V software)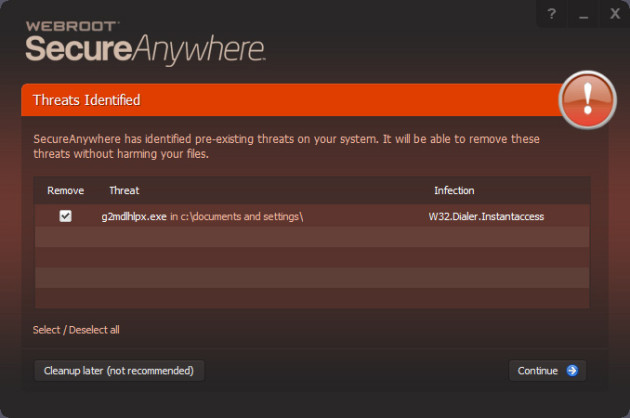 I'll admit, I was a little skeptical about Webroot's claims, given how "lightweight" it was, but during the initial scan, it identified a piece of malware that my previous A/V software never caught. It flagged, removed, and rescanned my computer, all in the course of 5 minutes. Impressive, to say the least.
Instead of just settling for the status quo and scanning for the usual issues, Webroot goes a step further and identifies and blocks new threats based on suspicious behavior. And thanks to their cloud-based architecture, you get real-time updates to secure against known and newly discovered / zero-day threats.
Webroot also identifies 25,000 new malicious URLs daily and protects users from phishing sites through real time scans, alleviating your identity theft concerns.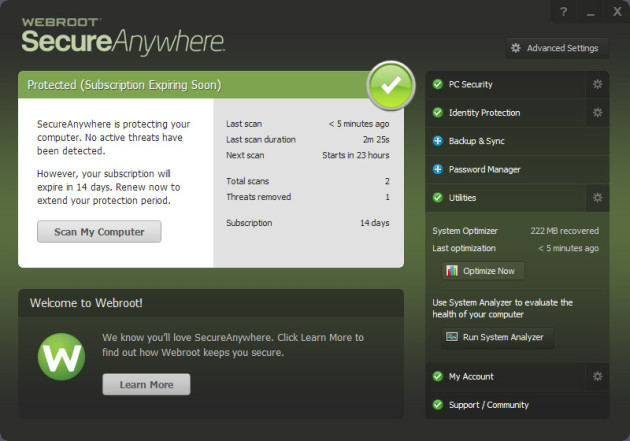 Overall, I'm really impressed with Webroot. It scans my computer incredibly fast without any slowdown, works silently in the background to protect your information, and proactively checks websites for malicious content and phishing scams. Really, what more could I ask for?
Webroot is currently offering their SecureAnywhere Internet Security Complete package for $29.99, a savings of $50. And if you're unsatisfied for any reason, you can get your money back within 70 days of purchase.
So what are you waiting for, purchase your copy of Webroot SecureAnywhere today!
—
Disclosure: This post brought to you by Webroot, but all opinions are 100% mine.