Swann Security Debuts Doorbell Camera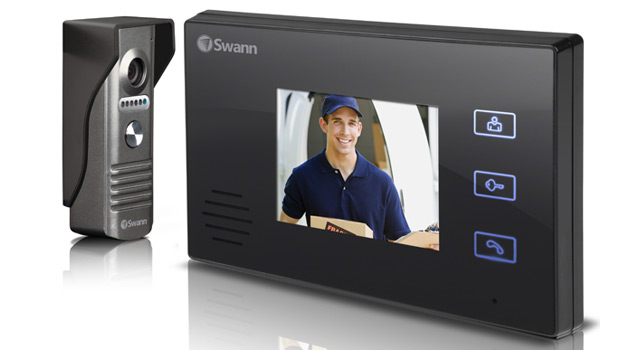 Swann, a global leader in do-it-yourself security monitoring solutions, today announced the release of their Doorphone 870 Camera, a color video camera/doorbell system allows you to view your visitors at a 60⁰ viewing angle and monitor the outside of your home via a 3.5" crystal clear LCD screen.
Doorphone 870 shows color video of your visitors when they press the doorbell and allows you to have two-way communication before opening the door. In addition, the Doorphone 870 allows the user to see at night and in low light up to 13 feet from the camera.
I've been looking for a product like this for some time now, as it'll keep my wife safe when I'm not around, as well as prevent me from having to deal with door-to-door salesmen. That's a win-win in my book!
The Doorphone 870 comes with everything you needed to get started, including an outdoor camera, LCD monitor, mounting brackets, screws and hardware, operating instructions and four theft deterrent stickers for an added level of home protection. It's easily mountable to your door and runs from a rechargeable li-po battery. Its modern black matte finish matches any home décor, while still blending into the surroundings.
This is a wired system, so basic DIY skills are necessary for installation. A wireless model will be available in the coming months for the mechanically challenged. 🙂
The Doorphone 870 is available at Amazon, Fry's, Tiger Direct and B&H stores nationwide for $149.99.