Save Yourself Some Coin At Best Buy Thanks To Their Price Match Policy
Back in March '13, Best Buy rolled out their price match guarantee. It reads like this:
If you find a lower price on a qualifying product at a local retail competitor's store or a designated major online retailer, we will match the price. At the time of purchase, we will match the current pre-tax price for new, identical, immediately available products from a local retail competitor's store and these designated major online retailers: Amazon.com, Apple.com, Bhphotovideo.com, Buy.com, Crutchfield.com, Dell.com, Frys.com, hhgregg.com, HP.com, HomeDepot.com, Lowes.com, Newegg.com, OfficeDepot.com, OfficeMax.com, Sears.com, Staples.com, Target.com, TigerDirect.com and Walmart.com. We will match prices between our stores and BestBuy.com®. We will also match prices post purchase if we lower our price within 15 days of your purchase.
The Guarantee is limited to one price match per identical item, per guest and does not apply to: Contract mobile phone devices and plans, the online prices of retailers not listed, the online prices of third party vendors (Marketplace vendors) on designated major online retailers websites, post purchase price match requests to competitor's prices, Best Buy for Business™, offers that include financing, gift card offers, bundling of items, free items, pricing errors, mail-in offers, coupon offers, competitors' service prices, items that are advertised as limited-quantity, out of stock, open-box, clearance, refurbished/used items, our and our competitor's Deal of the Day, daily deals, special hour sale event items and credit card offers, BestBuy.com Clearance & More and Marketplace items, and items for sale Thanksgiving Day through the Monday after Thanksgiving.
The average shopper has no idea about this policy. Joe Consumer will walk in 99.9% of the time and just grab the item he wants and pay full price. All it takes is 1 minute for you to scan the barcode of the product you want to buy and see what Amazon or any of the other approved on-line retailers are selling it for.
Case in point. I needed a 32GB MicroSD card for the new GoPro 3 that I picked up. Went to Amazon.com first on my phone and found the one that shows "Ships from and sold by Amazon.com". Best Buy will only price match on items that are actually being sold by Amazon and not from individual retailers or shops on Amazon so make sure it reads just like the highlighted text below.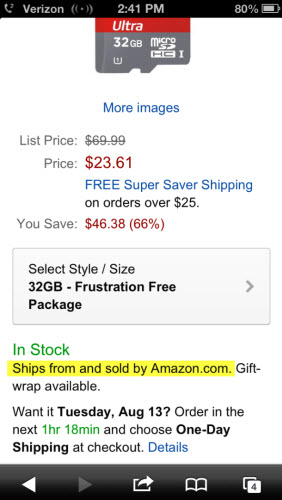 So I strolled into my local Best Buy and nodded at the degenerate security guard behind the counter who was fulfilling his lifetime goal of being a cop by checking receipts at the door. I made my way over to the memory card aisle and picked up this card here and headed straight for the customer service line. Regular cashiers at the register can't do a price match, so you'll have to go straight to customer service to make it happen. At the time, Best Buy was selling this exact same card in-store for $69.99 but you can see now that they've knocked the price down to $32.99. I'd like to think that I played a small part in making that price change happen.
She called "next in line" and I pulled it out of my pants and showed it to her…..my phone that is. I asked her for a price match on Amazon.com and saw a look of defeat run across her face and she was forced to call over her manager for a price override. 30 seconds later, I walked out the door having saved myself $46.65.
Played a little Ice Cube on the way out and felt like I hit Powerball…….