2015 Alfa Romeo 4C Spider Adds Exciting Experience Of Open-Air Motoring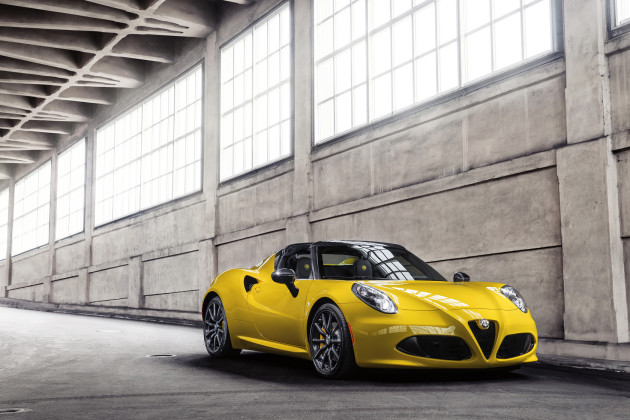 It's safe to say that the Alfa Romeo 4C is a pretty amazing vehicle. Perfection, some might even say. But the Italian brand wasn't content to leave well enough alone. The fruits of their labor?
The all-new 2015 Alfa Romeo 4C Spider, which delivers race-inspired performance, advanced technologies, seductive Italian style, and an even more exhilarating driving experience with open-air freedom!
The 4C Spider enjoys panoramic views complemented with a signature Alfa exhaust note, plus the essential sportiness of the award-winning 4C Coupe: Handcrafted in Modena, Italy; groundbreaking and seductive Italian style; state-of-the-art Formula 1 inspired carbon fiber monocoque chassis that enables an incredible power-to-weight ratio; advanced technologies, including the all-aluminum 1750 cc turbocharged engine with direct-injection, dual intercoolers, and variable-valve timing that enable supercar-level performance.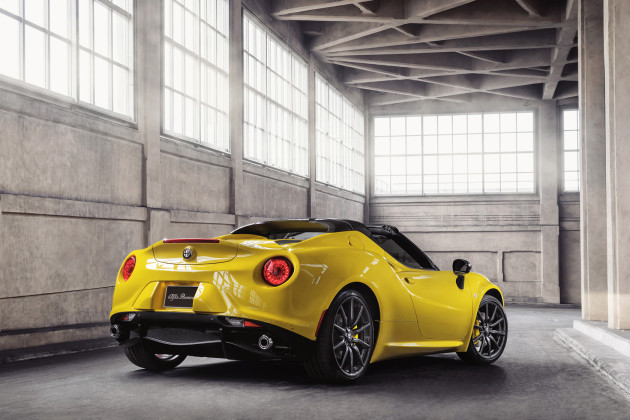 "Adding to the excitement of the 4C Coupe, our all new 2015 4C Spider expands the brand's product offering and continues our mission of building great Alfa Romeos," said Reid Bigland, Head of Alfa Romeo North America. "With a removable carbon fiber hard top the 4C Spider takes the Coupe's supercar level of performance and technology and 'opens it up' allowing the driver to experience the incredible 4C from an entirely different perspective."
Thanks to its mid-engine layout, advanced technology and compact size, the all-new 2015 Alfa Romeo 4C Spider demonstrates its precision, agility and performance credentials with a top speed of 160 miles per hour (mph), 0-to-60 mph acceleration blasts in an estimated 4.1-seconds, 1.1 g of lateral acceleration and 1.25 g of maximum braking deceleration.
This car sounds like a TON of fun, and as someone who's first convertible was an Alfa (an '87 Alfa Romeo Spider Quadrifoglio), I'm really looking forward to once again getting behind the wheel of a convertible Alfa, even if just for a few days..
The 2015 Alfa Romeo 4C Spider will arrive at dealerships this summer.