Review: 2021 Jaguar XF Focuses More On Luxury And Less On Sport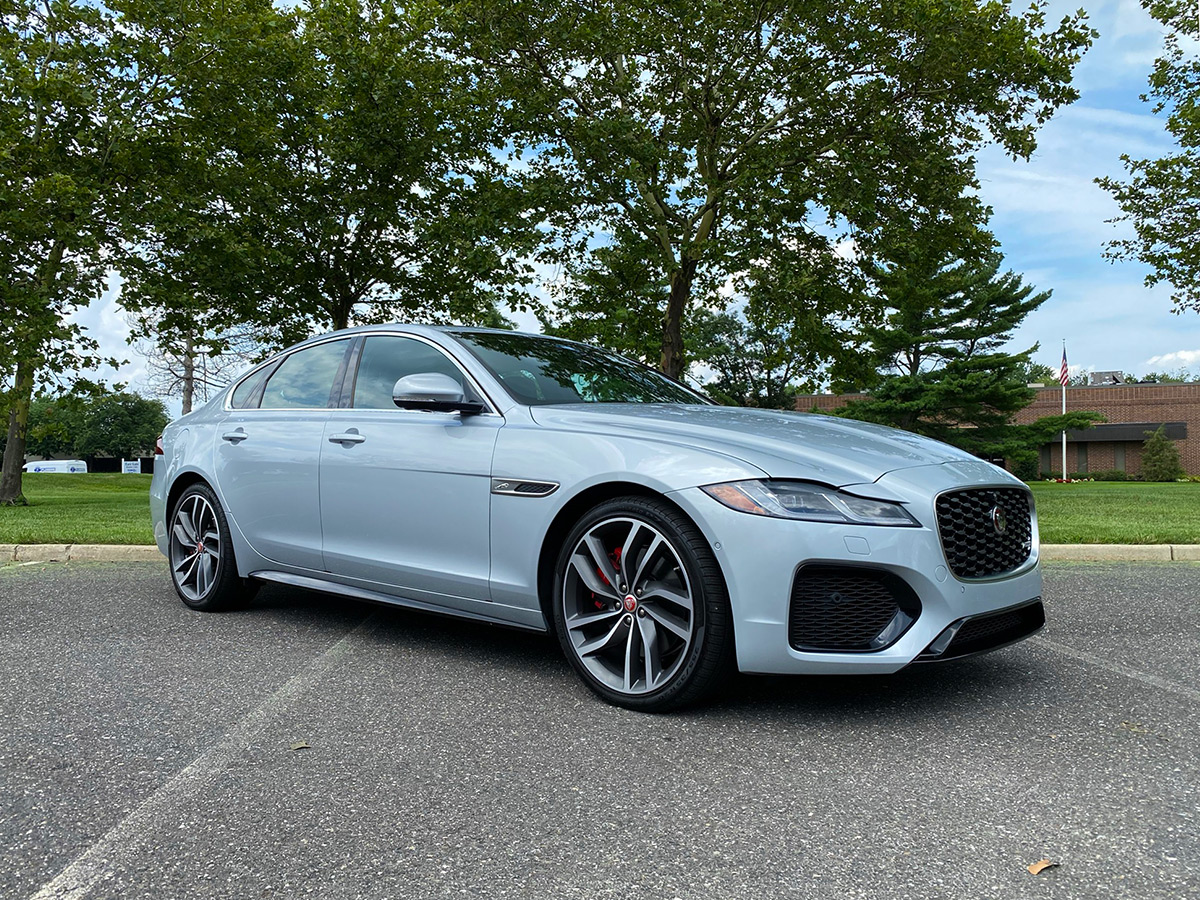 We recently spent a week with the 2021 Jaguar XF P300 R-Dynamic SE AWD. Now for those of you keeping score, this is actually the last sedan in Jaguar's lineup, with the compact XE and full-size XJ sedans dropped last year, the latest victims of the SUV craze. But Jaguar is betting that there are still buyers for its executive sedan, so it carries on with a mild refresh for 2021.
To boost the midsize sedan's appeal, Jaguar massaged the exterior, gave us an all-new interior (complete with a new 11.4-inch Pivi Pro infotainment system), added more standard features, and dropped the price rather significantly, with pricing now starting at just $43,995. That's less than the XF competitors like the Mercedes E-Class, BMW 5-Series, Audi A6, and Genesis G80.
But, there's a slight catch. Jaguar dropped the optional supercharged V-6 engine from the XF lineup, citing lack of customer demand. That leaves us with a pair of 2.0-liter turbocharged four cylinders to choose from, with power going through an 8-speed automatic transmission. The P250 version puts out 246HP and 269 lb-ft of torque, while the P300 model that we drove delivers 296HP and 295 lb-ft of torque.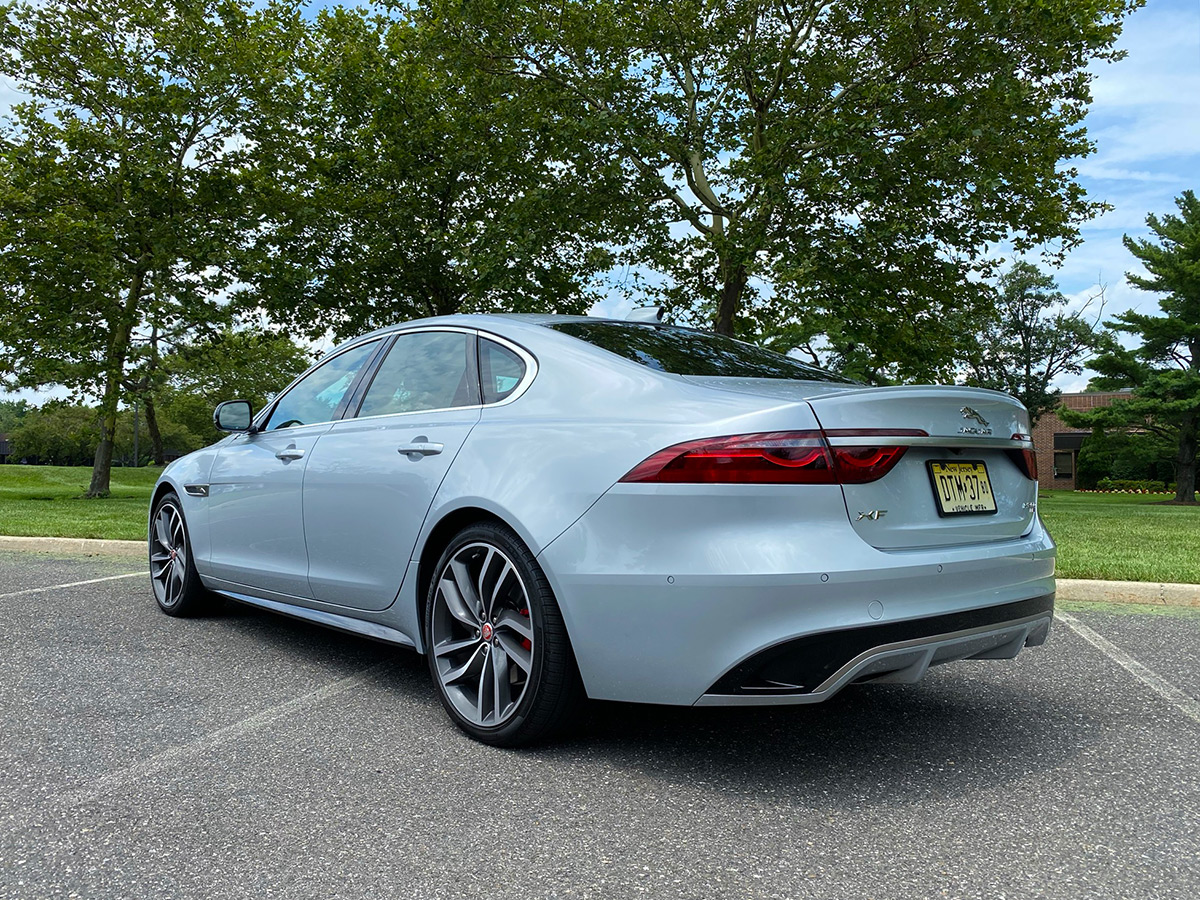 While nearly 300 horsepower doesn't sound too bad in theory, especially with power going to all four wheels, behind the wheel it felt rather sluggish. Jaguar claims a 0-60 mph time of 5.6-seconds, but even that seems a bit optimistic. That said, it was REALLY hot during our week with the car, so the heat could have contributed to the car's lackluster performance.
On the road, the car didn't feel nearly as "dynamic" as its badging would have you think, but that's really due to the lack of power, sluggish gearbox, and all-season tires. Steering is on the lighter side, and it also exhibits a fair amount of body roll. Ironically, there's a G-Meter, Stop Watch, and Lap Timer accessible in the infotainment system, for what reason I have no idea.
Now here's the thing. If you forget about the whole "R-Dynamic" business and instead look at the XF as the luxury cruiser that it really is, then things look entirely different. Ride quality is fantastic, with the suspension soaking up any road imperfections, allowing you to rack up hundreds of miles of highway driving with ease. It's an even more impressive feat considering that the car is running on 20″ wheels with low-profile tires.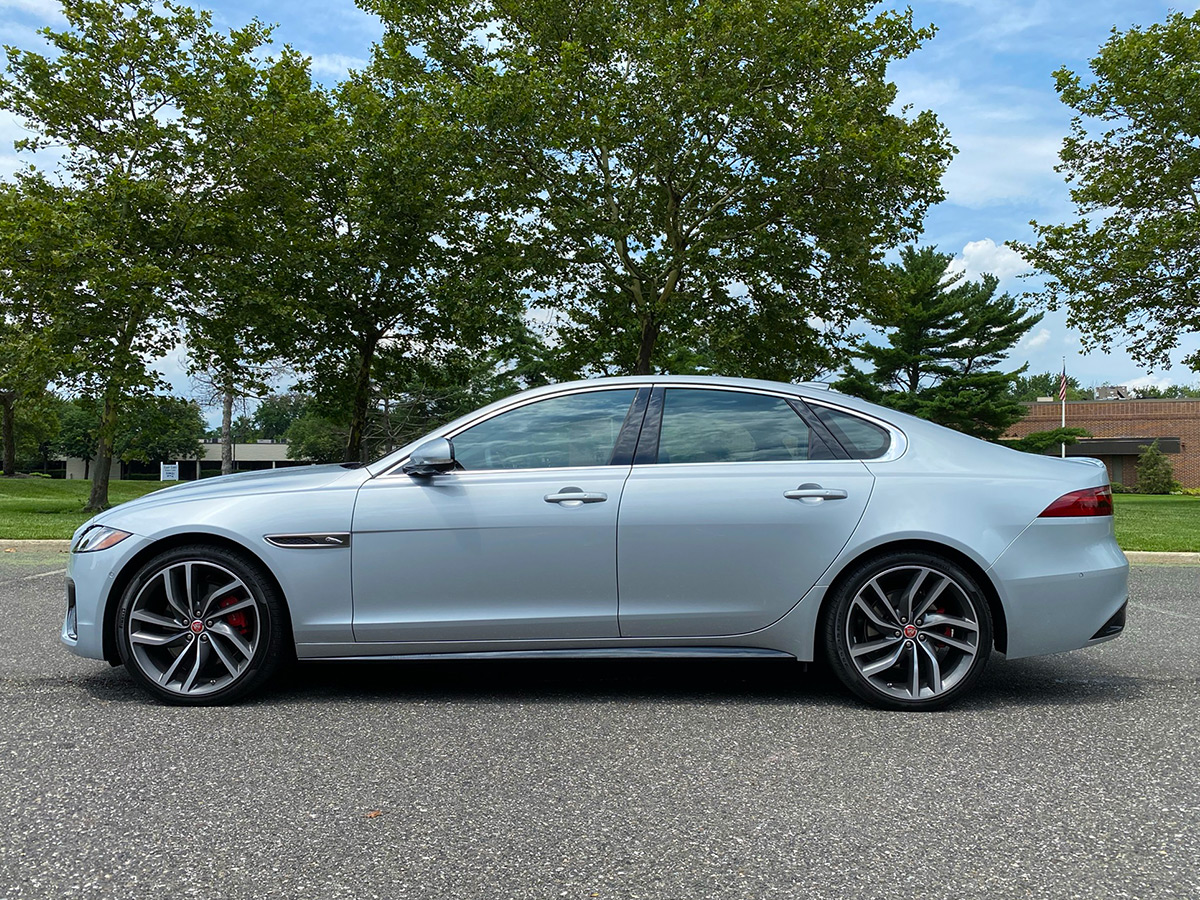 Like we mentioned earlier, Jaguar gave the interior of the XF a complete overhaul for 2021, and it's a really nice place to call home. The old rotary-dial shifter knob has been replaced with a more traditional electronic gear-selector, the interior uses higher-quality materials including open-pore wood veneers and aluminum, and the front seats are wider than before and have larger heating and cooling areas.
But the real star of the show is Jaguar's new Pivi Pro infotainment system, which is housed on a 11.4-inch touchscreen. The screen seemingly floats above the dashboard inside a magnesium casing, and the system is very easy to use. Jaguar claims it's sharper, faster and more intuitive than before. It also supports (wired) Apple CarPlay and Android Auto, should you want to skip the internal system and use your phone instead.
Other features of note include a 12-speaker Meridian stereo with SiriusXM, proximity entry, wireless phone charging, 12-way power heated front seats, blind spot warning, surround-view cameras, LED headlamps and active noise cancellation as standard. The panoramic moonroof has a gesture-controlled blind, and that's a neat party trick to show off.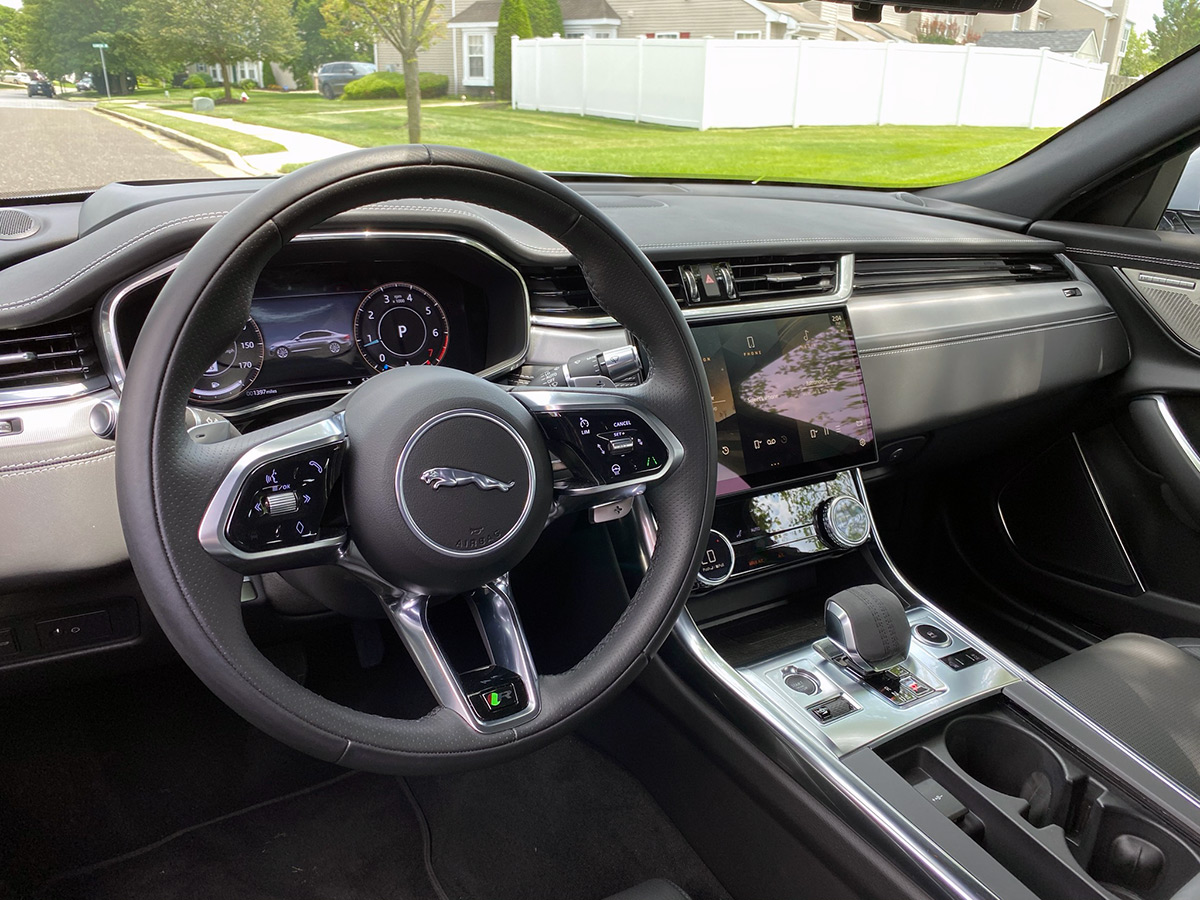 Pricing for the 2021 Jaguar XF starts at $43,995, while our heavily optioned Jaguar XF P300 R-Dynamic SE AWD clocked in at a not-so-insignificant $62,295. And that's where things get a little tricky, because at that price point, there are other competitors that offer more bang for the buck. My advice? If you've got your heart set on a Jaguar, don't go crazy with the options. There's easily $5,000+ worth of options on this car that I could live without.
Overall, I think Jaguar did a nice job pivoting the XF from performance to luxury, betting on a clientele that favors comfort and upgraded tech over raw power. After all, that's what Jaguar used to be all about, their older cars adorned in acres of leather and wood. Somewhere along the line, that part was forgotten about, so it's nice to see them going back to their roots.
Will this luxury bet play off for the British brand, or will the XF meet the same fate as Jaguar's other sedans? Only time will tell, we'll just have to wait and see.