Apple Unveils $549 AirPods Max Over-Ear Noise-Cancelling Headphones
After months of rumors, Apple has officially announced AirPods Max, their first-ever over-ear wireless headphones. Honestly, I'm more than a little surprised that it took them this long to introduce a pair of quality over-ear headphones, as it is a huge market (especially for business travelers) that's dominated by a handful of players, namely Bose and Sony.
The first time I tested a pair of Bose QuietComfort 35 II headphones was on an overseas flight, and I was blown away by their noise cancellation, not to mention how comfortable they were, even after 6+ hours of use. The Sony WH-1000XM3 took that to the next level, and their new model supposedly improves on that already great headphone.
Needless to say, Apple has their work cut out for them with the AirPods Max, especially given the aggressive pricing, which is several hundred dollars more than the competition. The Sony WH-1000XM4 is currently available on Amazon for $278. Which begs the question, are Apple's AirPods Max worth the $271 premium? I highly doubt it.
Look, we all know that you have to pay a bit extra for an Apple product, and that's just the way it is. But over-ear wireless headphones aren't some revolutionary new thing, despite all of the fancy marketing lingo they use. "AirPods Max combine a custom acoustic design, H1 chips, and advanced software to power computational audio for a breakthrough listening experience with Adaptive EQ, Active Noise Cancellation, Transparency mode, and spatial audio."
In terms of design, Apple uses a breathable knit mesh canopy for the headband to help evenly distribute weight and reduce on-head pressure. The stainless steel headband frame provides strength, flexibility, and comfort for a wide variety of head shapes and sizes. Telescoping headband arms smoothly extend and stay in place to maintain the desired fit.
Each ear cup attaches to the headband through a revolutionary mechanism that balances and distributes ear cup pressure, and allows it to independently pivot and rotate to fit the unique contours of your head. Each ear cushion uses acoustically engineered memory foam to create an effective seal, critical for delivering immersive sound. The Digital Crown, inspired by Apple Watch, offers precise volume control and the ability to play or pause audio, skip tracks, answer or end phone calls, and activate Siri.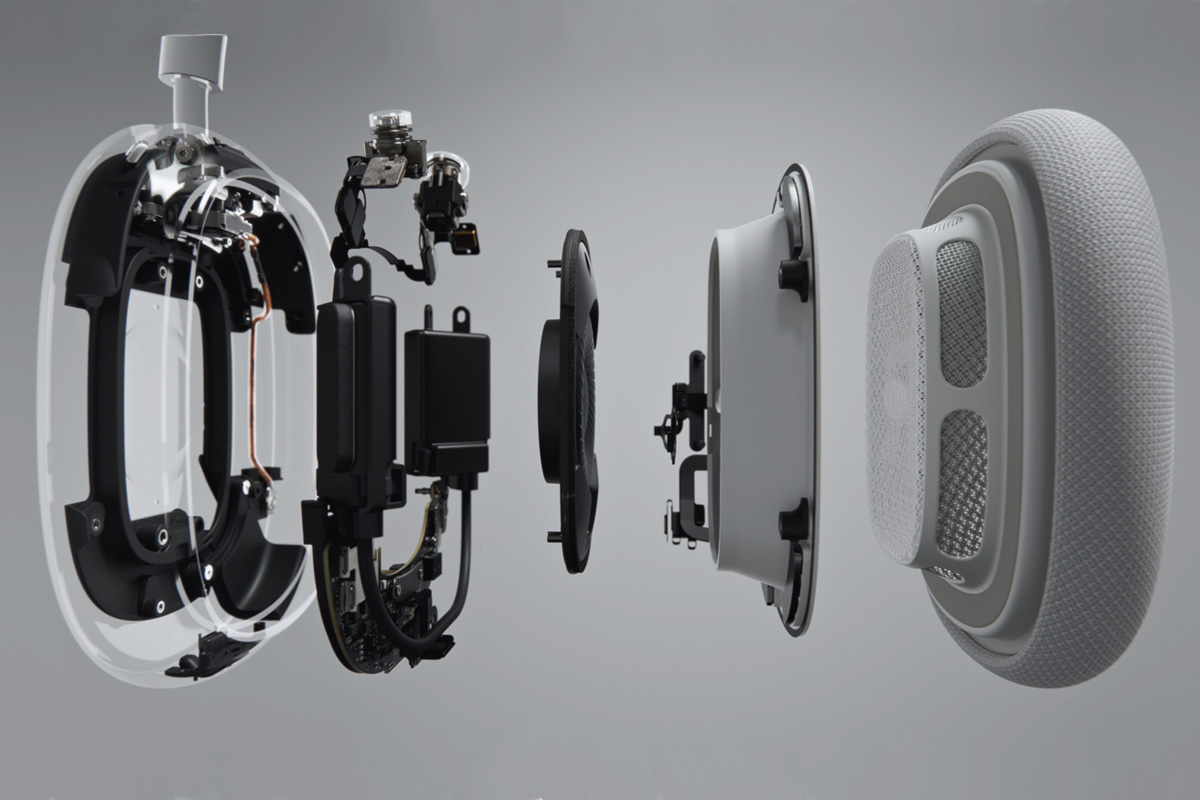 From a sound perspective, AirPods Max feature a 40-mm Apple-designed dynamic driver that provides rich, deep bass, accurate mid-ranges, and crisp, clean high-frequency extension so every note can be heard. A unique dual neodymium ring magnet motor allows AirPods Max to maintain total harmonic distortion of less than 1% across the entire audible range, even at maximum volume.
With the company's H1 chip in each ear cup, a custom acoustic design, and advanced software, AirPods Max use computational audio to help deliver the highest quality listening experience possible. Utilizing each of the chips' 10 audio cores (capable of 9 billion operations per second) computational audio powers a breakthrough listening experience that includes Adaptive EQ, Active Noise Cancellation, Transparency mode, and spatial audio.
Adaptive EQ: AirPods Max use Adaptive EQ to adjust the sound to the fit and seal of the ear cushions by measuring the sound signal delivered to a user and adjusting the low and mid-frequencies in real time — bringing rich audio that captures every detail.
Active Noise Cancellation: AirPods Max deliver immersive sound through ANC (Active Noise Cancellation) so users can focus on what they are listening to. Each ear cup features three outward-facing microphones to detect environmental noise, while one microphone inside the ear cup monitors the sound reaching the listener's ear. Using computational audio, noise cancellation continuously adapts to the headphone fit and movement in real time.
Transparency Mode: With AirPods Max, users can switch to Transparency mode to listen to music while still hearing the environment around them, ensuring everything, including a user's own voice, sounds natural while audio plays perfectly. You can switch between Active Noise Cancellation and Transparency mode with a single press using the noise control button.
Spatial Audio: AirPods Max use spatial audio with dynamic head tracking to place sounds virtually anywhere in a space — delivering an immersive, theater-like experience for content recorded in 5.1, 7.1, and Dolby Atmos. Using the gyroscope and accelerometer in AirPods Max and iPhone or iPad, spatial audio tracks the motion of a user's head as well as the device, compares the motion data, then remaps the sound field so it stays anchored to the device, even as the user's head moves.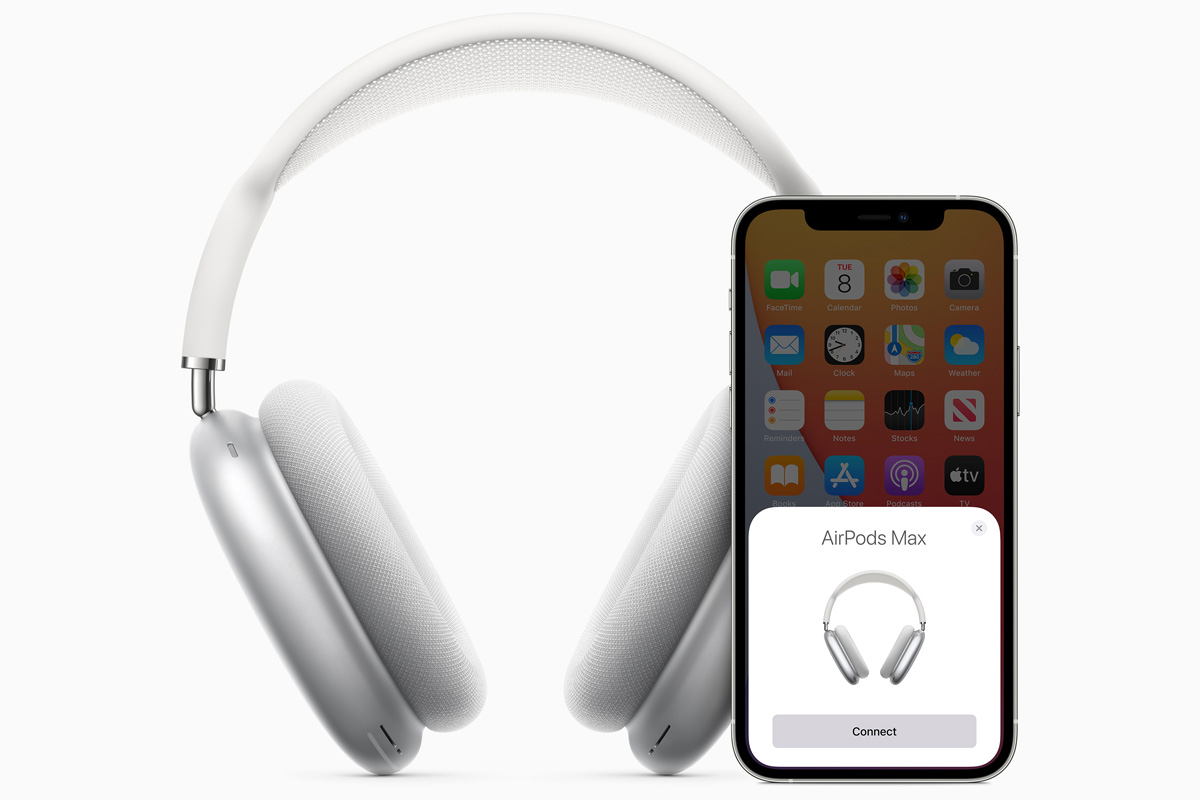 Apple is promising up to 20 hours of battery life on a charge with the AirPods Max, and that's with Active Noise Cancellation and spatial audio turned on. The headphones also come with a Smart Case that activates "an ultralow power state" to preserve battery when you're not using them. The Internet is also going wild over how ridiculous the case looks. Steve Jobs is probably rolling over in his grave right about now.
If you like what you've heard, you can pre-order the AirPods Max for $549 from Apple.com or through the Apple Store app. The headphones will begin shipping on December 15th.
My advice, visit your local Apple store next week, try them out for yourself, and compare them to the Bose and Sony offerings before making a decision. While all of Apple's marketing lingo sounds good ("Wow, 10 audio cores!"), in the end, it all comes down to sound quality.