AXE Kicks Off The "Summer of Temptation" With Gold Temptation Line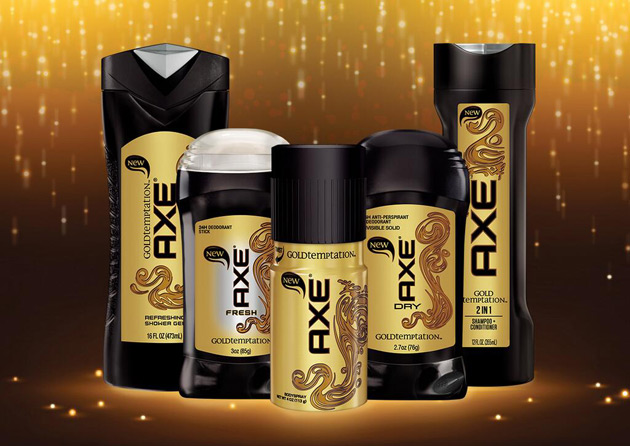 Following the revelation that a surprising 75% of guys and 60% of girls admit to not understanding what tempts the opposite sex, AXE has launched the Summer of Temptation to encourage both guys and girls to open up about what truly tempts them.
Throughout the summer, AXE will spark social conversations about dating, attraction and indulgences on #TemptationTuesday and reveal insights from both sexes on axetemptation.tumblr.com.
To start the conversation, AXE partnered exclusively with GQ and Lucky – the authorities on personal style for socially savvy, intelligent men and women – to survey 2,000 guys and girls and uncover the truth behind temptation. Survey findings reveal how style and technology impact today's modern relationships. Two such insights include:
Pick up the phone. 81% of girls are more tempted to go out with a guy if he asks her out with a personal phone call vs. a text or email.
Be bold. More than 90% of guys say they would love it if girls made the first move and initiated conversation.
To dig deeper into the world of temptation, actor Michael B. Jordan – star of "Friday Night Lights," "Fruitvale Station" and next year's highly anticipated film, The Fantastic Four – has partnered with the brand to conduct and direct a video exploring what guys and girls really find irresistible.
"Temptation is universal and there's always something you just can't resist," said Jordan. "Staying healthy is huge for me, but if bacon's an option, I'm adding it. And then there's my sneaker game; if I walk past them, I'm walking out with them. So, I can't wait to explore what entices other folks throughout the AXE Summer of Temptation – from the quirky to the hilarious and everything in between."
AXE is also celebrating temptation with the launch of the new AXE Gold Temptation fragrance developed by renowned fragrance expert Ann Gottlieb. New AXE Gold Temptation is the first flanker fragrance in the brand's 30-year history. It is based off the successful core of AXE Dark Temptation, the brand's top selling fragrance globally. Marrying the richness of amber and spice with citrus, Gold Temptation captures the warmth of gold to complement its addictive predecessor.
"AXE is a brand that listens to consumers and for years, our fans have provided overwhelming feedback on our social channels about their love of Dark Temptation," said Matthew McCarthy, senior director, AXE & Men's Grooming for Unilever. "We knew we had something special – a blockbuster – and we wanted to build upon it. With AXE Gold Temptation, we created something unique that perfectly complements AXE Dark Temptation."
Visit axetemptation.tumblr.com and follow #TemptationTuesday for more information about the new AXE Gold Temptation product line and to learn more about the AXE Summer of Temptation.