AXE Peace Wants You To #KissForPeace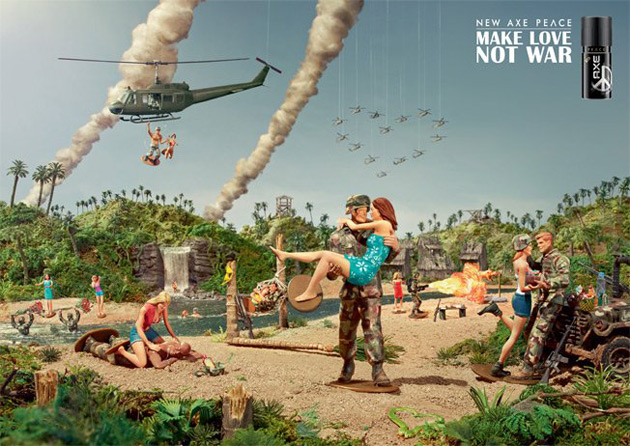 AXE invited us to New York City on Wednesday night for their AXE Peace launch event, where they unveiled both a new line of products, as well as a ground-breaking campaign to bring young people together to affect change with a simple yet powerful act – A kiss.
After enjoying some military-themed hors d'oeuvres and drinks, we were shown a 60-second film titled Love, which will premiere nationally on Sunday, February 2nd during Super Bowl XLVIII. The spot is a collection of global vignettes that cinematically depict the campaign's "Make Love, Not War" theme, and it includes an inspirational call to action: #KissForPeace.
The 60-second film can be seen below:

AXE is providing a simple way to help guys and girls spread awareness for peace worldwide by asking them to take a photo of a kiss, tag it with #KissForPeace, and share it on social media. These demonstrations of love will be displayed to hundreds of thousands of people daily via a billboard in Times Square from January 27th – February 9th, featured at AXEPeace.com starting on February 10th, and seen by friends and family via social media for the duration of the campaign.
AXE had a photo booth on hand so that we could start sharing our #KissForPeace photos straight away, and the hashtag took on a mind of it's own within minutes.
They also had plenty of product on hand for us to try out, and I really think you're going to like the new scent. Developed by renowned fragrance expert Ann Gottlieb, AXE Peace combines notes of fresh citrus, nutmeg and cedar wood, and provides an intriguing, warm and masculine scent. AXE is introducing the AXE Peace collection across their entire grooming product categories: Body spray, deodorant and antiperspirant sticks, shower gel, shampoo and conditioner, hair styling, face wash and shave gel.
Be sure to check out the new AXE Peace collection, as well as taking part in the #KissForPeace movement!