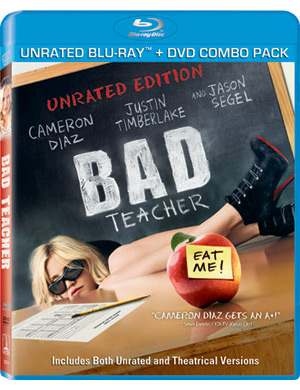 Bad Teacher? More like Bad Movie.. Now mind you, it wasn't awful.. It wasn't like I walked away saying, "Man, I can never get that time back!" But, it's funny how I noted how short of a movie it was before viewing (92 minutes), but the viewing time felt MUCH longer.
While Cameron Diaz is quite easy to look at, I had trouble watching her as the mean awful person her character was written to be. To me, she's always that quirking Something About Mary type, and this role just didn't suit her.
I am normally a huge Timberlake fan. His Saturday Night Live skits are legendary, he was great in "The Social Network", and he shows great promise as an actor. But this movie did not showcase his talents very well. I really can't blame him, I blame the writing. I have not seen his movie with Mila Kunis, "Friends with Benefits", but if you ask me, no acting was necessary in that movie. Show as much skin of each of the stars and the movie should rake it in!
Jason Segal did his job admirably; He continues to be a very likeable character who I think most would admit, "Man, he'd be cool to hang out with!" But again, the writing didn't give him much to work with.
So bottom line, if you've got absolutely nothing else to watch and it happens to be on, ok. Otherwise go back to "Pawn Stars".