Best Major League Baseball Giveaways Of 2020
Baseball season brings forth fun times for fans who pack into ballparks across the country each year. Hot dogs, overpriced beer, and toppling over young children trying to catch a foul ball. But another tradition has carried on for decades, that of the promotional giveaway.
It started as a way for companies to promote their brand on some semi-useful goods. This would include magnetic schedules or a cheap mesh hat. Most of the time this stuff just went straight to the trash. But over time, teams realized that the giveaway at the gate could be much more than just an advertising tool.
"Today we see teams upping their marketing game each season. Whether it be bobbleheads of fan favorites or a memento like a replica championship ring," says George Kepnick, CEO of promotional product maker Custom Comet. "Fans now line up hours before a game and have created a huge market on eBay for those who can't attend".
Below is a list of some of the best giveaways Major League Baseball has to offer for the 2020 season.
Tim Anderson Bat Flip Bobblehead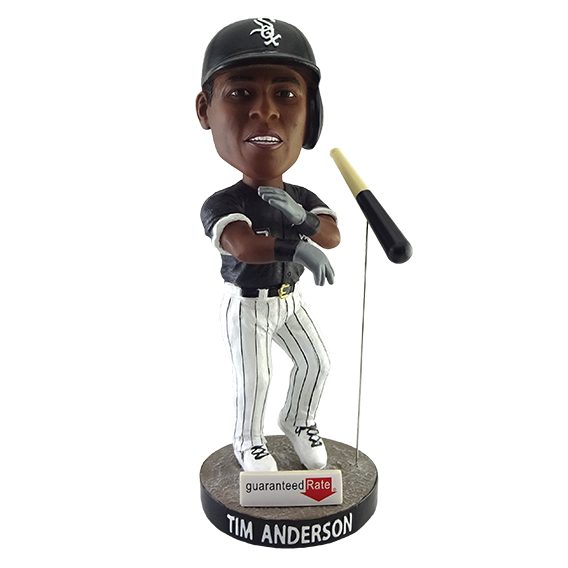 White Sox shortstop Tim Anderson had one of the most iconic bat flip moments in baseball last season. The clip went viral and even riled up some old sportswriters who felt that he "disrespected" the game. That moment is now getting its bobblehead courtesy of Chicago's South Side baseball team.
Washington Nationals Championship Beer Stein
The Nationals will no doubt be celebrating their triumphant World Series all season long with championship themed giveaways. But on July 24th, they'll be giving out a free championship beer steins to the first 20,000 people in attendance. Unfortunately, beer is not included.
Houston Astros ALCS Replica Trophy
Being runner-up deserves something in Houston apparently as they'll be giving out a shiny replica American League Championship Series trophy on March 27. The promotion is for everyone in attendance, although the rest of the league might suggest mini garbage cans.
Grateful Dead Cardinals Jersey
The St. Louis Cardinals are going all-in on Grateful Dead Night on April 24th at Busch Stadium. Not only will there be a concert by a cover band, but the team will be handing out some groovy tie-dye jerseys to those purchasing a special ticket. A must-have giveaway for any Deadhead in the area.
Arizona Diamondbacks Tribal Jersey
The Diamondbacks have a deep bond with the Native American community and celebrate it on a special night each season. On June 6th, the team will be giving out replicas of their colorful tribal jerseys.
Craig Kimbrel Grow-a-Beard
The Cubs closer is unmistakable with his iconic beard. And the team's marketing department isn't missing an opportunity to create a promotion around it. On May 9th at Wrigley Field fans will get a Chia Pet molded in the shape of Kimbrel's face. Although fans might want to do something else to the giveaway if he keeps blowing saves like he did in 2019.
The Freeze Goggles
You may have seen viral clips being spread around of a between-inning promotion the Atlanta Braves have. In it, they set up a race with a casual fan and a man they call The Freeze. The fan gets a head start and then The Freeze chases him down dressed up in his aerodynamic suit. Now you can grab a pair of the goggles The Freeze wears on May 24th.
Derek Jeter Captain America Bobblehead
The newest member of the Baseball Hall of Fame gets the bobblehead treatment at Yankee Stadium on July 20th. And being known as "The Captain" throughout his playing days, it only made sense to dress him up as Captain America on Marvel Superhero Night at the ballpark for this one.
Pierogi Figurines
The Great Pierogi Race is a tradition the handful of people still attending Pirates games enjoy between innings. Fans dress up in a pierogi costume and race around the field. On September 6th, the Pittsburgh Pirates will be giving replica figurines away to every kid 14 and under. You don't have to stay and watch them lose either.
Commemorative Marty Brennaman Microphone
On April 26th, the Cincinnati will induct iconic broadcaster Marty Brennaman into the Reds Hall of Fame. In honor of that, they'll be handing out a replica microphone just like the one Marty used in the booth all those years. A sound chip is inside which will play one of his memorable play-by-play calls.
Bruce Lee Hat
The San Diego Padres are known for their creative promotions and they didn't disappoint in 2020. Fans with a special ticket receive a kickass Bruce Lee themed Padres hat on July 19th. It's part of the team's annual Martial Arts Appreciation Night.
Chewbacca Messenger Bag
Star Wars Night has become a tradition at almost every major league ballpark and the Toronto Blue Jays plan to celebrate it with a special Chewbacca messenger bag. Details are scarce on what this looks like, but one has to believe it'll resemble the cross-body one he wore in the movies. Albeit with a Blue Jays twist of course. These are being given out on August 15th when they host the Cubs.
Bullpen Cart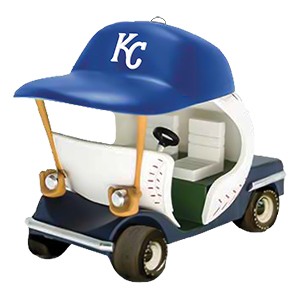 There may be nothing that symbolizes baseball in the '70s more than the bullpen cart. Grizzled old relievers used to hop in one of these converted golf carts and get driven to the mound. The Kansas City Royals will be giving replica models out on June 27th. Don't worry, it's got the big baseball cap on top like the old days.
Ozzie Albies Chain
Sometimes a team has a promotion so popular that they bring it back again the following year. That's what the Braves are doing on April 5th when they re-introduce the palm tree chain worn by up-and-coming superstar Ozzie Albies.
Gleyber Torres Mandalorian Bobblehead
The Disney Plus show took the entertainment world by storm in the offseason and the Yankees intend to capitalize. They'll be dressing up star infield Gleyber Torres as a Mandalorian character for Star Wars night on August 21. This is likely to be one of the most sought after bobbleheads of the year.