Check Out Toshiba's Lineup Of TVs For 2014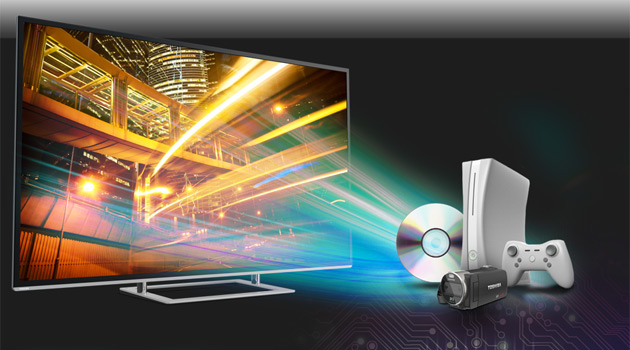 Toshiba has completely revamped its line of TVs for 2014, with eight models in total: L9400, L9450, L8400, L7400, L5400, L3400, L2400 and L1400. Particularly interesting to me are the higher-end models L9400, L9450 and L8400, which all feature an LCD panel with LED Ultra HD resolution.
The top of the line L9400 gets the Radiance 4K Full Array LED Panel, Toshiba's first-ever LED panel kit incorporates Toshiba's own SuperBright LEDs, with Super Wide Color Gamut and Quantum Black Local Dimming to deliver significantly brighter, more colorful, and deeper images than ever possible before. Radiance 4K brings the promise of Ultra HD to life.
At the heart of the TV is the CQ 4K Engine – Quad + Dual Core, Toshiba's third-generation 4K processing system that utilizes a unique five-point image enhancement system that includes best-in-class resolution restoration, motion interpolation, dynamic detail enhancement, color restoration and dynamic noise reduction for pristine results. ClearScan 240Hz refresh rate technology creates clear, smooth fast motion video that is needed to maximize the experience when watching sports or action movies.
The TV comes with a proprietary platform called Smart TV, which includes Cloud Portal, a series of services based on connectivity, including BluRayNow, the latest Blu-ray nav-system that will let you enjoy your Blu Ray movies and DVDs from Big W. The audio section uses Labyrinth Speaker System technology, used to optimize the bass, assisted by DTS Premium Sound. This is only available on the 58″ and 65″ models.
The L9450 series includes almost all of the great new features found in the L9400 Series including the CQ 4K Engine, ClearScan 240Hz, Smart TV with Cloud Portal, Voice Control and more, but replaces the Radiance 4K Panel with a super-sized 84-inch Local Dimming LED panel that you cannot ignore. This standout 4K Ultra HD experience is the perfect centerpiece for anyone that truly wants a theater in their home.
Next in line is the L8400 Series, which will be available in 58-inch and 50-inch screen sizes. In the L8400, the backlight is no longer Full LED, but LED Edge. Another change concerns the motion compensation, which uses ClearScan 120Hz refreshing the corresponding rate.
After that, they move down to Full HD models like the L7400. These TVs includes the Radiance LED Panel (then with the SuperBright LEDs), including Local Dimming Quantum Black. Even the motion compensation uses the same version that the top of the line model uses, the ClearScan 240Hz. It is, therefore, of a series that repeats in key Full HD, most of the proposed features for the L9400: the remaining features are in fact more or less the same. This model will only be available in 55-inch.
The remaining models in the lineup offer basic functionality, but full specifications haven't been released yet.